Baby born without eyes and an extreme cleft palate touches hearts around the world with beautiful story of faith, love and family
---
Christian was born with a cleft palate, missing eyes and exposed sections of his skull.
Lacey married her high school sweetheart, Chris Buchanan, whom she met at a church in Woodbury Tennessee. Soon after their second wedding anniversary, they learned Lacey was pregnant with their first child.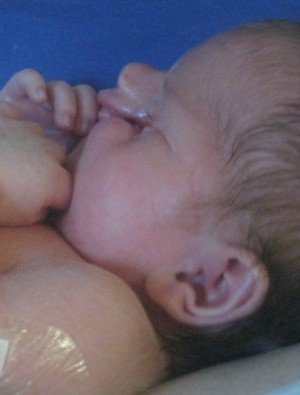 Christian continues to be an amazing inspiration to the Buchanan family.
LOS ANGELES, CA (Catholic Online) - At the 18-week ultrasound, the Buchanans were told their unborn child had a possible cleft palate. Concerned but not too worried, doctors planned to keep an eye on the babe.
An ultrasound was conducted every two weeks, with the birth defect appearing increasingly severe.
"It was really, really bad was all they told us," Lacey told
The Tennessean
.
Soon it became clear the Buchanan's unborn son would suffer more than just a cleft palate but the Buchanans refused to abort.
On February 18, 2011, Christian Taylor Buchanan entered the world. He was a 7-pound-1-ounce wonder and the Buchanans loved him immediately.
The couple's love was stronger than their son's condition - he was born with parts of his skull exposed on the right side of his head, fissures isolating his nose from his face and a mouth that wasn't able to close.
These defects were expected from the many ultrasounds. What doctor's didn't expect was the severity of the cleft palate, which extended like the letter "V" from his perpetually open mouth across his cheekbones, up to his eyes - which never developed.
Christian Buchanan was born without irises or pupils. In place of his eyes sat exposed tissue. He would be blind for the rest of his life.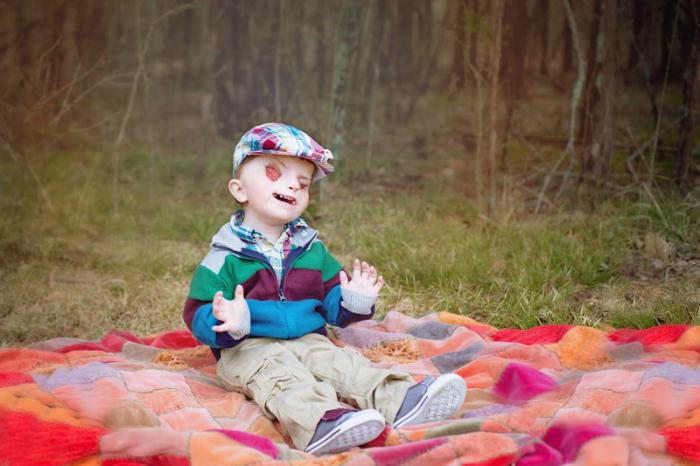 Christian's parents refused to abort their precious son (ChristianBuchanan.blogspot.com).
The tiny baby was sent into surgery at only 4-days-old, where he received a feeding tube and grafts to cover his exposed skull.
He spent a month in Venderbilt's neonatal intensive care unit as his parents learned how to care for him.
Dr. Stéphane A. Braün, the plastic surgeon who performed the surgery, stated: "Their kind of courage in the initial setting was really notable. It's a scary diagnosis. It comes with a lot of uncertainty."
Lacy and Chris weren't sure how to raise a blind child but were more than up for the task - even when their son's appearance left children gasping or gawking and adults boldly asking why they didn't simply choose to abort their son.
Lacey admitted the stares angered her and the abortion questions had her fuming. "A world without Christian is not a better world," she said. Angered by the heartless comments from adults who should know better, Lacey decided to create a video to post on social media.
In the video Lacey was honest about the initial excitement from the pregnancy, the devastation of not knowing if her son would survive and the "look at that baby" whispers behind her back.
Children often asked their mothers what was wrong with her son and no matter where she went people would stop to openly stare.
One girl approached Lacey to say she was horrible for not choosing to abort Christian.
Heartbroken, Lacey didn't know what to do - until Christian started laughing and giggling.
When people stared, Christian would giggle, making others giggle along. Soon, people were searching for her and adding her on Facebook. Some shared how Christian inspired them and how beautiful he is.
Things began to get easier for the Buchanans and Christian is growing healthy and strong. All who meet him fall in love and the not-so-hidden glances and whispers don't bother the Buchanans anymore.
Lacey's film concluded with a message saying Christian is a beautiful boy inside and out. He is their miracle.
The video has been viewed over 1 million times with over 5,000 upvotes. Most of the comments are uplifting, telling Lacey how strong she is, how beautiful Christian is and how touching their story is.
The video was met with such great support, Lacey started a blog for Christian, in which she provides updates on his life.
In her latest post, published December 4, Lacey explains Christian is old enough to desire independence. She often asks to feed and dress himself, figure out a toy using his hands and attempts to understand others by exploring their body language and facial expressions.
Without eyes, Christian struggles to be independent and Lacey's heart breaks just a bit. She wishes she can let him play and explore without worrying about him hitting the sharp edges of tables or fall down stairs.
"This age should be a time of wonder, exploration, and adventure unhindered by fear or struggles."
Despite the frustrations, Christian laughs often and is a joy to the Buchanans. Lacey has decided to be strong for her son by responding to hardships as graciously as she can.
"I wish Christian's life was as simple and easy as possible. But since I can't control that, I will control what I can, and that's how I respond to the hardship. "I will make the best of what we have and I will celebrate the simple things and love as deeply as possible."
Today, Christian is four-years-old and continues to be a blessing to the Buchanans.
Lacey told Christian Headlines she chose to share Christian's story as a way to show her faith.
"I have shared Christian on social media his whole life to open up doors, acceptance for him, and to educate people about what it looks like to live with a disability. He is a person, first. He has a disability but it doesn't define him....
"I have found the best way to handle the public backlash is with grace. A lot of times people don't genuinely mean to be rude or hateful. Handling that with grace opens doors to acceptance and education."
In her book "Through the Eyes of Hope," Lacey uses Christian to show God's love through hard times.
"This is a tool to share our faith, about the things that God has done for us, and how faithful he has been to us through the hard times and the good times," Lacey explained. "He always works things together for our good.
"If you had of [sic] asked some of the doctors what prognosis Christian would have been, it would have been a poor one. But he has such a wonderful quality of life. He's in kindergarten. He takes karate. He's a black belt. He loves life, he loves his family. He's an amazing kid."
---
Copyright 2018 - Distributed by THE CALIFORNIA NETWORK
Pope Francis Prayer Intentions for APRIL 2018
For those who have Responsibility in Economic Matters.
That economists may have the courage to reject any economy of exclusion and know how to open new paths.
---
---