So it begins: federal judge strikes down Utah polygamy law
---
Federal ruling opens door to polygamy. What's next?
And so it begins. A federal judge has struck down Utah's law against cohabitation, saying it violates the First Amendment right to freedom of religion. The decision is a major win for polygamists and represents the slope that marriage in our country is on.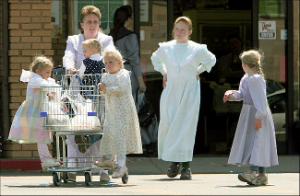 Polygamy isn't all sister wives and fun. A woman in Hilldale, Utah, where polygamy is ubiquitous, exits a store with several children.
LOS ANGELES, CA (Catholic Online) - As gay marriage becomes commonplace, other forms of "marriage" become more likely to find acceptance in the mainstream. Among the more controversial forms of marriage is polygamy, most commonly practiced in the United States by Fundamentalist Mormons, an early offshoot of the Church of Jesus Christ of Latter Day Saints.
Following the death of Joseph Smith and other early Mormon leaders, the Church of Jesus Christ of Latter Day Saints (Mormons) abandoned polygamy as an acceptable practice. The church was under fire from the Federal Government for decades, at times literally, until it officially abandoned the practice in 1904. Since then, mainstream Mormonism has eschewed polygamy.
Keep family close to your heart.
However, a fundamentalist offshoot of the Mormon Church continued the practice and an estimated 40,000 individuals are said to be living in Utah within the context of polygamous marriages.
Polygamous marriage was routine practice in ancient times, particularly by the ancient Hebrews as documented by Old Testament scriptures. According to the Mormons, polygamy was a natural response to the attrition of men during the early days of their faith when they were displaced to Utah and the West.
The Catholic Church, in its two-thousand years of history, has never endorsed polygamy and has always and exclusively accepted marriage as between one man and one woman only, until death do they part.
Today, Mormon Church has done much to defend marriage, even supporting legislation to protect marriage as between one man and one woman, which is the traditional Christian definition as well as the traditional legal definition in the United States and the industrialized world.
The most recent federal ruling however, paves the way for polygamous marriages to become more commonplace and routine. In other words, polygamy will spread as Utah loses the power to enforce its own laws.
The problem with polygamy is that it isn't a healthy way for modern families to live. Although those engaged in polygamous marriages often describe themselves as happy, and their fellow wives as "sister wives" those women who have left the practice say it is oppressive and traumatizing.
One woman gave an interview to the Daily Mail. Marion Munn, now living in Britain told the Daily Mail, "The only way that I can explain it is like living with adultery on a daily basis, and having the woman come home. On top of that you have to smile and pretend that everything's okay because that's part of the culture too."
Munn explained to the Daily Mail that most women do not feel the marriages are equal, nor do they enter into them freely. Instead, women are pressured into the marriages by peers and religious practice.
Exiting the faith, particularly one in which a person is raised, can also be difficult, especially if the entire family support structure is grounded in the religion.
Also, polygamous marriages can lead to child sexual abuse. There have been some cases where family religious figureheads have engaged underage children in "marriages." Fundamentalist Mormon sect leader Warren Jeffs is serving a long prison sentence for just that crime and has been labeled as a child sex offender. While it should be understood that pedophilia and child sex offenses will occur even within the context of monogamy, polygamous religious sects with a tradition of underage marriages reinforce the practice with religious belief, making it exceptionally difficult for a child below the age of consent to escape.
Now, with the blessing of the First Amendment, these families will face less scrutiny and the danger to vulnerable children may increase.
All this is a natural consequence of permitting other forms of "marriage" to share par with traditional marriage.
The federal ruling will allow polygamous families to become open about their marriages without fearing arrest. As for the rest of us, we shudder to ponder what's next.
Pope Francis calls for your 'prayer and action'...
---
Copyright 2018 - Distributed by THE CALIFORNIA NETWORK
Pope Francis Prayer Intentions for APRIL 2018
For those who have Responsibility in Economic Matters.
That economists may have the courage to reject any economy of exclusion and know how to open new paths.
---
---