The Catechism of the Catholic Church provides that '[e]veryone, man and woman, should acknowledge and accept his sexual identity.' (CCC § 2333) That identity is both-soul-and-body and it is only one of two: male or female.
The LGBT crowd has been busy touting as poster children to their cause the strange and curious (and one might say perverse) engagement of the transgender Welsh couple Jamie Eagle and Louis Davies. Behind all of this propaganda is an erroneous view of the human person, even what might be called an "anti-theology of the body."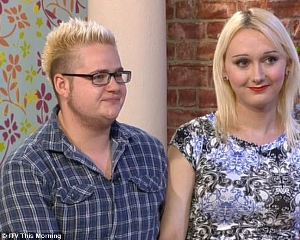 CORPUS CHRISTI, TX (Catholic Online) - Blessed John Paul II's teaching on the theological importance of the human body is popularly referred to as the Theology of the Body. It is a theology based upon anthropology. That is to say, it is a theology based upon a particular view of man.
The Theology of the Body insists on seeing man as he is: an ensouled body or an embodied soul, a unity of body-and-soul.

In a nutshell, like all sound-thinking Catholics, in his reflections John Paul II rejected the anthropological model proposed by the philosopher Rene Descartes which is the preferred model of moderns. In the modern or Cartesian view, man is, in the words of the philosopher Gilbert Ryle, a "ghost in a machine," with the body being a machine and the person in command being the ghost.

For the modern mind influenced by Descartes' dualism, man is sort of like an Arquilian in the movie Men in Black. Those who have seen the movie might remember how Gentle Rosenburg is not Gentle Rosenburg at all, but an Arquillian who is in command of a human-like exosuit that looks like Gentle Rosenburg.

For modern dualists, the body, including its sex and sexual faculties, is just an exosuit. The real thing, though no one can see it, is the Arquillian within.

For Catholics, on the other hand, the reality is the body-and-soul composite: the person is body-and-soul. The body is a critical element to understanding the reality of man. Man must not be seen as a ghost in a machine. Seeing man that way perverts reality.

To have an adequate grasp of reality, one must see the body not as a "vessel or vehicle of the soul," but rather, as the theologian David Bentley Hart has put it, one must see the body as the soul's "material manifestation, expression, and occasion."

While in his Theology of the Body John Paul II articulates his thought in a novel way, his thought falls within the framework of Thomistico-Aristotelian view that the soul is the form of the body (anima forma corporis).

The body is as influenced by the soul as the soul is influenced by the body, so that--while distinct--they cannot be separated as if they were different self-subsisting realities. Our bodies, in particular their sex, affects us as persons. A soul is male or female depending upon whether the body is male or female.

It is therefore incongruous to believe that one can have a male soul in a female body. That's why the Catechism of the Catholic Church provides that "[e]veryone, man and woman, should acknowledge and accept his sexual identity." (CCC § 2333) That identity is both-soul-and-body and it is only one of two: male or female.

Modern man, however, has rejected this view on the basis of a false freedom. Falsely thinking it a good, modern man wants autonomy or freedom from his nature, even his sex. The modern dualistic view of man translates to the fact that the body means nothing to the soul. The soul, in fact, is viewed as the overlord, even the tyrant, of the body, a body without meaning and without rights vis-à-vis the soul. The soul must be free of the body, as it is incomprehensible that the soul should be answerable to a slave, to mere biology.

This, of course, is completely antithetical to the classical and Judaeo-Christian view, which is based upon reality--what is. Moreover, the Christian view in particular puts great value on the human body, male or female, as it is something important enough for God to have become joined with, and important enough for him to have redeemed, and good enough to be the object of the grace of Resurrection and merit eternal life.

The effect on morality of the modern debasement of the body is significant because if the body means nothing, then it can be used as a tool: it has nothing to say in the moral forum. In determining what is morally good, the body is gagged. Only the soul is allowed to speak. And when one party has no voice, that party is invariably the loser. In the language of Jean-Francois Lyotard, the body is involved in a differend, because it has no way to express its importance.

One who has fallen for the view that the real person is separate from the body will deprecate his body, like most masters do their slaves. The disembodied person believes he or she can exercise despotic control over his body as if the body were slave to the soul. Such a person has adopted what David Bentley Hart has called an "Anti-Theology of the Body." Since it is based upon a false view of reality, it is really more of an ideology than a theology.

As David Bentley Hart astutely observes, what is involved between the traditional view and the modern view of man is not merely a difference "between two radically antagonistic visions of what it is to be a human being." Ultimately, what lies behind this dualism is "two radically antagonistic visions of what it is to be a god."

Starkly put: is the Creator God? Or is man god?

In his Christmas greetings to the curia in 2008, Pope Benedict XVI spoke about this view of the body, specifically in the context of gender.

"When the Church speaks of the nature of the human being as man and woman and asks that this order of creation be respected," Pope Benedict XVI said, "it is not the result of an outdated metaphysic. It is a question here of faith in the Creator and of listening to the language of creation, the devaluation of which leads to the self-destruction of man and therefore to the destruction of the same work of God."

Pope Benedict XVI continued. "That which is often expressed and understood by the term 'gender', results finally in the self-emancipation of man from creation and from the Creator. Man wishes to act alone and to dispose ever and exclusively of that alone which concerns him. But in this way he is living contrary to the truth, he is living contrary to the Spirit Creator."

The LGBT crowd would not exist without this Anti-Theology of the Body, an anti-theology which is "contrary to the truth," "contrary to the Spirit Creator." For the LGBT crowd, the body--especially its sex and its sexual faculties--is hardly a sacred repository of God's truth about human nature, about human sexuality, about human personhood, about one's self.

In his Politics, Aristotle observed that a small philosophical misstep in the beginning of a journey results in one missing his destination by miles, which in philosophy is a grasp upon reality, what is. If the misstep is a large one--in this case, a wrong Cartesian, dualistic view of man--there will be a total failure to reach one's destination. One ends up in the La-La land of unreality, where boys are girls and girls are boys.

Case in point. The LGBT crowd has been busy touting as poster children to their cause the strange and curious (and one might say perverse) engagement of the transgender Welsh couple Jamie Eagle and Louis Davies.

This is the bizarre sort of brave new world stuff an Anti-Theology of the Body ushers in. "By going public," this chimerical couple says, "we are changing history." Well, maybe. But whatever they're doing, they certainly are not making their lives any more real; rather, they are making it more fantastical.

Despite being born a boy, Jamie has convinced himself that his "ghost" is a female. He is attracted to males, but not as a male, but rather as a female.

Despite being born a girl (who was named Samantha), Louis says she always felt like a boy. Her "ghost" was a boy, she believes, thought her machinery was clearly that of a girl. Her "defining moment," she says, occurred at puberty, when she realized that she would eventually grow breasts, something she feared as if it were a nightmare. Hatred of her female body showed itself in self-abusive behavior, including drugs.

Jamie and Louis are sick psychologically. Add to that sickness a false philosophy based upon a false anthropology, and it is a recipe for fantasy taking over reality, and then forcing those with a grasp on reality to accept the fantasy.

Tragically, this couple of human beings seem, quite probably initially through no fault of their own, to have been captured by what the Pontifical Council for the Family in its guidelines The Truth and Meaning of Human Sexuality has called "deviant tendencies and attitudes."

These, it says, "require great prudence and caution so as to recognize and evaluate situations properly." Often, "recourse to specialists with solid scientific and moral formation," including "doctors, educations experts, and psychologists with an upright Christianity sensitivity," is required to "identify the causes over and above the symptoms, and help the subject to overcome difficulties in a serious and clear way." (No. 72)

But instead of providing them real help to solve the apparent disconnect between their psyches and their bodies and reconcile themselves with the reality of their bodies, psychologists and physicians whose "science" and "technology" is based upon an Anti-Theology of the Body and the LGBT propaganda will alter reality--the body--to conform to the unreal fantasy under which they labor.

In fact, these exert political pressure or pass laws to assure that competing viewpoints are squelched as unscientific or unenlightened. Then, for good measure, they call opponents perverse and insensitive for thinking this lapse into fantasy perverse. The world becomes topsy turvy.

Expressed in the language of Men in Black, the advocates of LGBT rights inform Jamie and Louis that their bodies are exosuits. Jamie's male exosuit can be changed with surgery and hormones to a female exosuit so as to conform to the supposed female Arquillian within. Louis's female exosuit can be changed with surgery and hormones to a male exosuit so as to conform to the supposed male Arquillian within.

This, of course, is an abuse, as it involves bodily mutilation and an improper deprecation of the gift of the body. As Pope Pius XI observed in his encyclical Casti Conubii: "Christian doctrine establishes, and the light of human reason makes it most clear, that private individuals have no other power over the members of their bodies than that which pertains to their natural ends, and they are not free to destroy or mutilate their members, or in any other way render themselves unfit for their natural functions, except when no other provision can be made for the good of the whole body." (No. 71)

But this is true only if God is the Creator, and if we do not see ourselves autonomous of, and not answerable to, God the Creator. Modern man does not see himself that way. So the voice of reason and the teachings of Pius XI are seen as restrictive, instead of freeing.

As the Congregation for the Doctrine of the Faith has observed such superficial surgery "does not change the personality. If the person was male, he remains male. If she was female, she remains female." This is common sense.

But LGBT ideology is not about common sense. Encouraged by the false LGBT ideology, Jamie and Louis see themselves masters over their bodies, and they will make their bodies fit their unreal perception regarding the gender that they are. They see themselves master over marriage and master over the expression of their sexual selves.

"It's not the wrong body I've got, just the wrong parts. I literally hate my parts and tried to cut them off as a teenager," Jamie says. Now, the deft hands of a surgeon will satisfy the abnormal hatred he has of his body by mutilating the body God has given him. To "hate my parts" means the ghost hates the machine. What Jamie is really saying is that he hates himself, and surgery will not cure that.

Similarly, Louis has taken artificial hormones which distort her feminine body, and have given it a pronounced jawline, an Adam's apple, facial hair, and a deeper voice. Louis says she hated the fact that she would have breasts, that is, the "ghost" hated the breasts of the machine. But to hate one's breasts really means that she hates herself, and removing the breasts and taking hormones will not cure that.

If one holds on to a Theology of a Body, one supposes that it may be true that "there's a lot of confusion about us and what we're about," as Jamie says, because the body testifies against the lie that a female soul can reside in a male body or a male soul in a female body.

But if one holds on to an Anti-Theology of the Body, it all becomes clear, so he or she may think: "I'm a girl," says the boy, "and Louis," the girl "is a boy," because one feels like it, the testimony of the body be damned.

No. Sorry. Reality will not have it that way. For all the fantasy, and for all the surgery and hormones, Jamie is male, and Louis is female, and we ought not to let misfits living in a dream world tell us what reality is.

Blessed Cardinal Newman had the motto which is put on his epitaph: ex umbris et imaginibus in veritatem, "from shades and imaginations to the truth." That is a motto of sanity, of normality.

Our curious Welsh couple and the LGBT crowd that is pushing them as a poster couple go exactly the opposite way: ex veritate in umbras et imagines, "from truth into shades and imaginations." That is a motto of insanity, of abnormality.

-----

Andrew M. Greenwell is an attorney licensed to practice law in Texas, practicing in Corpus Christi, Texas. He is married with three children. He maintains a blog entirely devoted to the natural law called Lex Christianorum. You can contact Andrew at agreenwell@harris-greenwell.com.
---
Copywriter 2015 - Distributed by THE NEWS CONSORTIUM
Pope Francis Prayer Intentions for May 2015
Universal:
That, rejecting the culture of indifference, we may care for our neighbours who suffer, especially the sick and the poor.
Evangelization:
That Mary's intercession may help Christians in secularized cultures be ready to proclaim Jesus.

By Matt Waterson (NEWS CONSORTIUM)
A service dog has become a little miracle to his 11-year-old owner who is blind and suffers from daily seizure attacks. LOS ANGELES, CA (Catholic Online) - The dog, named Flint, was given as a gift to little Alyssa, who began suffering from her condition when she was ... continue reading
---

By Talia Ramos (NEWS CONSORTIUM)
Cellphones have become most parents' and child caregivers' source of guilt for the lack of attention they give to their kids while at playgrounds, according to a study completed by researchers from the University of Washington. MUNTINLUPA, PHILIPPINES (Catholic Online) ... continue reading
---

By Atarah Haely (NEWS CONSORTIUM)
Purposely casting an actor who has Down syndrome to portray the lead in his upcoming movie, director Chris Dowling believes the film will shatter all outdated stereotypes society has against people with the condition. MUNTINLUPA, PHILIPPINES (Catholic Online) - His new ... continue reading
---

By Talia Ramos (NEWS CONSORTIUM)
A Texas father and his wife plans to work with school administration to fix the growing problem of bullying on the school bus, after learning how his own kid was harassed. MUNTINLUPA, PHILIPPINES (Catholic Online) - However, the steps taken were not as effective as ... continue reading
---

By Talia Ramos (NEWS CONSORTIUM)
Angela Tomiye has been praying for strangers' after they leave their messages for God inside the prayer box she placed on top of Koko Head, a Hawaiian hill. The prayer notes people leave will be read and prayed for by an assembly of friends she organizes each week. ... continue reading
---

By Hannah Raissa Marfil (NEWS CONSORTIUM)
Taylor Hale, then 14, was declared brain dead and pulled out of her life support after suffering from a severe head injury due to an accident she had in September 2011. Devastated, her parents were suggested by the doctors to donate her organs and prepare her funeral, ... continue reading
---

By Talia Ramos (NEWS CONSORTIUM)
Parents have resorted into faking their religion and their addresses because of the tough competition from the growing numbers of applicants trying to get into certain good schools. A poll revealed that parents will do certain things to secure their kid's slots in ... continue reading
---

By Hannah Raissa Marfil (NEWS CONSORTIUM)
Edmonton Catholic School remains firm on their decision that the 7-year-old transgender male-born child must use the gender-neutral washroom. However, this does not sit well with the child or her parents, as well as a school board trustee. MUNTINLUPA, PHILIPPINES ... continue reading
---

By Talia Ramos (NEWS CONSORTIUM)
After several news outlets reported about a sick, elderly man who dialed 911 after finding he had no food and the operator who came to his rescue, others came forward with lots of food for him. The 81-year-old cancer patient is grateful for all he's received and wants ... continue reading
---

By Atarah Haely (NEWS CONSORTIUM)
Two teenage criminals plead guilty for causing thousands of dollars in damages to a local church. However, Christian victims urged the U.K. court's judges to spare the teenagers. MUNTINLUPA, PHILIPPINES (Catholic Online) - After the two teens broke into the St. Andrews ... continue reading
---
All Marriage & Family News