Actress Kidman completes journey back to Catholic Church with wedding
---
SYDNEY, Australia (Catholic Online) - Oscar-winning actress Nicole Kidman completed her journey back to the Catholic Church with the June 25, 2006, wedding to country music singer Keith Urban, five years after her divorce from actor Tom Cruise.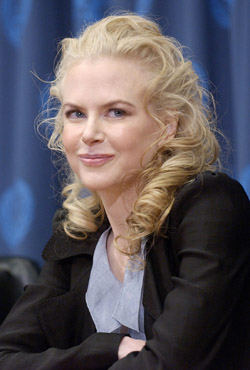 ACTRESS NICOLE KIDMAN – Nicole Kidman is introduced as a goodwill ambassador at the United Nations in New York Jan. 26. The 39-year-old Kidman, who was raised a Catholic, was married in a June 25, 2006, Catholic wedding to country singer Keith Urban in Australia. (CNS/Reuters)
The decision to hold the dusk-to-night-time Roman Catholic ceremony at the Cardinal Cerretti Memorial Chapel on the grounds of the Gothic-style St Patrick's College here was seen as a spiritual homecoming for the 39-year-old Kidman whose first marriage, conducted by the Church of Scientology, annulled by the Catholic Church. Kidman's two adopted children from her marriage to Cruise, Isabella, 13, and Connor, 11, served as bridesmaid and usher, respectively. The wedding brought together some of Hollywood's glitterati, including, according to press reports: Naomi Watts, a star of "King Kong": Hugh Jackman, one of the stars of "X-Men"; and Russell Crowe. In his wedding homily during the 90-minute Mass, Jesuit Father Paul Coleman was to preach on the secret of keeping love alive, according to the The Sydney Morning Herald three days before the wedding. "You've got to use little strategies, strategies [such as] surprises, keeping some form of romance in the relationship," Father Coleman told the newspaper he would urge the newlyweds. In his remarks, he said he would urge Kidman and Urban to find time for each in their hectic schedules. "You need to find time. Everyone's so busy today, with their work and paying off mortgages and looking after children; somehow we just have to find [the] time for each other." "I'll tell them the top priority for them will be their life together as husband and wife, and that is more important than their career, their car, anything," he said. "Every marriage has problems," he added, "money or not, that's not the issue. The issue is the two people and their relationship. And that's got to be kept beneficial and fruitful." He pointed to the length of time the newlyweds respective parents have been together. "I mean to me it's wonderful that Keith's mother and father have been married for 42 years and Nicole's mother and father have been nearly the [same]." "That's an outstanding achievement and something that fills you with hope," he said. The 38-year-old Grammy-Award winner Urban was born in New Zealand, grew up in Australia and now lives in Nashville, Tenn., where the couple will reside after their honeymoon.
---
Copyright 2019 - Distributed by THE CALIFORNIA NETWORK
---
---