Escuelas catolicas de Buenos Aires se capacitan para rechazar ideologia de genero
---
Alrededor de 200 directivos y representantes de las escuelas catolicas de la Arquidiocesis de Buenos Aires participaron de la jornada "La ESI (Ley de Educacion Sexual Integral) y la Ideologia de Genero", organizada por la Pastoral Educativa de la Vicaria de Educacion de Buenos Aires.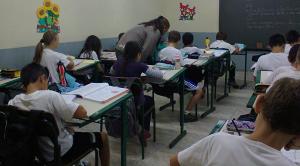 (ACI Prensa) - La jornada de capacitacion realizada el 31 de octubre fue liderada por las expertas del Instituto de Matrimonio y Familia de la Pontificia Universidad Catolica Argentina (UCA), Gabriela Mango y Miryam Mitrece.
Las expositoras analizaron el pensamiento de autores como Engels, Marx, Jean Paul Sartre, Simone De Beauvoir, Shulamith Firestone y Judith Butler, para explicar como se gesto la ideologia de genero.
Esta ideologia "emergio como una categoria de analisis de la realidad social y politica a fines del siglo XX y comienzos del siglo XXI, como una construccion teorica que pretende modificar la sociedad a traves de la intervencion politica", aseguraron las expertas.
Otro punto importante fue la revision de la Ley de Educacion Sexual Integral vigente desde 2006 y el analisis del documento del ministerio de Educacion sobre la aplicacion de la ESI, con una evidente tendencia a favor de la ideologia de genero.
Asimismo, se analizo el concepto de sexualidad humana a la luz de la doctrina catolica y desde la psicologia evolutiva.
Otro punto abordado fue la estrategia de comunicacion que usan los promotores de la ideologia de genero, con conceptos amigables como la "no discriminacion, tolerancia, igualdad de oportunidades, no violencia, equidad e inclusion". 
Los disertantes expresaron: "La sexualidad se entiende como un elemento basico de la personalidad, un modo propio de ser, de manifestarse, de comunicarse con los otros, de sentir, de expresar y vivir el amor humano". Es decir, como una realidad que "abarca toda la persona; es una realidad dinamica y se desarrolla, pero no se construye". 
A modo de conclusion, las expertas advirtieron que la ideologia de genero busca "deconstruir los cimientos de la sociedad", realizar una "reingenieria social" y "cuestionar una verdad basica y evidente: nacemos, como varones o como mujeres, a partir de la union procreadora de un varon y una mujer", sostuvieron.
Asimismo, enfatizaron que "educar la sexualidad de niños y adolescentes, es un derecho y una obligacion de la familia, porque es el primer lugar donde los niños aprenden a vivir" y en esta tarea, la escuela cumple el rol de colaboracion. 
---
Copyright 2019 - Distributed by THE CALIFORNIA NETWORK
Pope Francis Prayer Intentions for January 2019
Young People and the Example of Mary.
That young people, especially in Latin America, follow the example of Mary and respond to the call of the Lord to communicate the joy of the Gospel to the world.
---
---