Autoridad del Vaticano y vicepresidente de EEUU condenan violencia en Nicaragua
---
El Secretario de Estado del Vaticano, Cardenal Pietro Parolin, converso con el vicepresidente de Estados Unidos, Mike Pence, sobre la grave crisis por la que atraviesa Nicaragua.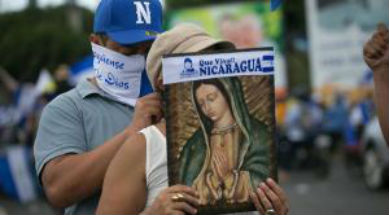 WASHINGTON D.C. (ACI Prensa) -En el dialogo telefonico el 10 de agosto, el vicepresidente reconocio la ardua labor que realiza la Iglesia Catolica en el pais centroamericano, no solo como mediadora en el dialogo con el gobierno, sino como garante de los derechos humanos y la libertad religiosa.
Desde el pasado mes de abril Nicaragua vive una grave crisis social y politica, caracterizada por las protestas contra el regimen del presidente Daniel Ortega, y la violencia que grupos afines a este han ejercido contra la poblacion, asesinando a varios cientos de personas.
En el dialogo telefonico entre Pence y el Cardenal Parolin ambos condenaron la ola de violencia en Nicaragua y alentaron el trabajo de los obispos del pais.
Segun una declaracion emitida por la Casa Blanca de Estados Unidos, Pence y el Cardenal "condenaron la violencia que ha cobrado la vida de cientos de personas y que ha tenido como blanco a la Iglesia; y reafirmaron su apoyo a la Conferencia Episcopal de Nicaragua y toda la comunidad de fe que se ha mantenido firme en apoyo de los derechos humanos, la democracia y la libertad".
En los ultimos meses varias iglesias y obispos han sido atacados por grupos paramilitares afines a Ortega.
En un reciente discurso en julio, Mike Pence se refirio a la crisis en Nicaragua y senalo que "el gobierno de Daniel Ortega virtualmente esta en guerra contra la Iglesia Catolica".
De otro lado, el Arzobispo de Managua, Cardenal Leopoldo Brenes, dijo el domingo 12 de agosto que estan intentando acercarse al gobierno para reiniciar el dialogo.
"Estamos buscando algunas citas con el senor canciller (Denis Moncada) que representa a la comision del Gobierno", dijo el purpurado a traves del Canal Catolico de Nicaragua tras la Misa que celebro la catedral de Managua.
"Ojala tengamos una respuesta positiva para instalarlo (el dialogo)", dijo el Cardenal que explico que "estamos haciendo todas las gestiones posibles para que sea lo mas pronto posible".
Traducido y adaptado por Walter Sanchez Silva. Publicado originalmente en CNA
---
Copyright 2018 - Distributed by THE CALIFORNIA NETWORK
Pope Francis Prayer Intentions for July 2018
Priests and their Pastoral Ministry.
That priests, who experience fatigue and loneliness in their pastoral work, may find help and comfort in their intimacy with the Lord and in their friendship with their brother priests.
---
---