Abogados cristianos defenderan a mujer que fue multada por proyectar una cruz
---
La Asociacion Espanola de Abogados Cristianos estudia acciones legales contra el Ayuntamiento de Callosa de Segura (Alicante) por sancionador a Teresa Agullo, la mujer que proyecto una cruz en la fachada de la iglesia de Callosa de Segura.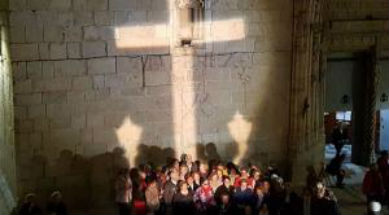 MADRID (ACI Prensa) - La Asociacion tambien estudia acciones legales por la sancion del Ayuntamiento contra la Plataforma Ciudadana en Defensa de la Cruz, que salio en defensa de la cruz de piedra derribada en enero de este ano.
Segun informan Abogados Cristianos, el Ayuntamiento ha impuesto una sancion de 725 euros a Teresa Agullo por proyectar un haz de luz con forma de cruz sobre la fachada de la iglesia.
Algo que el Ayuntamiento considera como "actividades de publicidad audiovisual sin la correspondiente autorizacion administrativa".
Por su parte Teresa Agullo aseguro que "no hace dano a nadie". Ademas el Ayuntamiento de Callosa dio orden de encender unos focos dirigidos hacia esa misma fachada para que se desdibujara la silueta de la cruz proyectada.
Por su parte, la Plataforma Ciudadana en Defensa de la Cruz debera pagar 150 euros por haber ocupado la plaza el dĂ­a que la policĂ­a retiro la cruz de las flores. Ya que interpretan este acto como una "ocupacion del dominio publico sin la preceptiva autorizacion administrativa".
Abogados Cristianos precisa que se contaba con el permiso de la Subdelegacion del gobierno para realizar la concentracion, pero ha sido el Ayuntamiento quien ha emitido la sancion.
La presidenta de Abogados Cristianos, Polonia Castellanos, denuncio que "las actuaciones del ayuntamiento se alejan de la Ley de Memoria Historica y suponen un odio desmedido hacia los sĂ­mbolos cristianos". Ademas, destaca una "persecucion contra los vecinos que quieren que la cruz vuelva a su sitio".
Por eso Abogados Cristianos ha pedido al fiscal de delitos de odio y discriminacion, Alfonso Aya, que defienda a los vecinos que estan sufriendo estos ataques por parte del alcalde.
En los ultimos meses, la Comunidad Valenciana ha registrado numerosos ataques contra la libertad religiosa relacionados con el derribo de cruces. Los vecinos de Vall d' Uxo lucharon hasta el ultimo minuto para evitar el derribo de su cruz y, cada dĂ­a, Castellon de la Plana lucha para mantener en pie la cruz de Ribalta.  
A dĂ­a de hoy, Abogados Cristianos continua trabajando activamente en estos municipios y mantiene frentes abiertos contra los equipos de gobierno de los ayuntamientos de estas localidades.
Asimismo, el Defensor del Pueblo esta investigando si en estos casos se estan vulnerando los derechos fundamentales de los ciudadanos creyentes.
---
Copyright 2018 - Distributed by THE CALIFORNIA NETWORK
Pope Francis Prayer Intentions for July 2018
Priests and their Pastoral Ministry.
That priests, who experience fatigue and loneliness in their pastoral work, may find help and comfort in their intimacy with the Lord and in their friendship with their brother priests.
---
---