Cardenal Parolin: Cuantas guerras se evitarian si se diera mejor testimonio de Jesus!
---
El Secretario de Estado del Vaticano, Cardenal Pietro Parolin, participo en Italia en una conferencia para hablar del centenario del fin de la primera Guerra Mundial y celebro una Misa en la que senalo que el testimonio evangélico es un buen antidoto contra los conflictos.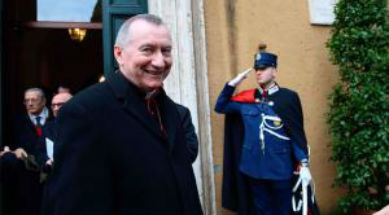 VATICANO (ACI Prensa) - "Cuantas guerras, grandes o pequenas, se habrian podido evitar y se podrian evitar, cuantas vidas se habrian podido salvar y se podrian salvar, si se hubiera trabajado y se trabajase mejor por dar testimonio en el nombre de Jesus, es decir, para dar lugar a Dios para la justicia, el conocimiento reciproco entre los pueblos, la colaboracion, por el bien comun, el bien de todos, el bien nuestro, pero tambien el de los demas", dijo en la homilia.
El purpurado afirmo en la localidad italiana de Aquileia que "este mundo esta siempre tentado a alejarse del amor, a no abrirse a la luz, es decir, a Cristo y a sus obras de vida, por miedo de ser disuelto, por miedo de tener que cambiar de opinion, costumbres, certezas... por miedo de ser amado y de amar", indico.

El Cardenal invito a "no odiar", y explico que "el cristiano no tiene manias persecutorias, no ve enemigos por todas partes, no acusa a ninguno, no provoca a ninguno, sabe que esta llamado a una continua conversion".
"El odio, al contrario, es simplemente lo que revela la 'mundanidad' del mundo y de cada individuo respecto al Evangelio: su cerrazon, su distancia, su incomprension, su diversa jerarquia de valores", dijo tambien.
---
Copyright 2018 - Distributed by THE CALIFORNIA NETWORK
Pope Francis Prayer Intentions for July 2018
Priests and their Pastoral Ministry.
That priests, who experience fatigue and loneliness in their pastoral work, may find help and comfort in their intimacy with the Lord and in their friendship with their brother priests.
---
---