Hoy es la fiesta del Padre Marianito, primer beato de Colombia
---
El Beato Jesus Euse Hoyos, mas conocido como el "Padre Marianito", fue un sacerdote diocesano y parroco en Colombia a quien el Papa San Juan Pablo II llamo "don de paz" para su pais".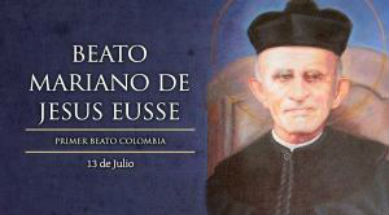 REDACCION CENTRAL (ACI Prensa) - Aunque la primera persona canonizada de Colombia es Santa Laura Montoya, el Padre Marianito es considerado como el "primer santo totalmente colombiano" por haber sido el primero en ser elevado a los altares.
En la homilia de la Misa de beatificacion en el ano 2000, San Juan Pablo II dijo que, "el Padre Marianito' , como es conocido familiarmente en su patria, se comprometio incansablemente en la evangelizacion de ninos y adultos, especialmente de los campesinos".

Aseguro que el parroco "no ahorro sacrificios ni penalidades, entregandose durante casi cincuenta anos en una modesta parroquia de Angostura, en Antioquia, a la gloria de Dios y al bien de las almas que le fueron encomendadas".
Mariano de Jesus Euse Hoyos nacio en 1845 en Yarumal, un municipio ubicado en el departamento colombiano de Antioquia cuya capital es Medellin.
Se caracterizo por ser un sacerdote rural y humilde, cuya fama de santidad se difundio en toda la region.
Tan grande fue su pobreza que cuando cayo enfermo en su vejez y fueron a cambiarle la ropa, se descubrio que no tenia mas prendas.
Nunca tuvo ningun reparo en emplear sus propios bienes para aliviar las penurias y la indigencia de los mas pobres. Visitaba con frecuencia a los enfermos a cualquier hora del dia o de la noche. Tambien se ocupo de los ninos y de los jovenes para guiarlos por el camino de las buenas costumbres y de la prudencia.
Fallecio el 13 de julio de 1926 a los 81 anos luego de un ataque de enteritis, una inflamacion aguda del intestino.
El milagro que lo llevo a los altares se produjo en 1982, cuando el sacerdote colombiano Rafael Velez Saldarriaga fue curado de manera inexplicable de un tumor linfatico y de la metastasis formada en la columna vertebral y huesos.
---
Copyright 2018 - Distributed by THE CALIFORNIA NETWORK
Pope Francis Prayer Intentions for July 2018
Priests and their Pastoral Ministry.
That priests, who experience fatigue and loneliness in their pastoral work, may find help and comfort in their intimacy with the Lord and in their friendship with their brother priests.
---
---