Comienzo el V Congreso Americano Misionero en Bolivia
---
El martes 10 de julio se dio inicio al V Congreso Americano Misionero (VCAM) que reune a mas de tres mil personas de 24 paises en la ciudad de Santa Cruz, Bolivia, bajo el lema "America en mision, el Evangelio es alegria".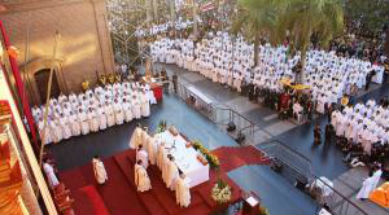 LA PAZ (ACI Prensa) - Con el fin de fortalecer la identidad y el compromiso misionero la Iglesia en America, las tematicas de estas cinco jornadas del VCAM seran: Evangelio, Alegria, Comunion y Reconciliacion , Mision y el Profetismo.
El delegado del Papa Francisco, Cardenal Fernando Filoni, celebro la Misa de inauguracion en la Catedral de Santa Cruz, donde participaron dos cardenales, 90 obispos, 450 sacerdotes, 1.306 delegados de los 24 paises de America, 110 especialistas ponentes, 245 voluntarios y 1.203 delegados misioneros de las 18 jurisdicciones eclesiales de Bolivia.

En su homilia, el Cardenal Filoni sostuvo que "hoy es fundamental ser creibles, pero no por la multiplicidad de nuestras palabras, sino por el testimonio de la vida recibida en Cristo".
Señalo que "cualquier obra misionera es al mismo tiempo anuncio y testimonio", y en ese sentido, la falta de conciencia personal de la misericordia de Dios nos convierte en personas "superficiales, nos quedamos vacios y no somos para nada creibles".
 
Es por esto que el VCAM "nos permite valorar nuestro compromiso misionero y nos permite tomar un nuevo empuje renovado en el ardor y la pasion por Cristo". "Amar a esta tierra americana significa hacerle el don de Jesus bendito; yo creo que esto es lo que constituye la verdadera bendicion", afirmo.
El Cardenal Filoni destaco la obra misionera realizada por la Beata Nazaria Ignacia, quien el 14 de octubre de 2018 sera canonizada por el Papa Francisco. Ella "no solo asumio el nombre de Jesus, lo anuncio y siguio la obra de Cristo en esta tierra bendita de Bolivia", afirmo.
Al fundar Las Misioneras Cruzadas de la Iglesia en Oruro, la beata quiso que "su pasion por el Evangelio y por los pobres pudiera continuar mas alla de su vida que la ofrecia con gusto y por la Iglesia".
A terminar la Misa, se descubrio un monumento del primer Cardenal nacido en Bolivia, Julio Terrazas, fallecido en 2015.
El primer Congreso Americano Misionero se realizo en Argentina en 1999; el segundo en Guatemala en 2003; el tercero en Ecuador en 2008; y el cuarto en Venezuela en 2013.
Para mas informacion sobre el VCAM ingrese AQUI. 

---
Copyright 2018 - Distributed by THE CALIFORNIA NETWORK
Pope Francis Prayer Intentions for July 2018
Priests and their Pastoral Ministry.
That priests, who experience fatigue and loneliness in their pastoral work, may find help and comfort in their intimacy with the Lord and in their friendship with their brother priests.
---
---