Hoy inicia la novena al Divino Nino en Colombia
---
El proximo 20 de julio en Colombia se celebrara la fiesta del Divino Nino Jesus, devocion que se ha expandido por muchos paises del mundo y que esta unida a la labor pastoral del P. Juan del Rizzo, salesiano italiano y misionero colombiano.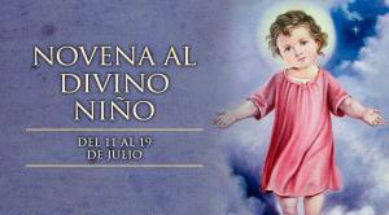 REDACCION CENTRAL (ACI Prensa) - La celebracion se realiza de manera especial en el barrio "20 de julio" en Colombia, y en toda la Iglesia es el primer domingo de septiembre, al concluirse la tradicional novena de los 9 primeros domingos de mes.
Aqui la novena del Divino Nino Jesus:

Por la senal de la santa cruz, de nuestros enemigos, libranos, Senor, Dios nuestro. En el nombre del Padre y del Hijo y del Espiritu Santo. Amen.
Acto de Contricion
Senor mio Jesucristo, Dios y Hombre verdadero, Creador, Padre y Redentor mio, por ser Vos quien sois, Bondad infinita y porque os amo sobre todas las cosas, me pesa de todo corazon de haberos ofendido. Tambien me pesa porque podeis castigarme con las penas del infierno, ayudado de Vuestra divina gracia, propongo firmemente nunca mas pecar, confesarme y cumplir la penitencia que me fuere impuesta. Amen.
Oracion para todos los Dias
Oh Dios, que por amor a nosotros nos ha enviado a tu Divino Hijo como nuestro Salvador y Redentor, te pedimos que por mediacion de los meritos de tu infancia, se acreciente nuestra fe y abundemos en buenas obras. Por Cristo nuestro Senor. Amen.
PRIMER DIA
La Palabra de Dios
"En esto se manifiesta el amor que Dios nos tiene: en que Dios envio al mundo a su Hijo unico para que vivamos por medio de el". (Jn. 4, 9)
Reflexion
Dios nos ha amado siempre, el no odia ni rechaza a nadie; somos nosotros los que muchas veces lo rechazamos a el por el pecado. Correspondamos a su amor cumpliendo su santa Ley y aceptando a Jesus en nuestra vida.
Proposito
Manifestare mi amor a Dios haciendo todo el bien que pueda a mi projimo.
Oracion Comunitaria
Para que los cristianos nos amemos como hermanos. Escuchanos, Senor.
Para que Jesus nos conceda la gracia que le pedimos en esta novena, si es de su divino agrado. Escuchanos, Senor.
(Pueden anadirse otras peticiones).
Gozos
Coro
Oh Divino Nino mi Dios y Senor, tu seras el dueno de mi corazon.
Estrofas
Aqui en tu Santuario con fe y oracion, te pedimos toda nuestra conversion.
Pequenos y grandes en gran procesion, venimos alegres a hacerte oblacion.
Los jovenes todos con gran persuasion, radiantes de anhelos van al Salvador.
Que nuestras familias como Nazaret, sus grandes virtudes puedan conocer.
Que amemos a todos nos manda el Senor, con todas las fuerzas que amamos a Dios.
Que al fin de mi vida con tu proteccion, tenga yo la dicha de mi salvacion.
Oracion Final
Oh Jesus, tu que viniste al mundo para ser el servidor de los hombres, haz que imitando tu ejemplo, seamos generosos en el servicio de nuestros hermanos. Tu que vives y reinas por los siglos de los siglos.
Padrenuestro, Avemaria y Gloria.
Amen
Primer Dia de la Novena al Divino NinoSegundo Dia de la Novena al Divino NinoTercer Dia de la Novena al Divino NinoCuarto Dia de la Novena al Divino NinoQuinto Dia de la Novena al Divino NinoSexto Dia de la Novena al Divino NinoSeptimo Dia de la Novena al Divino NinoOctavo Dia de la Novena al Divino NinoNoveno Dia de la Novena al Divino Nino
---
Copyright 2019 - Distributed by THE CALIFORNIA NETWORK
Pope Francis Prayer Intentions for January 2019
Young People and the Example of Mary.
That young people, especially in Latin America, follow the example of Mary and respond to the call of the Lord to communicate the joy of the Gospel to the world.
---
---
---
FREE Classes on Lent from Catholic Online School
Our Mission is to Provide a Free World Class Catholic Education for Anyone, Anywhere. Help our Mission >
---