Inside the Atheist Mind
---
Best-selling author Anthony DeStefano's new book exposes the true beliefs of those who say there is no God
Anthony DeStefano, the author who brought us A Travel Guide to Heaven and Ten Prayers God Always Says Yes To, is back with a new book that exposes atheism and atheists.

Inside the Atheist Mind: Unmasking the Religion of Those Who Say There is No God
Best-selling author and EWTN personality Anthony DeStefano has a new book coming out. Inside the Atheist Mind--Unmasking the Religion of Those Who Say There is No God, is an entertaining and powerful retort to atheism and its proponents, revealing the intellectual bankruptcy at atheism's core and equipping Christians to respond its hollow arguments. It is being published by Harper Collins/Thomas Nelson on March 20th.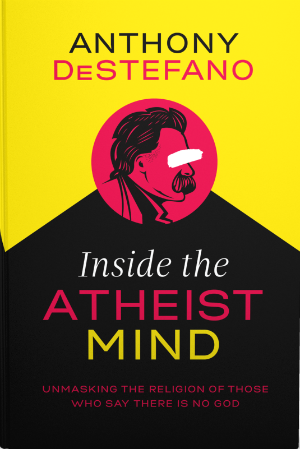 A witty and devastating take-down of the "new" atheist position, DeStefano's book debunks the theories of Richard Dawkins, Christopher Hitchens, Sam Harris and company, revealing how inconsistent, illogical, and frankly ludicrous their conclusions truly are. Poking fun at atheists in a clever and intelligent way, DeStefano demonstrates just how full of holes the new atheism is and reveals that it is actually a "religion" all its own, complete with a creed, a set of commandments, a rigid moral code, rewards, and punishments. More than that, DeStefano exposes the fact that atheism is itself a "superstition" of the worst kind.
Using irony and a healthy dose of sarcasm, Inside the Atheist Mind lampoons, teases, and deflates the atheist position, unmasking it for what it is -- an empty, intellectually barren philosophy, devoid of any logic and common sense. Even more importantly, it unmasks the new atheists, themselves, for what they are: cynical, bigoted, often miserably unhappy human beings who will stop at nothing until any notion of God and religion is completely expunged from society. 
We interviewed DeStefano recently:
Why did you write Inside the Atheist Mind and what do you hope it accomplishes?

The truth is that I wrote Inside the Atheist Mind because I was angry. I've read most of the books by the so-called "new atheists", and I've been incredibly frustrated by them. Their arrogant, condescending tone, as well as the intellectual bankruptcy of their "arguments", literally screamed out for a response. After all, there's only so much a thinking person can take. Sometimes you just have to fight fire with fire, and that's exactly what I've attempted to do in this book. I wanted to give these atheist bullies--and that's exactly what they are, bullies--a taste of their own medicine. I wanted to give them a real schooling--not only on God and the Faith, but also on the subject atheism itself, about which they are typically and profoundly ignorant.  

Why do you think this book is important in today's culture/environment/world?
It's important mainly because we live in an increasingly atheistic culture. Surveys show that atheism is growing at an alarming rate across the globe. In a very short time, countries such as France, the Netherlands, New Zealand, the United Kingdom and Australia will lose their Christian majorities to those who consider themselves atheists or "religiously unaffiliated." In fact, the "religiously unaffiliated" is now the second largest "religious group" in Europe. In the United States, it makes up almost a quarter of the population, and in the past decade alone, it has overtaken the Catholic Church, the mainline protestant denominations, and all followers of non-Christian faiths. And in truth, these figures understate the impact of atheism on the culture. Many people today stop short of calling themselves "atheist" but simultaneously reject the majority of dogmas held by Judaism, Christianity and the other world religions. In other words, their professed religious views have little or no relevance in their lives. They are believers in name only; in their behavior, they are thoroughly secular. For all practical purposes, they are atheists. The bottom line is that, despite many pockets of "religious resistance," we live in a functionally atheistic society in which secular values have achieved dominance in most sectors of the general public, and to an especially high degree in the media, academia, the entertainment industry and the government. This book is therefore important because the world in which we live is literally facing a crisis of faith. 
How is atheism itself a faith?
Atheists believe that everything in life has a purely material basis. They completely deny the existence of anything spiritual. They believe that all our thoughts, dreams, passions, loves, hates, hopes, ambitions, virtues, sins, and sufferings are driven solely by atomic activity. They believe that all our philosophies, politics, cultures, art, literature, music, history, as well as our deepest desire for eternal life and all that is transcendent in the world -- i.e., the good, the true, and the beautiful --that all of this is purely the result of biochemical reactions and the random movement of molecules in an empty and lifeless ether.  This is not science -- it's faith. What's more, it's an irrational faith that serves as the foundation for all superstition. Indeed, atheism is a whole system of beliefs -- a system that has its own philosophy (materialism), morality (relativism), politics (social Darwinism), and culture (secularism). It even has its own sacraments (abortion and euthanasia). And this system of beliefs has been responsible for more death, carnage, persecution, and misery than any system of beliefs the world has ever known.

What do you hope the reader takes away from this book?
The mass media and Hollywood have done an excellent job spreading the lie that if you are an atheist you must be "open-minded" and a "critical thinker," while if you believe in God, you must undoubtedly be superstitious, close-minded, and dull-witted. In actuality the opposite is true. By and large the majority of atheists today are tremendously ignorant of history, philosophy and even science. Their belief in the reality of "nothingness" is founded completely on blind, superstitious faith and a litany of juvenile and illogical non-sequiturs. I want readers to take that ironic truth to heart. I want them to really understand that believing in God is not only satisfying psychologically and emotionally, but it is also far and away the most reasonable position to hold, intellectually. 

Who do you think will benefit most from Inside the Atheist Mind and why? 
The people who will benefit most from this book, I think, are believers who know deep down that the whole atheistic culture is wrong, but who don't know how to argue against it. This book will give them the ammunition they need to quickly destroy all the hollow arguments that are so aggressively put forward by modern-day atheists. It will also give them the confidence they need to stand up to these empty-headed bullies. The second group that will benefit most from reading this book are sincere agnostics and even sincere atheists who want to believe in something, but have been brainwashed by all the anti-God rhetoric in our culture. When they read this book, I think they will finally see that rhetoric for what it is--ignorant, atheist propaganda--and they won't be afraid to take at least a few steps towards the faith. 
In a few short, punchy sentences or bullet points, tell me the top 3 key themes/ topics in the book?
1. The atheist position is intellectually bankrupt, sustained by an ignorance of history bordering on imbecility, and bolstered by a sorry litany of intellectual non-sequiturs and "straw-man" arguments.
2. The atheist position is extraordinarily dangerous because it is utterly incapable of supporting any coherent and consistent system of morality--other than ruthless social Darwinism. That is why it has caused more deaths, murders and bloodshed than any other belief system in the history of the world. 
3. Atheists today are essentially cowardly bullies -- cowardly because they refuse to argue their position honestly; bullies because they use tactics of fear and intimidation to try to drive God from the public square.  
If you had to summarize your book in two short sentences, what would those sentences be? 
Inside the Atheist Mind: Unmasking the Religion of Those Who Say There is No God, is a well reasoned, thoroughly researched, and blistering attack on the new atheist movement that has been sweeping the United States and other countries of the world for the last two decades. The book  is a devastating takedown of 1) the atheist position, revealing it for what it is -- an empty, intellectually barren philosophy, devoid of any logic and common sense; and 2) the new atheists, themselves -- demonstrating that they are cynical, dishonest, cowardly, ignorant, bigoted, and often miserably unhappy human beings who will stop at nothing until any notion of God and religion is completely expunged from society.
How does Inside the Atheist Mind stand out from other books currently in the marketplace?
Most books written in response to the new atheists have been very respectful and even conciliatory. The authors have tried to be kind and reasonable and amiable in an effort to demonstrate that believers don't have to sink into the mud in order to defend their faith. That tact is both charitable and admirable; but unfortunately, it just doesn't work with bullies -- and that is exactly what modern-day atheists are, bullies. Because of this, Inside the Atheist Mind has purposely steered away from the "kind and gentle" approach atheists have come to expect when dealing with believers. Instead, it is just as unapologetically combative, confrontational, provocative, and aggressive, as the books that have been written by atheists like Christopher Hitchens, Sam Harris, and Richard Dawkins. 
Christ told his disciples that they should "turn the other cheek." You don't seem to do that in this book. Why?
People misread and misinterpret that Bible verse all the time. Our Lord was primarily saying that, insofar as it is possible, we shouldn't take grievances personally. We shouldn't make everything about us and our own wounded pride. He did NOT mean that we shouldn't fight against evil. Nor that we have the right to turn other peoples cheeks. Far from it! We have a God-given obligation to defend and love our neighbors. We have an obligation to fight against injustice and oppression of every kind. The proof of that is that, Jesus, Himself, didn't "turn the other cheek."  When He saw how the money-changers in the Temple were cheating His people, He didn't turn the other cheek and walk away. Instead, He made a whip of cords and physically drove them from the marketplace. And when the Pharisees and Scribes tried to trip Him up with their clever word games, He put them squarely in their place, calling them "white-washed tombs full of dead men's bones" and a  "brood of vipers" and "blind guides." Our Lord fought back! And that's exactly what He wants us to do in response to today's arrogant, atheistic no-nothings.  
Are there any interesting or quirky facts we should know about you that are not included in the book? 
I have written 18 books on theology, but I have always leaned towards the sciences as a major field of interest. In fact, I wanted to be a paleontologist when I was a child, and right up until my twenties I wanted to be a doctor. I even attended a specialized science High School in New York, and then in college majored in Biology and was in premed for several years before finally deciding to switch over to philosophy. At various times in my life I have been intensely interested in astronomy, genetics, and physics. I also got my pilot's license at a young age and have been an avid airman for many years, not only because I love the freedom of flying, but mainly because I'm fascinated by the engineering and technical aspects of flight, itself. The point is that, while I am a committed Christian, I have never seen my faith as being something at odds with the sciences. Indeed, my love of the sciences has only deepened my faith.
About Anthony:
Anthony DeStefano is a bestselling Catholic author and EWTN television personality. He is a member of the Board of Directors of Priests for Life, the largest Catholic prolife organization in the United States, and Rachel's Vineyard, the largest post-abortion healing ministry in the world. He has also worked closely with various dicasteries at the Vatican, including the Pontifical Council for the Family. 
Anthony is a Knight of the Sovereign Military Order of Malta-- the oldest existing Order in the Catholic Church. His bestselling books include: A Travel Guide to Heaven, which has been published in 15 languages and 20 different countries, Ten Prayers God Always Says Yes To, Angels All Around Us,  and A Travel Guide to Life: Transforming Yourself from Head to Soul, as well as the award-winning children's books: This Little Prayer of Mine, Little Star, The Donkey that No One Could Ride, The Sheep that No One Could Find, The Puppy that No One Wanted and Roxy the Ritzy Camel. Anthony has also hosted two EWTN television series, A Travel Guide to Life, as well as A Travel Guide to Heaven, based on his bestselling books of the same title, and has also produced and hosted various children's programs for EWTN.
---
---