Pope Francis to meet with Rev. Barber to discuss fight agianst poverty
---
Civil rights leader to meet with Pope Francis over Thanksgiving weekend.
This weekend, Pope Francis will meet with Rev. William Barber in Rome to discuss a new mission to eradicate poverty. Rev. Barber is a civil rights leader from North Carolina, following in the footsteps of Dr. Martin Luther King, Jr.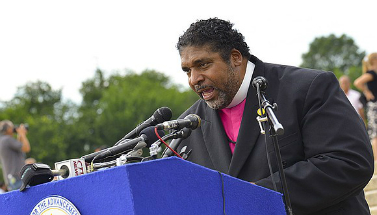 Rev. William Barber is meeting with Pope Francis this weekend to discuss a campaign to eradicate poverty.
LOS ANGELES, CA (California Network) - Pope Francis has invited Rev. William Barber to the Vatican to discuss a new campaign to eradicate poverty. Rev. Barber is a civil rights leader from North Carolina, and has been recognized for his work on behalf of labor movements and his call for economic justice.
Specifically, Barber will discuss his Poor People's Campaign with Pope Francis during a conference at the Vatican. Rev. Barber has recognized the Pope as being at the forefront of the fight against poverty, adding that poverty is a scandal that should be eradicated.
Barber quoted Pope Francis as saying,  "If any theology is going to line up with the theology of Jesus Christ, it must begin declaring good news to the poor who have been made poor by systems of economic exploitation."
We live in a world where there are plenty of resources available for everybody to have enough. However, the distribution of those resources is scandalous. Exploitative economic systems, both on the right and left of the economic spectrum, steal labor, natural resources, food, goods, services, & etc., from people who's chief misfortune is being born in the wrong place.
Even people born into relative prosperity are often exploited by the few who already enjoy much.
While the Church does not endorse either capitalism or socialism, and is generally above politics, the Church does hold that all people deserve the basics of a decent living, by virtue of their humanity.
Rev. Barber's campaign advocates for living wages for workers, adequate housing and other opportunities that people deserve.
This Thanksgiving, as Americans gather around the table to give thanks for what they have, let us take a moment to remember those around the world who have less, and to be prayerful advocates for their well being. There's plenty of food and wealth in the world, but greed must give way to generosity and solidarity before poverty can be eradicated.
---
Copyright 2018 - Distributed by THE CALIFORNIA NETWORK
Pope Francis Prayer Intentions for July 2018
Priests and their Pastoral Ministry.
That priests, who experience fatigue and loneliness in their pastoral work, may find help and comfort in their intimacy with the Lord and in their friendship with their brother priests.
---
---