Is the Virgin Mary appearing in a small Bavarian village? A thousand onlookers say yes
---
Church is monitoring the events, but remains silent on whether or not the visions are authentic.
Something is happening in the town of Unterflossing, Bavaria, but the Church is unsure what. However, hundreds of pilgrims say they know, they say the Virgin Mary is appearing there.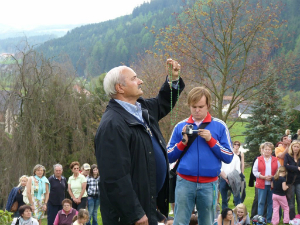 Salvatore Caputa holds a rosary in his hand in this photo from 2010. (Bad St. Leonhard News)
LOS ANGELES, CA (California Network) -- Last Sunday, about a thousand pilgrims gathered in the village of Unterflossing, Bavaria. The village has just 112 residents, but that did not stop the crowd from forming. Their hope was to see for themselves if the claims of Salvatorea Caputa are true. Caputa claims to have been visited by the Virgin Mary repeatedly since 1986.
An observer from the Archdiocese of Munich was present.
Caputa held a rosary in his outstreteched hand as 4:30 PM approached. On the dot, he fell to his knees and all those present reported the strong scent of roses. Roses are associated with the Virgin Mary.
Others filmed on their phones as Caputa entered a private chapel. Bystanders said they felt a vibration.
After a half hour, Caputa emerged from the chapel and produced a handwritten document. "Mary wants you to pray to her, she is greatly troubled," he reported. Caputa then asked people to "bring peace" into their hearts and said that Our Lady said she loved Austria and Germany.
The Virgin Mary will return on March 19, at 4:30 next year.
The owner of the chapel, Otto Masszi took relief at the words, explaining to reporters that the promise of Mary to reappear on March 19 means the world will not end before then.
Pilgrims took water from a local well, which has been blessed by the Virgin Mary according to Caputa.
The Church has not recognized Caputa as a seer, but his claims have not been thoroughly  investigated.
In general, revelations from the Virgin Mary are personal and private occurrences. It is possible for people to stage hoaxes. The Church always looks for warning signs of hoaxes, such as the self-professed seer setting themselves up to profit from the claim, or declaring themselves a leader or an authority. Other warning signs include a person making claims contrary to Church teaching.
No true vision of Our Lady would encourage heresy, apostasy, or schism.
In all of her verified apparitions, Our Lady has made only one request: conversion of the hearts  of all people. This is the one and only thing that matters, that all hearts are converted to God. This echoes Christ's greatest commandment, that we love God with all our heart.
There is no reason to believe Caputa is a false visionary. He has not profited or made himself a leader, nor has he spread a message that is contrary to the faith. But the Church does not approve visions and miracles without first investigating them in detail.
The Diocese of Munich has not yet issued a statement regarding the apparition on September 10. It might not ever do so, despite sending an observer to the location. More than likely, the Church will continue to watch with the aim of ensuring that none are misled and all are properly cared for no matter what is, or isn't happening in Unterflossing.
---
Copyright 2018 - Distributed by THE CALIFORNIA NETWORK
Pope Francis Prayer Intentions for July 2018
Priests and their Pastoral Ministry.
That priests, who experience fatigue and loneliness in their pastoral work, may find help and comfort in their intimacy with the Lord and in their friendship with their brother priests.
---
---