Pope Francis calls the disordered appetite of the depraved transgendered community the 'annihilation of man'
---
Pope Francis tells truth about transgenderism.
Pope Francis made a firm statement about transgenderism during his visit to Poland. While meeting with bishops there, he described transgenderism as the "annihilation of man."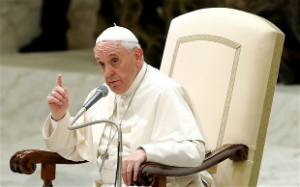 Pope Francis speaks out against moral decay.
LOS ANGELES, CA (California Network) - Pope Francis decried transgenderism during his meeting with Polish bishops last week. The meeting was behind closed doors in Krakow, and the public was not allowed in, but the Vatican released a transcript.
Pope Francis lamented, "Today, in schools they are teaching this to children - to children! - that everyone can choose their gender." He added this was because of "persons and institutions who donate money."
"We are experiencing a moment of the annihilation of man as the image of God."
There is a growing deception in the world that we can choose our gender in accord with our feelings. This is a lie. Our gender is determined by DNA, and we cannot change our DNA.
No matter how a person dresses, or if they undergo medical procedures, there remains no way to change the DNA.
In the United States, the issue of transgenderism is controversial because of restroom policies. Earlier this year, the chain store, Target, revealed a policy to allow people to use the restroom of their choice. Opponents have feared this will create problems as men and women use each others restrooms.
There is also concern it may cause confusion for children when they are impressionable.
Pope Francis described transgenderism as "ideological colonization." It is an issue intended to confuse and convert people into thinking that gender is a fluid thing. It is part of the propaganda that suggests there are no absolutes. There are no truths.
Of course, these are falsehoods. There is absolute truth, and it is found within the teaching of the Church. Enemies of the Church seek to hide this truth from others by sowing confusion.
Gender is established by DNA and it cannot be changed. This is a fact, and no amount of propaganda can change it. Why then, do some people want to teach children that gender can be chosen? It is difficult to say, but their motives cannot be decent or kind.
Here is the full transcript of Pope Francis' remarks in English.
---
Copyright 2018 - Distributed by THE CALIFORNIA NETWORK
Pope Francis Prayer Intentions for July 2018
Priests and their Pastoral Ministry.
That priests, who experience fatigue and loneliness in their pastoral work, may find help and comfort in their intimacy with the Lord and in their friendship with their brother priests.
---
---