Take the Palm Sunday quiz before it's gone!
---
Challenge your friends!
Here are the answers to our Palm Sunday quiz.

CAREFUL! If you have not taken this quiz, click the button below to take it for yourself.


Come back here to check your answers. Good luck!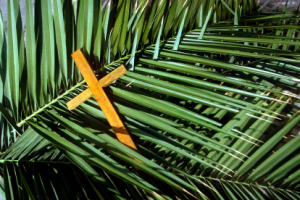 How did you do? Let us know what you thought in the comments below!
strong>1. What is the Sunday before Easter called?
A) Passion Sunday
B) Palm Sunday
C) A and B
D) Resurrection Sunday
Answer: C
Explanation: Palm Sunday is the sixth Sunday of Lent and the last Sunday before Easter. It is also known as Passion Sunday.
2. What is Palm Sunday?
A) The day Jesus died on the cross
B) The day Jesus was resurrected
C) The day Jesus was condemned to death
D) The day Jesus entered Jerusalem
Answer: D
Explanation: Palm Sunday commemorates the triumphal entry of Jesus into Jerusalem, where he would be crucified five days later.
3. Why is Palm Sunday called Palm Sunday?
A) Jesus wore palms on his garments
B) There were palm trees surrounding Jesus' path into Jerusalem
C) People welcoming Jesus spread palm fronds in front of Jesus as he entered Jerusalem
D) Those welcoming Jesus into Jerusalem wore palm fronds in their hair
Answer: C
Explanation: When Jesus entered Jerusalem, the people welcomed Him as king and Messiah. They covered the road with their garments and palm fronds as a symbol of their worship and acceptance of Him as king (Matthew 21:8; Mark 11:8; Luke 19:35, 36; John 12:12, 13)
4. What happens to the palms after Palm Sunday?
A) They are thrown away
B) Parishioners take them home
C) They are kept safe and returned to the church the next Lenten season to be burned and used for ashes during Ash Wednesday
D) B and C
Answer: D

Explanation: The Roman Catholic Church considers the palms to be sacramentals. Parishioners take the palms home and place them on their crosses. They remain there throughout the year, and during the next Lenten Season they are returned to the Church to be burned for ashes on Ash Wednesday.
5. Where do the Palms come from?
A) Jerusalem
B) Harvesters all around the world
C) The Church garden
D) California
Answer: B
Explanation: The work needed to provide palms for Palm Sunday is so immense that it makes a full-time year-round job for harvesters around the world.
---
Copyright 2019 - Distributed by THE CALIFORNIA NETWORK
Pope Francis Prayer Intentions for January 2019
Young People and the Example of Mary.
That young people, especially in Latin America, follow the example of Mary and respond to the call of the Lord to communicate the joy of the Gospel to the world.
---
---