Pilgrimage with Pope Francis - SEVENTH STATION - Virgin Mary, Mother of God
---
Holy Mary, Mother of God, pray for us!
Welcome to the seventh station on our virtual pilgrimage to Philadelphia with Pope Francis ahead of the World Meeting of Families. Let us pray!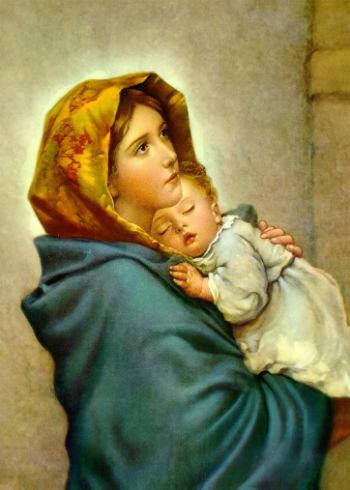 Holy Mary, Mother of God, pray for us!
About Mary, Mother of God
The Virgin Mary, Mother of God, was the daughter of Saints Anne and Joaquin. According to teaching, she lived a sinless, virtuous life, and was raised to serve God by her humble and loving parents.
Married to Joseph, Mary remained celibate and open to the will of God. Joseph wisely and lovingly supported her choice to live a life consecrated to God.
When the Angel Gabriel appeared, Mary replied with some of the most important words ever spoken on Earth, "Let it be done to me according to thy will."
Mary gave birth to Jesus, and became the Mother of God.
The Virgin Mary followed Jesus all of his life and was present during his years of ministry. She wept at his crucifixion, and took joy at his resurrection. Her mortal mission complete, Mary was assumed into heaven, body and soul.
It is traditionally believed that since the time of Christ, the Virgin Mary has spoken to the fathers and saints of the Church and delivered messages from heaven to the faithful. While the veracity of many of these events cannot be verified by science, specific prophecies have come to pass, such as the prediction of communism and persecution in Russia, the coming of the Second World War and the growing persecution of Christians in the present time.
The Virgin Mary has also been cited in numerous miraculous healings which cannot be otherwise explained.
The Virgin Mary occupies a special place in the heart of many Christians and she is the Mother of God and the Church. As such, she is respected and venerated by good Christians all around the world.
Meditation:
As we pause at the Shrine of the Virgin Mary, Mother of God, let us think about how loving our Mother in Heaven has been to us. Without realizing, Mary tends to our needs, she blessed our wounds like a mother kissing a child's scrape. We are so fortunate to have Mary to advocate for us before the throne of God and to always show us how to be. How can we be more like her in all we do? How can we be more loving to our families? Most importantly, let us follow her example and be more open to God's word, that we too can say, "Let it be done according to thy will."
Prayer:
Hail Mary.
(Alternatively, you are invited to pray the Rosary at this shrine.)
Pause and meditate on the mysteries of the Rosary as you go.
Let us offer our intentions to the Virgin Mary, Mother of God, that she may intercede for us before her Son, Jesus Christ.
Holy Mary, Mother of God, pray for us!
Let us now pray the World Meeting of Families Prayer
God and Father of us all,
in Jesus, your Son and our Savior,
you have made us
your sons and daughters
 in the family of the Church.
May your grace and love
help our families
in every part of the world
be united to one another
in fidelity to the Gospel.
May the example of the Holy Family,
with the aid of your Holy Spirit,
guide all families, especially those most troubled,
to be homes of communion and prayer
and to always seek your truth and live in your love.
Through Christ our Lord.  Amen.
Jesus, Mary and Joseph, pray for us.
Let us pause and meditate upon this prayer.
Amen.
Now we invite you to resume your pilgrimage and download the World Meeting of Families prayer. Click the button below to get your free copy.
---
Copyright 2019 - Distributed by THE CALIFORNIA NETWORK
---
---