DEAR CATHOLIC ONLINE: Keep it free, keep it going
---
Act now to keep Catholic Online going.
Catholic Online is heavily invested in bringing you world class news delivered from the Catholic perspective. This service is provided for free and we intend for it to remain free for the foreseeable future. However, it comes at a cost and right now, we need each reader of Catholic Online to lend a hand.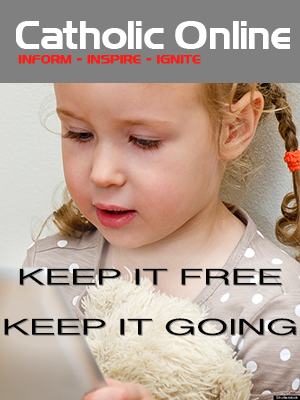 Keep it free, keep it live.
LOS ANGELES, CA (August 22, 2014) - Recently, our volume has been off the charts with the outpouring of news from Syria, especially regarding the genocide of Christians in northern Iraq and Syria. We are proud to say that we may be the only mainstream, Catholic media outlet willing to bring you the truth of this evil as it unfolds.
We are also heavily invested in supporting the victims of these atrocities. We are committed to a sustained campaign of 'Prayer and Action' as called by Pope Francis. That campaign involves substantial charitable giving to the poor, to Catholic schools, and to victims of genocide and other humanitarian disasters.
Act now to help Catholic Online. Keep it free, keep it going.
The work of delivering the news to you, daily prayers, saints, and the Bible is expensive. Although a good portion of these expenses are covered by advertising revenue, we remain dependent on the goodwill of our readers who enjoy our work, to assist in supporting these valued areas of our site. 
We must make ourselves abundantly clear.
In order to maintain the quality of our service, and in order to keep the saints, Bible, daily readings, prayers and other valued sections of our site free to users, we need everyone who reads these sections to make an urgent contribution to Catholic Online.
Recently, we have been compelled to make several infrastructure improvements to Catholic Online because of the massive increase in demand for our coverage, but those improvements come at a cost.
You may have helped Your Catholic Voice Foundation (YCVF) send aid to victims of Christian genocide in Iraq. We want to remind readers that those funds are not used to support Catholic Online and YCVF has no paid employees. Those funds are being used to help save people from genocide.
The donation you make today via Your Catholic Voice Foundation will be made through YCVF which sponsors the Bible, Prayers, and Saints sections on Catholic Online.
The good work that we do together with you, the generous readers of Catholic Online, must continue. But in order for that to happen, we need you to step up and make a donation to the cause. If you are a loyal reader of Catholic Online, please consider making a donation today. Help us keep the site free and help us to continue performing good works for those in need.
---
Copyright 2018 - Distributed by THE CALIFORNIA NETWORK
Pope Francis Prayer Intentions for APRIL 2018
For those who have Responsibility in Economic Matters.
That economists may have the courage to reject any economy of exclusion and know how to open new paths.
---
---