Getting Out From Under the Judgment of Sin
---
Sin, says St. Bonaventure, carries its own punishments.  In his Second Conference on the Seven Gifts of the Holy Spirit, St. Bonaventure says that these punishments are seven in number, with six of them being temporal, and one eternal.  Sin also results in the loss of the good.  And so each of these Bonaventuran judgments can be tied to the loss of a particular good.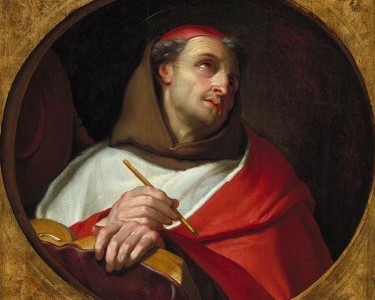 Highlights
By Andrew M. Greenwell, Esq.
Catholic Online (https://www.catholic.org)
6/13/2014 (3 years ago)

Published in Living Faith
Keywords: St. Bonaventure, Holy Spirit, Jesus, judgment, being bound, blindness, obstinacy, dereliction, dissipation, desperation.
---
CORPUS CHRISTI, TX (Catholic Online) - Sin, says St. Bonaventure, carries its own punishments.  In his Second Conference on the Seven Gifts of the Holy Spirit, St. Bonaventure says that these punishments are seven in number, with six of them being temporal, and one eternal.  Sin does not only affect us in the next life: in Purgatory, temporal punishments; in the Hell of the damned, eternal punishment.  Sin affects us now.
According to St. Bonaventure, the six temporal punishments associated with sin are being bound (alligationis), blindness (excaecationis), obstinacy (obstinationis), dereliction (derelictionis), dissipation (dissipationis), desperation (desperationis).  
The seventh and last punishment-a punishment without end and from which there is no escape-is damnation (condemnationis).  It is the result of dying in the state of mortal sin.  "When a man dies in mortal sin," says the Seraphic Doctor, "he is perpetually separated from eternal glory, and his soul is condemned to eternal fire unto the end of the world" after his death and particular judgment, "and then he will be punished also in his body" at the end of history and the final judgment.
Sin is a horrible voluntary lapse into nothingness against the interest of the being and good of the creature.  St. Augustine's definition is famous: sin is privatio boni, the absence, the privation, of good.  We find this notion also in the Summa of St. Thomas Aquinas.  S.T., Ia, q. 48, art. 1 c.  
Sin is a wound-the absence of wholeness.  It is blindness-the loss of sight.  It is a disease of the soul-the absence of health.  It is an entry into darkness-the absence of light.  
Sin is a lapse into the unreal-to non-being, to non-good, to non-beauty-by a creature that is called to the real-to being, to good, to beauty.  As the 19th century French bishop, Charles Louis Gay describes sin in his splendid book The Christian Life and Virtues, sin is "nothingness mingled with existence," a "nothingness which is voluntary, active, and armed," a "nothingness which says no, and which combats and struggles."
The privation of sin therefore deprives us of such goods as freedom, sight, sensitivity toward reality, the ability to relate to others, any sense of the good, and, ultimately, even the very expectation of good: hope.  These deprivations of good tie into the temporal judgments identified by St. Bonaventure.
Sin deprives us of freedom by increasing our desire for sin and by making it difficult to fight against that disordered desire.  Sin, St. Bonaventure therefore teaches, has the quality of a ligature, a rope, chains.  It causes us to be bound, to be tied up, to be held down fast, to be attached; in short, to the state of alligation.  
"With the cords of his sin," says Proverbs 5:22, the sinner is "fast bound."  St. Bonaventure says a sinner is fast bound by two chains, one which makes our appetite tend toward evil and another which makes it difficult to be good, and these bind us "into the hands of the devil."  Jesus, of course, warned us that he who commits sin is a slave to sin.  (John 8:34)
Sin also deprives us of sight.  The mind's eye is darkened, and becomes disdainful of the light.  In a way, man not only chains up his body by sin, but he chains up his mind, his soul, his spirit by it.  He puts out his eyes, just like Sampson.  "For from sin a man has a chain on his mind, so that he reputes nothing a sin," says St. Bonaventure, and "he puts forth the idea that light is darkness and darkness is light."  Evil be thou my good.
Sin also deprives us of sensitivity to reality.  This is the judgment of obstinacy (obstinatio).  We become hardened to sin, we build up defenses against it.  We deteriorate from being sinners, to  a habitual living in sin.  Sin becomes the leitmotif of our lives, and we cannot hear the music of angels, the harmonies of the Gospel.  Here we start to become unreachable: "The heart of man" who suffers under the judgment of obstinacy in sin, "can be softened neither with promises, nor with threats of punishment or future torment."
God, of course, tries to touch the obstinate one, but after a time the obstinate one finds himself almost outside of the range of hearing.  The sinner here becomes incapable of communion, incapable of regarding the Other, incapable of believing he has a duty to anyone but himself.  He suffers the judgment of dereliction.  
When under the judgment of dereliction, God "forsakes a man and exposes him to whatever temptation and sin" according to St. Bonaventure.  This is merely complying with what the sinner desires, since the man under the judgment of dereliction has no interest in praying, "lead us not into temptation" as in the Lord's Prayer, or "do not forsake me, Lord, when my virtue has failed," or "do not depart from me," as in the Psalms.  (Ps. 70:9; 21:12)
Even here, however, at the boundaries of dissipation and despair, at the edge of sinning against the Holy Spirit, God holds out the possibility of redemption.  The hardened heart of the obstinate and resolute sinner who is derelict can still be touched by actual grace, indeed is able, with God's grace, to make an act of perfect contrition and die in a state of sanctifying grace.  
Such a marvelous thing happened to the penitent thief, and his last-minute response to God's grace landed him in Paradise.  
Jesus' dark words on the cross, His cry of dereliction-"My God, my God, why have you abandoned me"-are actually words of hope, and not of despair, because they remind us that even the sinner under the harsh judgment of dereliction is not outside of God's redemption.
Sin also deprives us of the sense of good.  When this happens, we reach the fifth judgment: dissipation.  Dissipation occurs, says St. Bonaventure, "when all things which a man does are dissipated."  Such a man says nothing upright, does nothing good, abides by no duty.  "The whole of what he does," says St. Bonaventure, "is iniquitous."  By chronic abuse, he has destroyed his human dignity; he has effectively killed his conscience.  He is virtually a thing, and no man.
St. Paul speaks of dissipation and how it falls under God's judgment.  Dissipation occurs to those who change the truth of God into a lie, who worship and serve themselves rather than God, and so are handed over to shameful affections and depraved, reprobate minds.  They seethe in their sin, and in revel all manner of sins.  (Rom. 1:26-32).  "For we know that the judgment of God is, according to truth, against" the dissipated.  (Rom. 2:2).
Sin finally leads to the loss of hope, to despair.  That last temporal punishment-desperation-might be called temporal Hell.  It is the "most horrible judgment," horriblissimum iudicium, this side of death.  It is the "greatest judgment," the iudicium maximum, "that can be given in this life." It is the judgment that fell on Judas.  
This horrible judgment is being in, and remaining in, a state of sin against the Holy Spirit which is not forgiven in this life or the life to come.  (Matt. 12:32).  In his Moralia in Iob, Pope St. Gregory the Great said that the greatest of Judas's sins was not betraying his Lord, but was despairing of forgiveness after his sin of betrayal.  Peius de peccato poenituit quam peccavit.  (Mor., XI, 9.12).  His manner of repentance-an ineffective despair-was worse that the horrible sin he despaired of.
In short, it the judgment of desperation might be characterized as the idolatry of one's sin.  Why?  Because one under the judgment of desperation views his sin to be so great as to be unforgivable by God-which is tantamount to saying his sin is greater than God's mercy, and so an idol more powerful than God.  It is the greatest unreality of all.  It is the Devil's big lie.
To remove ourselves from God's judgment is actually quite easy in this life.  Jesus, St. John tells us, did not come into the world "to condemn the world, but that the world may be saved by him."  John 3:17.  Those under the judgment of sin are like the Philippian jailor, who asked the Apostle Paul and Silas, "What must I do to be saved?"
Their response: "Believe in the Lord Jesus, and you and your house shall be saved."  (Acts 16:31)  He who responds to the prevenient and sufficient grace of Christ and comes to believe in Him as Lord "comes out of judgment."  (John 5:24)  It is Christ who gives man the means to overcome the slavery, blindness, obstinacy, dereliction, dissipation, and desperation that come with sin.  It is Christ who gives man Christ freedom, sight, a life founded on reality-on what is-, the ability to love his neighbor as himself, a firm sense of the good, the beautiful, and the true, and, finally, a well founded hope of eternal life.
-----
Andrew M. Greenwell is an attorney licensed to practice law in Texas, practicing in Corpus Christi, Texas.  He is married with three children.  He maintains a blog entirely devoted to the natural law called Lex Christianorum.  You can contact Andrew at agreenwell@harris-greenwell.com.
---
Copyright 2018 - Distributed by THE CALIFORNIA NETWORK
Pope Francis Prayer Intentions for FEBRUARY 2018
Say 'No' to Corruption.
That those who have material, political or spiritual power may resist any lure of corruption.
---
---