What would you do if you read a letter like THIS?
---
Catholic Online shares a letter from Mexico.
Dear Catholic Online,*

My name is Francisco Garcia and I live in San Cristobal de Las Casas, Chiapas, Mexico. My family is poor and we have very few things of our own. The things we have we treasure. My mother has a photo album of her family and ours, my father has a special pocket knife that belonged to his father, his boots and things like that. Nobody has too much. A few weeks ago, something very bad happened to my family.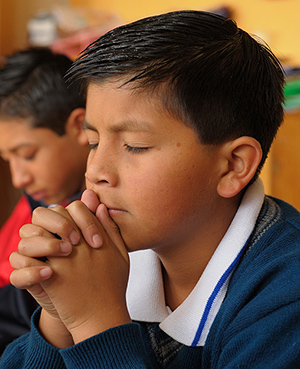 I pray to God every night that He will give us a Bible that is as beautiful as my mother's soul.
LOS ANGELES, CA - My family is poor because my mother and father cannot work. My mother has always stayed home to raise myself and my brothers and sisters, there are four of us although I am the last one at home. I have to take care of my parents. We do not hear from the others except sometimes they send a letter or call. My father worked in the fields until one day several years ago the truck he was riding to work in, the tire exploded and it crashed. My father was thrown from the bed of the truck and badly injured. He has recovered, but he cannot move without much pain.
My parents were good enough to send me to school, so I would not have to work in the fields like they did. I am now 16 and I work to sell purses, handbags and cigars for a friend of the family who owns a stall where he sells these things to tourists.
My work has allowed us to eat, and to have clothes and attend church. Often the last few pesos are donated to the church and my mother will not hear of saving them. "God will send you more money, mijo," she always says. I try to believe this, and I think it may be true, but it is hard to believe.
Every Sunday evening, we would take turns reading the Bible as a family. We would always read Psalm 40, then whatever the daily reading was from the Gospel. I think I have memorized the gospels by now. My mother would also make us say the rosary each week, and any time something bad happened.
I remember the time I was sick in bed, I was small, and she knelt by my bed and her rosary chain broke. She kept on praying the rosary anyway, and she taught me how to say the rosary using my fingers. My mother swears by the rosary, yet things are very hard.
It is hard to believe that God is good when [bad] things happen to people who love Him. Last month, our neighbor started a fire in her kitchen and both their apartment and ours burned. My mother saved her photo album. We were outside when the fire started and she went in, but could not get to her Bible, which was very precious to her. It was very worn out anyway, but it was all she had.
I want to give her a new Bible but I want it to be a nice one. I want her to have something special and I pray to God every night that He will give us a Bible that is as beautiful as her soul. My mother has always fed us first and served herself last. She always prays before she eats, no matter how hungry we are. She has taken care of our every problem.
I imagine what such a Bible would look like, then I feel ashamed because I think it would not be humble.
Dear Catholic Online, I am not sure what I should do. Can you send me a Bible in Spanish for my mother? I really cannot buy one because I give my mother my money and she will not let me spend on such a thing as long as we need other things. She says we remember the Bible in our hearts and we hear it at Mass, but I want us to read it again as a family. I miss us reading favorite psalm.  I hope it [a Bible] will help me to trust God again.
__
*The original letter has been significantly edited for clarity.
This is one of the requests Catholic Online has received for a Bible donation. A note sent with the email explains that the story was written by a friend of Francisco, who we presume may not be able to communicate in English very well.
While we can easily reply suggesting Francisco turn to his parish, we cannot assume the circumstances of a parish or the relationship the family may have with their pastor. The easiest thing is to simply fill the request.
These requests are filled by our readers, people like you, who are willing to do a good deed for a day and donate to Your Catholic Voice Foundation, a non-profit with whom we collaborate to meet the needs of Catholics around the globe.
Your Catholic Voice Foundation is a 503c corporation, and any donation you make is tax deductible. We'd like to ask YCVF to send the Garcia family a Bible and possibly a few inexpensive rosaries as a gift. You can help by donating to their charitable Bible fund. If your donation is not used to provide for the Garcia family's request, it will be used to satisfy the requests of many other families just like theirs.
The Heartbeat of the Family is strong. Let us keep it strong with the Word of God.
---
Copyright 2018 - Distributed by THE CALIFORNIA NETWORK
Pope Francis Prayer Intentions for APRIL 2018
For those who have Responsibility in Economic Matters.
That economists may have the courage to reject any economy of exclusion and know how to open new paths.
---
---