Thank God! Most Americans still believe in God, The Creator
---
Youth numbers in sharp decline.
In a Gallup poll from May, 2014, forty-two percent of all Americans believe that God created humans in their present form in the last 10,000 years. While this is a Protestant fundamentalist view, often espoused by Evangelical Protestants, there are many Catholics who also hold this view. This also explains why there remains considerable controversy over the teaching of creationism in public schools.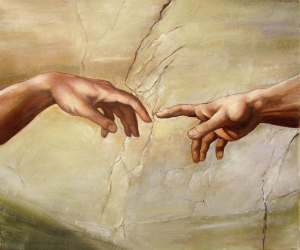 Most Americans remain firm in their understanding that God is the Prime Mover, the Agent of Creation.
LOS ANGELES, CA (Catholic Online) - A Gallup poll from May, 2014, has some insights into what Americans believe about human origins. The vast majority of Americans believe that God was involved in creation, either by guiding human evolution or by creating humans in their present form within the last 10,000 years.
Only a distinct minority, about 19 percent, believe that God had no role in human creation, essentially an atheistic view.
The 'Heartbeat of the Family' is the Word of God, bring up our children right.
The poll results show that despite "gains" in membership claimed by atheists, the vast majority of Americans still believe in God, and they believe God had some role in the direct creation of humans, as expressed in the Bible. Americans are divided on the precise mechanics of creation, be it by means of specific creation as outlined in Genesis or by evolution over long periods of time, but most agree that God is the prime mover behind everything.
The poll questions asked:
Which of the following statements comes closest to your views on the development and origin of human beings?
1) Human beings have developed over millions of years from less advanced forms of life, but God guided this process.
2) Human beings have developed over millions of years from less advanced forms of life, but God had no part in this process.
3) God created human beings pretty much in their present form at one time within the last 10,000 years or so.
Most older Americans retain traditional views, but the statistics show a startling departure from the norm when it comes to the your and college attendance in particular.
Just over a quarter of youth who have been to college still accept the Biblical, literal account of creation while all others accept evolution, either God-centered or atheistic, as the most likely explanation. This is almost certainly due to the concentration of atheists and evolutionist professors at the highest levels in academia.
It also illustrates the need for students to choose their institutes of higher learning wisely.
More importantly, this data reinforces the importance of the family and the church in retaining youth through their transformative college years. A study reported yesterday on Catholic Online showed that teens who are taught the value and importance of their faith to daily, practical decision making, are much less likely to drop out of church.
Schools across the nation are still embroiled in debates over what should be taught to kids regarding creation. Most districts now only permit the atheistic, evolutionary view of creation to be taught. Most teachers either avoid the subject or in the process of instructing, offer the mainstream alternative suggestions to students aside from the curriculum-which is to say they often still manage to suggest that God is prime in the creation of humans. Even if teachers themselves do not present the teaching, inquisitive students often ask about it anyway, bringing up the topic of God-centered creation.
Yet this demonstrates the need for parishes and families to deliver supplemental education to kids. Just as one may take a vitamin pill to supplement their diet, so too it goes with instruction. What the schools lack, church communities and parents must provide.
As for Catholics, any God-centered view will do. Both belief in God-driven evolution and in the divine creation of Adam and Eve as recounted in Genesis are acceptable. However, an atheistic view of evolution is absolutely and inherently anti-Catholic. Families that are concerned should take special care to inoculate their children against this view as it is most commonly expressed in college.
The good news is that the poll results suggest what we have long suspected-the United States is still a Christian nation. The bad news is that the youth, daily exposed to extreme secular influences, may be developing a different take.
---
Copyright 2018 - Distributed by THE CALIFORNIA NETWORK
Pope Francis Prayer Intentions for APRIL 2018
For those who have Responsibility in Economic Matters.
That economists may have the courage to reject any economy of exclusion and know how to open new paths.
---
---