The end of world hunger and poverty is approaching. Here's how one organization will help make it happen
---
Here's what you want to know.
If we are to make the world a better place, we must first lay a foundation that will last for generations. This simple imperative is met through moral education. Moral education is best provided with quality teaching tools that are durable and effective. These simple understandings are guiding Your Catholic Voice Foundation (YCVF) to launch its latest effort to change the world, by helping one child at a time.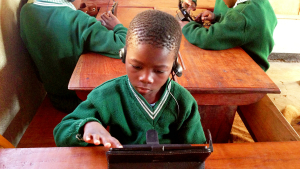 Kids enjoy using tablet computers for learning and are greatly enriched by its expanded capabilities.
LOS ANGELES, CA (Catholic Online) - Earlier this week, Your Catholic Voice Foundation launched its long-anticipated program to provide kids with XO Tablets, a 7-inch Android-based interactive tablet specialized for education. The tablets have enjoyed wide acclaim and use in parts of the third world, especially in Africa, Asia and Latin America, where they act as a cheaper replacement for books and other materials.
This is the third step in our global action solution.
Step 1: Food; feeding hungry children is the first part of the solution. Our Vitameal is shipped in specific units (5lb bags) which allows us to maintain accountability for each bag of food sent to people in need. Food will be served to every child who attends school, encouraging attendance.
Step 2: Education, the gift of literacy; children will develop the knowledge, understanding, skills and values to enable them to meet the challenges they will face in the 21st century. When children learn they are better able to succeed, opening new opportunities for themselves and future generations.
Step 3: Learning Tools; Using our own global distribution network, we will provide XO Tablets for children to optimize their learning and morals and help empower the world's poorest children through education.
All of these things will be distributed through our Catholic distribution networks to ensure accountability. Tablets will remain at each school site so they remain available for student learning and do not become lost or sold.
The durable XO Tablets work like most other tablets do, but the software that comes with them is specialized for education. It is the goal of YCVF to provide these tablets to Catholic schools where they can be used to motivate students and aid in delivering that moral education.
Moral education is the ONLY WAY to bust poverty forever.
Perhaps the greatest problem facing third-world populations is poverty. Poverty does not stem from the environment itself, for many environments can easily sustain their populations with food and other resources required for survival. Poverty instead stems from a lack of appreciation for the value of the human person. Specifically, those in power see the man as a means to an end rather than the end in himself. We're talking about corruption, which is rampant in many parts of the world and leads to poverty and its attendant ills.
Along with poverty comes hunger and poor health. A lack of medicines can make poverty fatal.
Our Catholic community has responded and helped to feed people in need, so lives have been saved by our efforts, but feeding people alone does not break the vicious cycle of poverty that grips millions.
The way to end corruption is to eradicate ignorance, specifically moral ignorance. Moral ignorance is dispelled by moral education, the kind provided by Our Mother Church and God.
The plan for YCVF is elegant and simple. Through a program of generosity, schools will be provided with food to serve students. In many parts of the world, this is motivation enough for parents to send their children to classes.

Beat POVERTY and HUNGER in one effort!
Once in school, kids will be motivated to stay and engage with the learning process thanks to innovative learning tools such as the XO Tablets. In the places YCVF has observed the tablets in use, the kids really love them. Books tend to be worn-out and heavy and require great care in handling. Their information can become dated. Above all, they are quite expensive to purchase and replace.
A tablet however is often less than the price of several books. Instead of a student requiring a separate book for reading, math, and so on, every book needed is available on the tablet. In fact, a single tablet can replace an entire library for a student.
In addition to putting a library in a student's hands, the XO Tablet also provides engaging lessons designed by some of the world's greatest experts on education. The content is tailored and managed to suit the needs of students. The XO Tablet was designed by the educational organization, One Laptop Per Child.
The tablets are family-friendly, multilingual, and provide parents and teachers with reports on usage as well as controls.
Finally, kids just love learning on tablets. There's something intuitive and natural about them that kids respond to naturally, even as toddlers.
These tablets, along with donations of food and medicine, are part of a poverty-busting, corruption eradicating plan of 'prayer and action' requested by Pope Francis. All Catholics have been asked to participate.
As a Catholic Organization, YCVF is quick to respond and ready to deliver for the Holy Father. Of course, we cannot do much without your support, so we ask that you do something concrete today to help eradicate poverty and hunger ONCE-AND-FOR-ALL.
"Whatsoever you do for the least, you also do for Me."
---
Copyright 2018 - Distributed by THE CALIFORNIA NETWORK
Pope Francis Prayer Intentions for APRIL 2018
For those who have Responsibility in Economic Matters.
That economists may have the courage to reject any economy of exclusion and know how to open new paths.
---
---