Pope Francis makes special plea, but is asking us - Are you listening?
---
Sadly, most will find an excuse to turn away.
Pope Francis continues to call for aid to the poor as the holiday season ends. The Holy Father has set a goal to eradicate global hunger by distributing food more equitably around the world and he has called on all faithful Catholics to help. It's a call that can't be answered by a single second collection at Mass.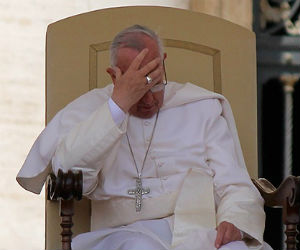 span style="font-size: 13.194443702697754px; line-height: 10.416666030883789px;">LOS ANGELES, CA (Catholic Online) - Pope Francis has called for a global initiative to feed the world's poor. Noting that we produce plenty of food, but distribute it scandalously, he has asked for us to both pray and act to eradicate global hunger. 
Parish churches have held second collections for the poor but an extra dollar in the basket at Mass hardly feeds the poor. 
Pope Francis has made our mission simple - 'Prayer and Action'
PRAYER - Prayer is Powerful. Our global Catholic community should forever continue to pray. Lord hear our prayers.
ACTION - Will you give charitably? Will you allow your charity to cost you something so it can change you?
As the Vatican Almoner, Archbishop Konrad Krajewski  explained, charity has to cost you something so it can change you. The Archbishop shared the story of a fellow clergyman who boasted of giving a few euros to a homeless man outside the Vatican, and explained how in spite of the gift, it wasn't genuine charity because the euros cost the cleric relatively nothing. 
Many of us live in a prosperous nation in prosperous times, even though admittedly they may not feel prosperous --  it's the height of scandal that we are afraid to perform real charity. Instead, we list the litany of taxes and tithes that we make as we turn around to pay hundreds of dollars per month for a new car or a titanic mortgage payment to keep our McMansion afloat. 
We leave Mass and visit restaurants to enjoy rich food, feeling good about ourselves after we tossed an extra dollar, or perhaps a five, into the special collection basket and call our deeds done. This is not how we have been asked to be by Christ and the Holy Father. We've been asked to do much more, something hard for most people.
We have been called by Pope Francis to be a poor church for the poor. The Church he speaks of is not simply the Vatican, or even your parish church building. He does not mean merely the priests and bishops. Pope Francis means you as well. We are called to make the sacrifice, this is not a mission for prelates in the Vatican, it is a mission for YOU. 
To follow Jesus, we must be willing to part with all our Earthly possessions and to follow him. Just as Pope Francis eschews papal trappings and pretenses, so too we are called to turn away from the superficial trappings of modernity-the labels, the media screeds, the wasted food and wealth. Instead, we must focus on the poor among us. 
Poverty is not unique to Africa or Asia or South America, but persists here in the United States. This is ironic because here is where we can best combat poverty. We have states in the union with economies larger than most of the world's countries. Yet, there are homeless on the streets, addicts in the alleys, hungry children trying to sleep as their stomach ties itself into knots with emptiness. Right here, in our country, perhaps in your very neighborhood. 
All of these people, regardless of the choices and circumstances that placed each in their situation, are worthy of Christian love and respect. Pope Francis has washed the feet of prisoners. Is there a more powerful message he can send you? 
Is there?
Christians around the world are very good at handing out Bibles to people, and praying for things, but many of the world's people don't need Bibles, and they can not eat prayers. They need food! Let us remember that the celebration of Mass is also an invitation to a meal. During that meal we are fed both spiritually and physically as we eat and drink of Christ Himself. This isn't symbolic -- it's far beyond that. It's literally true and this should have a profound impact on anyone who ponders it for more than a moment. 
Sustenance of the body is virtually on par with sustenance of the soul, ergo the celebration of a feast at Mass. 
We feast quite regularly in America, as our waistlines demonstrate. So what's our reply to Pope Francis? A dollar in the basket? Have we heeded the lesson of Archbisop Krajewski ? Have we appreciated the washing of prisoner's feet, or do we still blame the poor for their poverty and condemn their children to hunger? 

Do we hear the message of Christ and expect to join Him at his table?
It the answer to this is yes, then our next step is quite simple. PLEASE ACT NOW! Not tomorrow, not next week, not next month. The starving need to eat TODAY. 
This is about 'Prayer and Action.'
Catholic Online is teaming with your Catholic Voice Foundation, a non-profit organization devoted to Catholic charity. We are providing a specific food product, each of which can feed a child 30 meals. 
We believe that world hunger is a challenge that has a solution.
Together we are God's hands in the world, Pope Francis and Catholic Online with Your Catholic Voice Foundation invite you to join with us to support our projects and raise your Catholic voice to end world hunger through 'prayer and action'.
You prayed, now here's where you act. 

Pope Francis calls for your 'prayer and action'...
---
Copyright 2018 - Distributed by THE CALIFORNIA NETWORK
Pope Francis Prayer Intentions for APRIL 2018
For those who have Responsibility in Economic Matters.
That economists may have the courage to reject any economy of exclusion and know how to open new paths.
---
---