By Catholic Online (NEWS CONSORTIUM)
2/17/2014 (2 years ago)
Catholic Online (www.catholic.org)
Are you a Good Samaritan? See what Pope Francis says about you...
How many people really care? Are you a caring person? Pope Francis spoke last year about the Good Samaritan as a person who cared. We'd all like to think we fit into this category, but how many of us combine 'Prayer and Action' to truly fill the role the proverbial role?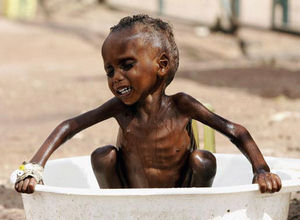 Starving children die every day around the world.
LOS ANGELES, CA (Catholic Online) - Pope Francis shared the story of the Good Samaritan. "In the Gospel, we read the parable of the Good Samaritan, that speaks of a man assaulted and left half dead at the side of the road. People pass by him and look at him. But they do not stop, they just continue on their journey, indifferent to him: it is none of their business! How often do we say: it's not my problem! How often do we turn the other way and pretend not to see! Only a Samaritan, a stranger, sees him, stops, lifts him up, takes him by the hand, and cares for him (cf. Lk 10:29-35).

In the New Jerusalem Bible we find the story of Christ sharing the parable and his instructions.

25 And now a lawyer stood up and, to test him, asked, 'Master, what must I do to inherit eternal life?'
26 He said to him, 'What is written in the Law? What is your reading of it?'
27 He replied, 'You must love the Lord your God with all your heart, with all your soul, with all your strength, and with all your mind, and your neighbour as yourself.'
28 Jesus said to him, 'You have answered right, do this and life is yours.'
29 But the man was anxious to justify himself and said to Jesus, 'And who is my neighbour?'
30 In answer Jesus said, 'A man was once on his way down from Jerusalem to Jericho and fell into the hands of bandits; they stripped him, beat him and then made off, leaving him half dead.
31 Now a priest happened to be travelling down the same road, but when he saw the man, he passed by on the other side.
32 In the same way a Levite who came to the place saw him, and passed by on the other side.
33 But a Samaritan traveller who came on him was moved with compassion when he saw him.
34 He went up to him and bandaged his wounds, pouring oil and wine on them. He then lifted him onto his own mount and took him to an inn and looked after him.
35 Next day, he took out two denarii and handed them to the innkeeper and said, "Look after him, and on my way back I will make good any extra expense you have."
36 Which of these three, do you think, proved himself a neighbour to the man who fell into the bandits' hands?'
37 He replied, 'The one who showed pity towards him.' Jesus said to him, 'Go, and do the same yourself.'  (Luke 10:25-37)

As we see, we are called by both Jesus Himself and Pope Francis to be good Samaritans. That means paying attention to the poor and their needs. We often forget that Jesus was poor. He traveled through his ministry, carried no riches, owned no home, and was sustained by the kindness of others. Likewise for his apostles who would later go on and preach his Gospel message and compose their inspired accounts of what happened.

Knowing this, how do we live this message? Perhaps we do not live in neighborhoods where foreigners are waylaid, perhaps we have no knowledge of hunger around us. This is a blessing, but we needn't miss out on the opportunity just because we are fortunate.

To give charity to others is to engage fully in the Catholic lifestyle. God Himself has engrained charity into the Catholic identity. It is part of what makes us Catholic and distinct from others. Catholics build hospitals, establish charitable missions, and lift millions around the world out of destitution and poverty. The affirmative toll of people saved by the work of the Church is so great, the number has never been tallied, but who has time to count by the billions when there's work to be done?

Catholic Online has embarked on a mission directed by the Holy Father, which is to join him in feeding the world's poor and eliminating world poverty and hunger by 2025. We expect to succeed because this is the first time the world's only global and universal organization has turned ALL of its resources to the task. The Catholic Church is everywhere and that gives us a unique distribution network for food and other material that will support our mutual humanitarian efforts.

There are over a billion people who face some kind of hunger, starvation, malnutrition, or food insecurity. We are lucky because we get to help. We're lucky because this work is changing us as we pray and act together to answer the Pope's call.

Charity changes who we are. When you give enough, and do it in conjunction with sincere prayer, it changes you. It makes you a better person. Se we are lucky to have an opportunity to play the role of the Good Samaritan.

Many of you have already answered this invitation. We thank you!

Many more however have ignored the call, or answered that they gave at Mass. But let's not kid ourselves. A dollar doesn't cut it. It doesn't cost you, so it can't change you.

The Good Samaritan left two denarii. That would have been a generous sum in that time. Now all eyes are upon you as you read this. Will you remove two denarii from your purse and leave it to the innkeeper to feed someone in need?

It's your choice.

Click here to say yes!


Pope Francis calls for your 'prayer and action'...


---
Copyright 2016 - Distributed by THE CALIFORNIA NETWORK
Pope Francis Prayer Intentions for May 2016
Universal:
Respect for Women: That in every country of the world, women may be honored and respected and that their essential contribution to society may be highly esteemed.
Evangelization:
Holy Rosary: That families, communities, and groups may pray the Holy Rosary for evangelization and peace.

By Kenya Sinclair (CALIFORNIA NETWORK)
Notorious atheist group Freedom From Religion Foundation (FFRF) has struck again, this time at an East Liverpool high school in Ohio. LOS ANGELES, CA (Catholic Online) - The Ohio school district was forced to ban The Lord's Prayer after the FFRF complained the prayer ... continue reading
---

By Elise Harris (CNA/EWTN News)
On Sunday Pope Francis celebrated a special jubilee for deacons, telling them that a good servant is one who forgets themselves, letting go of their own plans and humbly placing their lives at the disposal of those to whom they are called to minister. Vatican City, ... continue reading
---
By (CNA/EWTN News)
A group of 61 cloistered nuns from six monasteries in Santiago, Chile made an historic visit to the local Women's Prison Center to spend time with the inmates and attend Mass with them. Santiago, Chile (CNA/EWTN News) - "I don't know if in the 400 years of the history ... continue reading
---

By Ann Schneible (CNA/EWTN News)
The story of a young migrant girl who drowned at sea was at the heart of Pope Francis' address to some 400 children who on Saturday had traveled to the Vatican from the southern Italian region of Calabria. Vatican City, Italy (CNA/EWTN News) - Speaking off the cuff to ... continue reading
---

By (CNA/EWTN News)
There's a demon that specializes in attacking the family, said exorcist César Truqui, a priest who participated in a course on exorcism held in Rome last year. Rome, Italy (CNA/EWTN News) - Fr. Truqui warned that everything that is harming the family, including ... continue reading
---

By Kenya Sinclair (CALIFORNIA NETWORK)
During an interview, Cardinal Robert Sarah explained the importance of priests facing east during Mass. LOS ANGELES, CA (Catholic Online) - In an interview with French Catholic magazine Famille Chrétienne, Cardinal Sarah, who is the prefect of the Congregation for ... continue reading
---

By Kenya Sinclair (CALIFORNIA NETWORK)
Rev. V. A. Anthony, of Brethren Assembly Church in Satna, his wife Prabha and one unnamed woman have been arrested in Aber, India after being accused of "forced conversions" and blaspheming against Hinduism. LOS ANGELES, CA (Catholic Online) - According to Christian ... continue reading
---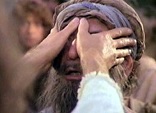 By Deacon Keith Fournier
The same Jesus who passed by Bartimaeus is alive today. The Good News is that no matter what has happened in our past, Jesus walks into the dusty streets of our lives this day. We simply need the eyes of living faith to see Him and the renewed heart to follow Him ... continue reading
---

By Kenya Sinclair (CALIFORNIA NETWORK)
In an attempt to make the Bible more interactive and entertaining to millennials, the King James Version (KJV) of the Bible has been translated with help from popular emoticons. LOS ANGELES, CA (Catholic Online) - According to The Memo, the new Bible, marked as ... continue reading
---

By Kenya Sinclair (CALIFORNIA NETWORK)
A new study revealed Welsh and English Catholics hold the highest retention rate of any denomination but maintain the lowest conversion rates. LOS ANGELES, CA (Catholic Online) - The report, titled the "Contemporary Catholicism in England and Wales," was issued by the ... continue reading
---
All Living Faith News