Two shipments of food have already been sent to the Philippines.
Today, we're sending out a great big thank you to everyone who has answered Pope Francis' call to 'Prayer and Action' and gave generously to help end world hunger. We'd now like to give you a status update.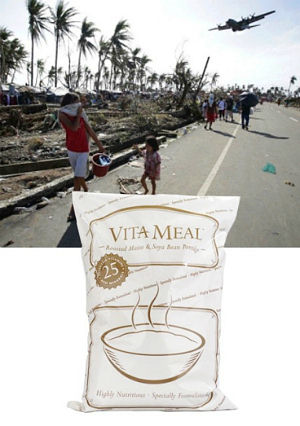 Catholic Online is sending VitaMeal packs to the Philippines. The food does not spoil. The packages are easy to handle and ship. Thousands of people are already eating VitaMeal in the Philippines following Typhoon Hiyan/Yolanda.
LOS ANGELES, CA (Catholic Online) - For the past few weeks, Catholic Online has been working with Your Catholic Voice Foundation to collect charitable donations used to provide VitaMeal to hungry people in the world.

We're proud to report that as of today, Jan 10, we have already sent two shipments that fed thousands of hungry children in the Philippines where the aid is desperately needed. A third shipment will be ordered next week as we collect new donations from our community through the weekend.

You can still be a part of this third shipment by ordering a package here.


It has been one month now, since Pope Francis made his call for 'Prayer and Action' to end world hunger. In fact, the phrase 'Prayer and Action' has become our mission, which you can tell by the special reverence we give to the phrase in our writing.
To be honest, Pope Francis surprised us by laying out the goal to end all world hunger by 2025. His speech, while lost among others today, will become famous later, much like President Kennedy's speech charting the course to the Moon for America.
Like a shot at the Moon in 1960's America, the goal to eliminate world hunger seems incredibly daunting. Yet, it isn't. There are a billion people on the planet who face some form of food insecurity. Some victims are here in the United States where this is being written, but most of them are in Asia. A significant number, although less than in Asia, reside in Africa. Latin America comes third on the list of hungry regions.
No matter where a person lives, they all deserve to eat because God loves each person as an individual creation. Each soul is worthy of love and each body deserves nourishment and life. Every person is invited to God's feast. There is not one life worth more than another before God. To God, the life of the child dying of starvation in Asia or Africa is as equally valuable as your life and mine. There is no difference. God has billions of children and He loves them equally.
Pope Francis' call isn't just a dream however. It took us a few minutes of discussion and thought, but we at Catholic Online quickly concluded that Pope Francis was being guided by the Holy Spirit and was proclaiming an exceptionally wise course of action. We knew that as faithful Catholic Christians ourselves, we had no choice but to obey such a wise edict.
Here's the genius of Pope Francis on full display:
The Catholic Church has more than 1.2 billion members. Although some are hungry and in need, the majority of them enjoy freedom from scarcity and have more than enough in their pantries. Furthermore, the Catholic Church is a truly global and universal institution. There are Catholics in every single country of the world.
The Catholic Church then, is the only institution big enough and organized enough to actually feed the world's poor. Not even the United States, with all its military and economic might, can fulfill this mission. This is a mission for the Church of God, the Roman Catholic Church, and we are called to complete it. It's not the job of the UN, which has a secular agenda to promote, but ours. No nation has this responsibility. It falls to the Church and to you.
The other aspect of this genius is that in fulfilling this mission, the Church will enjoy a revival unlike any experienced in ages. Many Catholics, particularly in America have spent massive amounts of energy fighting as warriors against abortion, gay marriage, and the general encroachment of evil into our society. This is an important fight and one that needs to be made.
Yes, we are the defenders of a New Jerusalem, but the New City needs more than just warriors with swords and bows. We need builders too. In the Bible, we know the story of the prophet Nehemiah, and the wall built to protect Jerusalem.  As brave soldiers fought to defend the city, others took up trowels and built up the city walls in the very midst of the fighting. By building these walls, they saved Jerusalem.
Just like Nehemiah's Wall, the Catholic Church needs both warriors and builders, people who build up institutions and people. We have become neglectful of the wall because we have focused for so long on fighting the public face of evil. Weary of the fighting, some have fallen away or been repulsed from the faith.
Yet, now that we are focusing on building, many fallen Catholics want to come back. There are millions who have no interest in fighting, but they have a burning mission to build. So, the pews are filling, the confession and communion lines are growing.
By shifting the "schwerpunkt" of our efforts to building, the Church attracts more people to the fold.
Of course, the measure of success for the movement will be its success in feeding the world's hungry. There is no data yet on how many meals have been provided around the globe, or on how much success we have enjoyed, but it is certain that Caritas Internationalis, the organization that initiated the One Human Family, Food For All campaign in December, will compile statistics before next October when a major renewal of the effort is already planned.
As for you, the donor, understand that your gift has, or shortly will, fill someone's belly. That is a fact for which each receiving person will be grateful. You have done your part. You have said "yes" to Pope Francis and Christ. What you have done for the least of these people, you have also done for Christ.
Now you deserve your reward. As previously discussed in other stories, the Vatican Almoner, Archbishop Konrad  Krajewski explained that
charity has to cost you so it can change you
. We know these gifts aren't cheap. These are not mere dollar bills in a second collection. A shipment of VitaMeal via Your Catholic Voice Foundation can cost as much as a meal in a restaurant. We know that those who donate are giving something up. Many of you have been exceptionally charitable and given two, three, and four packs.
At least a few people have given 10 or more!
We now wish to pray with all of you that these gifts change you. We pray that you feel good about your giving, and that your charity - your very real sacrifice, has a powerful impact on your life. Giving feels good. Living simply makes for a better life. This is the example of Pope Francis and the secret to his happiness and success as a man. We do well to follow him. Do good.
Some of you have written to us, wondering what's next.
The next big thing from Catholic Online, sponsored by Your Catholic Voice Foundation, is Catholic Team Global.
Catholic Team Global is an international fraternity of faithful Catholics committed to doing good in the world. Everyone who is a faithful Catholic is already a member. We encourage anyone with pride in their faith to share that pride with others.
The first mission of Catholic Team Global is our hunger initiative, as called by Pope Francis himself.
We are the people saying "Yes" to Pope Francis' call to 'Prayer and Action.'
Our ultimate goal is to become the world's largest Catholic Food program in the world. This may seem like a stretch, but Catholic Online is growing rapidly. Catholic Online is already the world's largest Catholic publisher and the largest online presence for our Faith. As we grow, we will continue to be guided by the precepts of our Faith and the ministry of the Holy Father.
With your vital support, we hope to develop enough to provide food to half-a-billion people starving in Asia, including millions in war-torn Syria and other regions. We hope to become the go-to source for aid whether it be the Central African Republic where millions are hungry and displaced by civil war, or Latin America where rampant organized crime and poverty keep millions from the meals they deserve. Even right here, in North America, we hope to provide meals to hungry kids and the elderly, people who need to eat right now, and cannot wait for the government or others to deliver.
We will distribute this food in partnership with whomever we must to feed the hungry, or we shall get into the streets with
Catholic Team Global
to pass it out ourselves. We will not falter in this mission, nor will we stop until hunger is eradicated and the mission of Pope Francis is declared a success.
It remains our prayer that you will join us as we work together under the direction of Pope Francis to carry out the many missions of the Church which will go far beyond solving the world hunger crisis.
For those who wish to join Pope Francis, we're offering Catholic Team Global shirts and apparel, just to start.
You can get yours here in the Catholic Online Boutique.
We encourage you to get outfitted both physically and spiritually for the building that is to come. Your Catholic Online Boutique has everything you need to accomplish this. 
Within your Catholic Online Boutique there are also options to donate to other areas of Catholic Online as well as a pro-life section, gift cards, and more. Donations and charitable gifts are processed through Your Catholic Voice Foundation, a 501(c)3, which is a non-profit corporation and makes your gifts tax deductible; it's guiltless shopping!
It's finally time to let the world know that you are a person of 'Prayer and Action' so
get your Catholic Team Global apparel now.
Thank you again, and remember,
this is the last call for our third aid shipment to feed the hungry.
Are you late to answer Pope Francis' call for 'prayer and action?' catch up now!
---
Copyright 2016 - Distributed by THE CALIFORNIA NETWORK
Pope Francis Prayer Intentions for May 2016
Universal:
Respect for Women: That in every country of the world, women may be honored and respected and that their essential contribution to society may be highly esteemed.
Evangelization:
Holy Rosary: That families, communities, and groups may pray the Holy Rosary for evangelization and peace.
By (CNA/EWTN News)
A group of 61 cloistered nuns from six monasteries in Santiago, Chile made an historic visit to the local Women's Prison Center to spend time with the inmates and attend Mass with them. Santiago, Chile (CNA/EWTN News) - "I don't know if in the 400 years of the history ... continue reading
---

By Ann Schneible (CNA/EWTN News)
The story of a young migrant girl who drowned at sea was at the heart of Pope Francis' address to some 400 children who on Saturday had traveled to the Vatican from the southern Italian region of Calabria. Vatican City, Italy (CNA/EWTN News) - Speaking off the cuff to ... continue reading
---

By (CNA/EWTN News)
There's a demon that specializes in attacking the family, said exorcist César Truqui, a priest who participated in a course on exorcism held in Rome last year. Rome, Italy (CNA/EWTN News) - Fr. Truqui warned that everything that is harming the family, including ... continue reading
---

By Kenya Sinclair (CALIFORNIA NETWORK)
During an interview, Cardinal Robert Sarah explained the importance of priests facing east during Mass. LOS ANGELES, CA (Catholic Online) - In an interview with French Catholic magazine Famille Chrétienne, Cardinal Sarah, who is the prefect of the Congregation for ... continue reading
---

By Kenya Sinclair (CALIFORNIA NETWORK)
Rev. V. A. Anthony, of Brethren Assembly Church in Satna, his wife Prabha and one unnamed woman have been arrested in Aber, India after being accused of "forced conversions" and blaspheming against Hinduism. LOS ANGELES, CA (Catholic Online) - According to Christian ... continue reading
---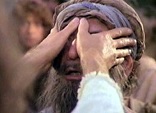 By Deacon Keith Fournier
The same Jesus who passed by Bartimaeus is alive today. The Good News is that no matter what has happened in our past, Jesus walks into the dusty streets of our lives this day. We simply need the eyes of living faith to see Him and the renewed heart to follow Him ... continue reading
---

By Kenya Sinclair (CALIFORNIA NETWORK)
In an attempt to make the Bible more interactive and entertaining to millennials, the King James Version (KJV) of the Bible has been translated with help from popular emoticons. LOS ANGELES, CA (Catholic Online) - According to The Memo, the new Bible, marked as ... continue reading
---

By Kenya Sinclair (CALIFORNIA NETWORK)
A new study revealed Welsh and English Catholics hold the highest retention rate of any denomination but maintain the lowest conversion rates. LOS ANGELES, CA (Catholic Online) - The report, titled the "Contemporary Catholicism in England and Wales," was issued by the ... continue reading
---

By Elise Harris (CNA/EWTN News)
For Pope Francis, prayer is neither a "magic wand" used to get what we want nor something casual we do only when we feel like it, but is rather the strength that sustains our faith in difficult moments. Vatican City, Rome (CNA/EWTN News) - "Jesus says that we need 'to ... continue reading
---

By Andrea Gagliarducci (CNA/EWTN News)
Former Pope Benedict XVI could appear in public once again on June 29, the 65th anniversary of his priestly ordination. Vatican City, Rome (CNA/EWTN News) - Speaking after the May 20 presentation of a book dedicated to Benedict XVI's pontificate, Archbishop Georg ... continue reading
---
All Living Faith News