World Peace Day - Pope Francis has a message for the world and it's every bit as beautiful as you can imagine
---
By Marshall Connolly, Catholic Online (NEWS CONSORTIUM)
1/4/2014 (4 years ago)
Catholic Online (https://www.catholic.org)
The letter is both simple and powerful and brings clarity to the vision of Pope Francis.
Pope Francis wrote his World Peace Day Message on December 8, the Feast of the Immaculate conception, as is the custom of the Popes. It was released on Jan 1, 2014, the actual date of the World Day of peace. Take the time to read it, several times, and ponder what the Holy Father is telling us. It is a wonderful message and one that will shape how we engage; how we pray and act in the year to come.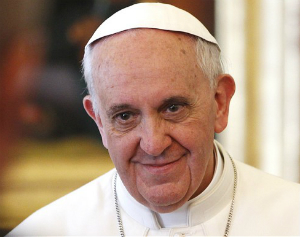 Pope Francis has a message for the world and it's every bit as beautiful as you can imagine.
LOS ANGELES, CA (Catholic Online) - The message from Pope Francis is clear and simple, without embellishment or clever turns of phrase. Like the man, the message is simple. If we sum it up in a phrase, it would be a repetition of God's most basic commandment - that we should love one another.
However, the act of loving in the real world has a practical side and it is to that the Holy Father directs his beautiful message. 
Pope Francis started by referring to fraternity, which is the awareness that we are all related as brothers and sisters. This is an ancient and fundamental understanding, one that is universal across time, religions, and even atheists and evolutionists will agree that we are all descended from a common lineage and interrelated in some very basic way.
Pope Francis explained why acknowledging this is vital.
"Fraternity is an essential human quality, for we are relational beings. A lively awareness of our relatedness helps us to look upon and to treat each person as a true sister or brother; without fraternity it is impossible to build a just society and a solid and lasting peace," he wrote.
This has been the basis of many of his messages. Some commentators have taken these messages and used them for their own agendas. For example, with claims that Pope Francis has somehow radically changed the teaching of the Catholic Church. That is simply untrue.
The continual efforts to characterize his message as somehow teaching that atheists go to heaven or that we should accept homosexual practice as a new normal is absurd. His comments on those who have not heard the Gospel but follow their conscience is taken right out of the teaching of St. Paul.
His call to love even those engaged in lifestyles which we know will never lead to happiness in this life or in eternity, is taken right out of the 2000 year history of Christianity. We begin with love, just as the Lord begins. We approach the woman at the well not with an accusatory finger, but with an open heart. The efforts to misuse his words for political and social agendas at odds with the teaching of the Church are false assessments, extrapolated conclusions from those who do not understand Pope Francis' most basic message, repeated here.
We are all brothers and sisters. We are all loved by God. We are all called to love one another as He loves us. Even people whose beliefs and lifestyles are fundamentally different from ours, are still our brothers and sisters. We are called to love them as well. As important, we are called to take the next step and build alongside of them a society that is both truly peaceful and truly just.
Note that there is no condoning of positions or lifestyle choices which are morally opposed to the teachings of the Catholic Church or the Natural Moral Law. Instead, there is a simple recognition that some people will be different and we are called to learn how to love them all and build a social order where we can not only get along but help one another on the road to happiness. The joyous news from Pope Francis, is that with love, it is indeed possible.
Of course, the most simple and important basis for this all is the recognition of God as a transcendent and loving Father to all of us. Without that acceptance, building a better society becomes much more difficult. When Pope Francis respectfully addresses atheists, he does so in the Love of a God who wants all men and women to know Him and find the way to life to the full.
Yet, Pope Francis' message is not centered on atheists or even self professing gays or lesbians, a common obsession in the United States where these kinds of issues seem to be at the forefront of the American media culture. In fact the message does not even mention these groups specifically, but it's obvious how it applies. Instead, he focused most keenly on issues such as poverty and injustice and the call of solidarity or social charity. He focuses on loving with God's love. 
"The many situations of inequality, poverty and injustice, are signs not only of a profound lack of fraternity, but also of the absence of a culture of solidarity," Pope Francis wrote. He continued, "The succession of economic crises should lead to a timely rethinking of our models of economic development and to a change in lifestyles."
Here is where the materialist, whether he or she have a large salary or not, might become uncomfortable, for Pope Francis is reinforcing the teachings of Jesus Christ. It is not whether one has possessions as much as whether they have Him.
In the United States, we tend to cling to our individualism. We hold as sacred our ability to accumulate wealth and enjoy opportunities that most people in the world lack. We have a higher standard of living, unmatched by most other countries. Compared to the world, even our poor enjoy a measure of wealth that is undreamt of in other nations. Our middle class, for all its struggles, still lives as well as the wealthy do in many countries, and our wealthy class is an aristocracy onto itself.
Amid this boundless material wealth, many Americans from rich to poor, have forgotten the importance of solidarity. Solidarity is the idea that we are our brother and sister's keeper. We are called to work together, acknowledging that we are all one family, we can make the world a better place.
In America, we can ignore this and instead focus on individual achievement. Maybe we think that the economically poor have themselves to blame and often our thinking doesn't go beyond that. Yet by clinging to simplistic notions, we can contribute to oppressing our brothers and sisters. As we strive to accumulate more things as cheaply as possible, we can find ourselves trampling those who manufacture and provide them.
Pope Francis once again brings to the conscience of the world two very basic teachings from Catholic Social Doctrine, the universal destination of goods and the concept of a social mortgage. Neither are opposed to private ownership. Rather, they recognize that we are all responsible for all. They recognize the call to serve the common good. 
Pope Francis wrote, "I would like to remind everyone of that necessary universal destination of all goods which is one of the fundamental principles of the Church's social teaching."
In other words, you will someday die and nothing you own will go with you. Only the resurrected human person is eternal. What use will wealth and possessions be to you then?
Nowhere in this statement is there a condemnation of capitalism, nor should this be construed as a call to adopt some system of economics which rejects the market or free economy. Instead, the critique is much more fundamental. It's targeted at the individual person, the conscience and our personal responsibility to recognize our neighbor as another self. It is not railing against a system. What have you done for the poor today? Did you serve the poor yesterday? Good. Now what's your plan for today?

Just as you need to eat every day, so too do your brothers and sisters. Simply recognizing this statement as true, and acting every day, not just during a holiday season or when finances permit - whatever that means, we can make the world a much better place.
Of course, we drop a dollar into the second collection at Mass, or a few coins into the Salvation Army bucket and we think we're good. Yet, how many people are fed by this? Equally important, how much did that trivial donation change us?
As the Vatican Almoner, Konrad Krajewski explained, charity has to cost you so it can change you.
The message goes beyond our typical notions of charity and calls upon us to adopt practices that recognize the fraternity we have with others in distant parts of the world. Fair wages, fair trade, ethical business practices, these are all part of the Pope's call to action because they flow from the teachings of Jesus Christ, most specifically reflected in the Sermon on the Mount.
Pope Francis also calls us to be peacemakers: "For those who make strife, I appeal forcefully. To all those who sow violence and death by force of arms: in the person you today see simply as an enemy to be beaten, discover rather your brother or sister, and hold back your hand!
"Give up the way of arms and go out to meet the other in dialogue, pardon and reconciliation, in order to rebuild justice, trust, and hope around you! 'From this standpoint, it is clear that, for the world's peoples, armed conflicts are always a deliberate negation of international harmony, and create profound divisions and deep wounds which require many years to heal.'"
Pope Francis called for the non-proliferation of weapons and the disarmament of nuclear and chemical weapons.
"Give up the way of arms and go out to meet the other in dialogue, pardon and reconciliation, in order to rebuild justice, trust, and hope around you!" he wrote.
The message of the letter is simple and profound. We obtain peace and contribute to justice by recognizing that all people, no matter who they may be, are our brothers and sisters, each individual has been lovingly created by God and IS loved by Him, no matter what.
The person you shun, the person you ignore, the person against whom you war, is a person who God also loves. Do you truly want to destroy or degrade someone that God loves just because they are poorer than you or different? Your offense against that person then, goes far beyond that person in severity.
Instead of tearing down, we are called to build up. In creating a just society, we are called to solidarity which functionally means to show charity to others. No matter how poor you think you are, there are many others who are worse. Will you give charitably? Will you allow your charity to cost you something so it can change you?
Less selfishness, less greed, and more loving - this is the key, and the heart of Pope Francis' message.
---
Copyright 2018 - Distributed by THE CALIFORNIA NETWORK
Pope Francis Prayer Intentions for APRIL 2018
For those who have Responsibility in Economic Matters.
That economists may have the courage to reject any economy of exclusion and know how to open new paths.
---
---