Outrages include WalMart food drive for fellow employees and McDonald's workers on food stamps.
If you're reading this article, then your Catholic identity is probably pretty important to you. You appreciate Catholic values and you try to live them in your daily life. Unfortunately, there are a lot of things out there designed specifically to undermine your values, often without your knowledge. The holidays are a prime example.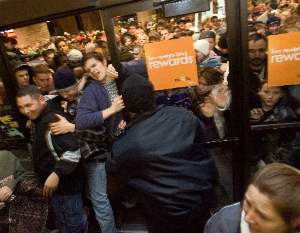 Heavenly Father, we thank you for these gifts...
Highlights
By Marshall Connolly, Catholic Online (NEWS CONSORTIUM)
Catholic Online (www.catholic.org)
11/19/2013 (2 years ago)
Published in Living Faith
Keywords: Benjamin Harrison, Black Friday, shopping, morality, greed, CEO, compensation, pay, wages, low, slavery, starves, McDonald's, Wal Mart, list, socialism
---
LOS ANGELES, CA (Catholic Online) - The holidays are filled with shopping, among other things. It's a good time for we, who treat ourselves to egg-nog and peppermint-flavored treats, who enjoy shopping for bargains, and look forward to a couple of hearty holiday meals surrounded by the warmth of a fire as well as faith, family, and friends.

However, there's a growing chorus of voices that are out there to tell us that much of our collective holiday cheer is sung and danced upon the backs of a growing multitude of low-wage workers who are asked to sacrifice their holidays so we might enjoy ours. Worse, this isn't about people who choose to work, but rather people who are forced to work and paid so little they rely on the government dole to make ends meet.

And they can forget about a fancy turkey feast.

According to the Huffington Post, companies such as Kroger, Starbucks, Wal Mart, and McDonald's pay so little to their employees that these individuals can't afford much holiday cheer. Many work on Thanksgiving now, since the rest of America is addicted to shopping-just hours after telling God and each other how thankful they are, and few can afford a proper holiday dinner.

Case and point, McDonald's employees are actively told by the company to seek out social services, such as food stamps, to feed their families. That's right. Your value-menu item costs more than you think.

You may pay a dollar for a burger, but you also have to pay more in taxes to provide public assistance for every worker that makes your sandwich. Suddenly the value menu isn't such a value anymore.


So who's eating the profits?
Apparently the CEOs and executives are slurping at the trough while the workers toil to keep them fat and happy.
Have a look at these numbers from HuffPo. Employee pay figures are averages.
Starbucks
U.S. workforce: 120,000
CEO compensation: $28.9 million
Employee pay: Less than $9/hr
Revenue: $13.3 billion
Net income: $1.4 billion
TJX Companies (TJ Maxx)
U.S. workforce: 138,211 (est.)
CEO compensation: $21.8 million
Employee pay: Less than $8/hr
Revenue: $25.9 billion
Net income: $1.9 billion
Macy's
U.S. workforce: 175,700
CEO compensation: $13.8 million
Employee pay: Less than $9/hr
Revenue: $27.7 billion
Net income: $1.3 billion
Darden Restaurants
U.S. workforce: 203,389 (est.)
CEO compensation: $6.4 million
Employee pay: Minimum wage, usually less than $10/hr. Some staff earn tips, which are shared, but not all. Common in the food service industry.
Revenue: $8.6 billion
Net income: $412 million
Sears
U.S. workforce: 246,000
CEO compensation: $1.3 million (Louis D'Ambrosio, former CEO)
Employee pay: Less than $8/hr
Revenue: $39.9 billion
Net income: -$930 million
Note: Sears is failing as a company and sales are slipping.
Yum! Brands (Taco Bell, Pizza Hut, etc)
U.S. workforce: 694,712 (est.)
CEO compensation: $14.2 million
Employee pay: Less than $8/hr
Revenue: $13.6 billion
Net income: $1.6 billion
Kroger
U.S. workforce: 343,000
CEO compensation: $11.1 million
Employee pay: Less than $9/hr
Revenue: $96.8 billion
Net income: $1.5 billion
Target
U.S. workforce: 361,000
CEO compensation: $20.6 million
Employee pay: less than $9/hr
Revenue: $73.3 billion
Net income: $3.0 billion
McDonald's
U.S. workforce: 739,055 (est.)
CEO compensation: $13.8 million
Employee pay: minimum wage
Revenue: $27.6 billion
Net income: $5.5 billion
Walmart
U.S. workforce: 1.4 million
CEO compensation: $20.7 million
Employee pay: Less than $9/hr
Revenue: $469 billion
Net income: $17.0 billion
WalMart has a special place on this list. The company is starting its Black Friday sales on Thanksgiving day at 6 p.m. which will rob most of its associates of their family time. The company pays so little that at several locations, it's asking other employees to donate to food drives, for fellow employees.
That's right. The richest retail company in America is asking its lowest paid employees to share with their fellow employees instead of just paying a fair wage.
In addition to being denied a fair living wage, many employees are kept deliberately at part-time status, to prevent any requirement to provide benefits.
Most Americans look upon these jobs as "starter jobs" or stepping stones. Places where young people can work their way through college and mature folks can earn a few extra dollars. Yet, this isn't the reality and hasn't been for a long time.
College, for one, costs tens of thousands of dollars, even to attend cheaply. To cover the costs students must take out loans. College savings are no longer enough to pay for costs which outstripped savings years ago. Students are attending college and graduating under mountains of debt.
Then, they must find jobs in a very competitive workforce where degrees are losing their value. Even high-end, high-skilled occupations are losing their demand for talent as more complex processes become automated or require less skill and attention.
In addition to the college multitudes who can't find jobs to pay off their crushing student loan debt, there is a large number of people, many born into poverty, who never make it as far as college. They're sometimes lucky to finish high school. They, along with migrant workers, make up the backbone of America's cheap labor industry.
All this keeps prices low and profits high, for which CEOs are lavishly rewarded. Shareholders also appreciate the bump.
However, we are naďve to think this ends here.
Our nation bears an awful burden because half of its citizens don't even earn enough money to pay taxes. At least that same half also relies on government services to make ends meet. This is the multitude that will flock to Obamacare for Medicaid, a cost the working few left among us will bear.
Ultimately, this pattern can't continue. The days of the value menu, and dollar store, and cheap big-box shopping are drawing to a close. The age of outrageous CEO compensation while employees are asked to share a turkey, is coming to an end.
No nation, which denies to half of its people the right to work and earn a reasonable living can long expect to stand.
When half the population is reliant on government, how do you think they will vote? What policies will they adopt? Yes, the corporations and the wealthy own Congress, but it's just a matter of time before a "man of the people" emerges, tapping into the anger of half-a-nation or more and turns that against our long-beloved Republic.
It's happened before, since the days of ancient Rome. It will happen again.
So change is inevitable. We must then decide how we will effect this change. We can ignore the numbers and persist in our habits until one day the revolution takes us by surprise sleeping in our McMansions, or we can control the chaos by averting it altogether.
Cleaning up our government, curtailing outright greedy business practices, mandating that corporations, particularly large ones, pay their employees so the taxpayers don't have to. Everybody who wants to work should be allowed at least 40 hours in some occupation. And nobody who works 40 hours should require government assistance.
Whatever policies we need to implement to arrive at this safe destination, we need to develop them now. Nobody wants to live in a socialist state. It's a cure that's worse than the disease. Yet it's just what's coming if we don't demand change from our politicians and our corporate leadership.
Of course, you can start by staying home this Thanksgiving and instead of busting doors, bust prayers and enjoy your family.
Live your Catholic values.
Don't abide the hype. Let workers have their holidays too-- they're not all volunteers, and they're not being paid generously enough to put up with the experience shoppers put them through on Black Friday.
At the very least, avoid the top 10 on the list above. Those are the worst offenders. They may stand as paragons of the free market, but I assure you they might as well be flying socialist banners from their corporate headquarters. By condemning their choice-less, thankless workers to lives of deepening poverty, that's precisely what they're doing to our beloved country.
I pity the man who wants a coat so cheap that the man or woman who produces the cloth or shapes it into a garment will starve in the process.
-President Benjamin Harrison.
A birth foretold: click here to learn more!
---
Copyright 2016 - Distributed by THE CALIFORNIA NETWORK
Pope Francis Prayer Intentions for May 2016
Universal:
Respect for Women: That in every country of the world, women may be honored and respected and that their essential contribution to society may be highly esteemed.
Evangelization:
Holy Rosary: That families, communities, and groups may pray the Holy Rosary for evangelization and peace.

By Kenya Sinclair (CALIFORNIA NETWORK)
A new study revealed Welsh and English Catholics hold the highest retention rate of any denomination but maintain the lowest conversion rates. LOS ANGELES, CA (Catholic Online) - The report, titled the "Contemporary Catholicism in England and Wales," was issued by the ... continue reading
---

By Elise Harris (CNA/EWTN News)
For Pope Francis, prayer is neither a "magic wand" used to get what we want nor something casual we do only when we feel like it, but is rather the strength that sustains our faith in difficult moments. Vatican City, Rome (CNA/EWTN News) - "Jesus says that we need 'to ... continue reading
---

By Andrea Gagliarducci (CNA/EWTN News)
Former Pope Benedict XVI could appear in public once again on June 29, the 65th anniversary of his priestly ordination. Vatican City, Rome (CNA/EWTN News) - Speaking after the May 20 presentation of a book dedicated to Benedict XVI's pontificate, Archbishop Georg ... continue reading
---

By Tony Magliano
The best way to remember those who have been killed in battle is to work for the day when others will no longer be sent to take their place. Prayerfully reflecting on how to move away from war and war preparation should be central to every Memorial Day.Why do ... continue reading
---

By Ann Scneible (CNA/EWTN News)
The feast of the Holy Trinity is an invitation for us to commit to enriching our everyday relationships by promoting communion, consolation, and mercy, Pope Francis said during his weekly Sunday Angelus address. Vatican City, Rome (CNA/EWTN News) - "Our being created ... continue reading
---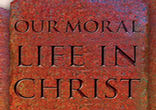 By Deacon Keith Fournier
What we choose determines who we become. Choosing what is good changes the chooser, empowering him or her to proceed along the pathways of virtue and develop the habitus - or habits- which promote Christian character. The Catechism of the Catholic Church ... continue reading
---

By Marshall Connolly (CALIFORNIA NETWORK)
Ever since the reveal of the Third Secret of Fatima in 2000, several people have insisted there's more to the secret than what the public was told. These rumors have taken a life of their own, prompting the Holy See to speak out against them. LOS ANGELES, CA (Catholic ... continue reading
---

By (CNA/EWTN News)
Recognizing the difference between a person who's possessed and a person struggling with a mental illness or other infirmity is a vital part of the ministry of exorcism, according to a long-time exorcist and priest. Rome, Italy (CNA/EWTN News) - Father Cipriano de Meo, ... continue reading
---

By (CNA/EWTN News)
It's a major miracle that you've probably never heard of. Lima, Peru (CNA/EWTN News) - On Sunday, Oct. 3, 1847, more than 2,000 people in Ocotlán, Mexico saw a perfect image of Jesus Christ crucified that appeared in the sky for more than 30 minutes.Approved by the ... continue reading
---

By (CNA/EWTN News)
During his Mass on Thursday, Pope Francis preached a warning to the rich who oppress the poor, focusing on employers who accumulate wealth by misusing those who work for them. Vatican City, Rome (CNA/EWTN News) - "We consider this drama of today: the exploitation of ... continue reading
---
All Living Faith News