STOP, HAMMER TIME! Pope Francis suspends the Bishop of Bling
---
Commission to investigate.
Pope Francis has suspended Bishop of Limburg, Franz-Peter Tebartz-van Elst. The bishop is accused of extravagant spending on his official residence. An inquiry is planned for the bishop.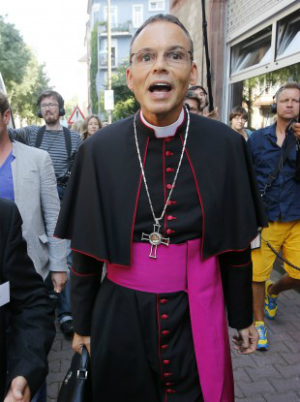 Bishop of Bling, Tebartz-van Elst reportedly flew first class to India to visit the poor, but took a budget flight to Rome.
ROME, ITALY (Catholic Online) - Pope Francis called Bishop Franz-Peter Tebartz-van Elst to Rome last week to explain why he spent over 31 million euros on his official residence. The Bishop, 53, has been dubbed "the Bishop of Bling" by Germans for his reportedly extravagant lifestyle.
Bishop Tebartz-van Elst flew to Rome on a budget airline and had a 20 minute one-on-one meeting with Pope Francis. That meeting reportedly went well, according to a statement from the Bishop's office. However, a statement from the Vatican said that "A situation has been created in which the bishop can no longer exercise his Episcopal duties."
The statement continued to say that a special church commission would review the matter.
Bishop Franz-Peter Tebartz-van Elst is legendary across Germany for his expenditures. The German people pay church taxes to the state, which are then passed to the clergy. In 2012, the Catholic Church in Germany received € 5.3 billion in 2012. How that money is spend is a sensitive spot for the German people and in this case, creates a credibility issue for the Catholic Church in Germany.
Some of that money was spent on a first class flight to India where the Bishop of Bling went to visit the poor. He was called to testify regarding his expenses and reportedly lied under oath about them. A Vatican auditor visited the diocese last month and was told that the expenditure and subsequent cost overruns were the result of 10 separate building projects, not just one. The bishop insisted that he has done nothing wrong.
Pope Francis has called for the Church to be poor and to serve the poor. He has openly criticized bishops and other clergy who have lived lavish lifestyles.
The pope has already called for investigations into the Vatican Bank and how the Church's finances are handled.
For now, Bishop Tebartz-van Elst is suspended and is spending "time away" from his diocese. In his absence the Vicar General, Wolfgang Roesch is assuming his duties.
Critics have said the Vatican is being overrun by the media frenzy over the issue, but the Vatican is stressing that the Pope  will deal objectively with the issue, which is why a commission will evaluate the matter.
Francis expects his bishops to live simply. That may be impossible for Tebartz-van Elst, in which case his future within the Church is uncertain.
A birth foretold: click here to learn more!
---
Copyright 2018 - Distributed by THE CALIFORNIA NETWORK
Pope Francis Prayer Intentions for July 2018
Priests and their Pastoral Ministry.
That priests, who experience fatigue and loneliness in their pastoral work, may find help and comfort in their intimacy with the Lord and in their friendship with their brother priests.
---
---