More important: What the Pope DIDN'T say about gays
---
Pope Francis did not issue any sort of license.
Pope Francis made headlines during an interview with reporters where he talked about gays in the Church. What matters is not only what he said, but also what he did not say about gays.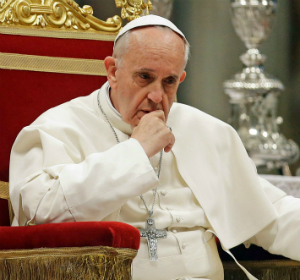 What matters too is what Pope Francis did not say.
LOS ANGELES, CA (Catholic Online) - While the media is busy suggesting that Pope Francis is somehow tolerant of homosexuality in the Church, such hasty conclusions are a certain mistake.
We saw this recently, when it was wrongly suggested by the media that atheists were going to be ushered to the front of the line at the Pearly Gates.
Pope Francis, when asked about gays and the existence of a "gay lobby" within the Vatican had this to say. "They say they exist. If someone is gay, whos earchers for the Lord and has goodwill, who am I to judge?"
It should be noted he added, "The Catechism of the Catholic Church explains this very well. It says they should not be marginalized because of this, but that they must be integrated into society," referring people to the official teaching of the Church.
It should now be mentioned what wasn't said, so that undue license is not interpreted into the Holy Father's comments.
Pope Francis is not authorizing the practice of homosexual activity, which is a behavioral choice exercised by an individual. Much like the choice to engage in premarital sexual behavior, homosexual behavior exists outside of the sanctity of marriage, and is immoral.
Individuals who engage in immoral sexual behavior, both straight and gay, commit mortal sin. Before anyone gets too happy, understand the pope did not pardon or sanction any such behavior.
The Pope did not endorse homosexual marriage, which is fundamentally impossible, forbidden by both Church law and natural law. A marriage between two people of the same sex is simply impossible. His comments should not be interpreted as a backtrack on this line.
The Pope did not endorse the ordination of homosexuals, which the Church still interprets as a mental disorder.
What he did say was that individuals who struggle with homosexual attraction shouldn't be marginalized. This is not the same as licensing immoral behavior.
Pope Francis also explained that the problem was not having this struggle in itself, but rather acting upon the inclination, and on attempting to organize and exert influence on the Church to bend to the will of the cabal.
"The problem is not having this orientation. We must be brothers. The problem is lobbying by this orientation, or lobbies of greedy people, political lobbies, Masonic lobbies, so many lobbies. This is the worse problem," Pope Francis explained.
So the media should not run rampant and suggest that the Church is softening a position, which is certainly is not. The problem is that the mainstream media does not understand Church teaching on the subject and rarely does. In fact, many Catholics need instruction on the matter.
Pope Francis merely explained a basic teaching found within the Catechism of the Catholic Church.
Yes, those who struggle with same-sex attraction are very welcome in the Catholic Church, but immoral behavior and sexual deviance are as wrong as ever, and all people, straight or gay, indulge in such behavior at mortal peril.
---
Copyright 2018 - Distributed by THE CALIFORNIA NETWORK
Pope Francis Prayer Intentions for July 2018
Priests and their Pastoral Ministry.
That priests, who experience fatigue and loneliness in their pastoral work, may find help and comfort in their intimacy with the Lord and in their friendship with their brother priests.
---
---