Do Our Possessions Possess Us? Learning the Logic of Giving on the Path to Evangelical Freedom
---
Pope Benedict reminds us, no matter what our income, of the dangers of having our possessions possess us
When we come to see that everything in our lives is a gift to be given back to the Giver, we begin to learn the way of simplicity. Only then can the goods of the earth be fully entrusted to us by the Lord who is their Source. Only then can we discover the secret of heaven's economy: those who live in simplicity are the richest people on the earth. Jesus called them the "poor in spirit." He promised them blessedness. He proclaimed that the kingdom of heaven belongs to them (Matt 5:3).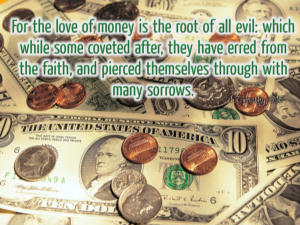 Highlights
By Deacon Keith Fournier
Catholic Online (https://www.catholic.org)
10/16/2012 (5 years ago)

Published in Living Faith
Keywords: Money, love of money, prosperity gospel, Lazarus, solidarity, poverty, evangelical poverty, evangelical counsels, detachment, holiness, Pope Benedict XVI, Deacon Keith Fournier
---
CHESAPEAKE, VA. (Catholic Online) - The Gospels of Matthew and Mark describe an encounter between Jesus and a wealthy young man. He had followed the commandments since his youth, but Jesus told him that was not enough. He instructed the young man to give up his possessions and follow Him. The man refused and went away sad. He had missed the Encounter with the One who would have satisfied his every longing. His possessions possessed him. On October 14, 2012, I proclaimed the story at the Sunday Liturgy. (Matt. 10:17 - 30) and after Mass, read the insights Pope Benedict XVI gave to the faithful who had gathered in St. Peters square. He reminded them, "God can conquer the heart of a person with many possessions and lead him towards solidarity and sharing with the poor and needy, so that he can enter into the logic of giving." "Jesus teaches that it is very difficult but not impossible for a rich person to enter the kingdom of God. Indeed, through the 'the logic of giving', a person may follow the path of Jesus Christ Who, as the Apostle Paul wrote, 'for your sake ... became poor although he was rich, so that by his poverty you might become rich'". Benedict noted that the young man, "had not found true happiness. For this reason, he asked Jesus 'what must I do to inherit eternal life?' On the one hand he was attracted, like everyone else, to the fullness of life; on the other, being used to his wealth, he thought he could somehow 'buy' eternal life, perhaps by observing some special commandment". His desires were disordered in "his sense of attachment to his great riches". In the encounter, Jesus invited him to freedom. By giving everything to the poor he would learn that, "his treasure - and therefore his heart - should be in heaven and not on earth. Jesus told the man: 'Come, follow me!' However, instead of welcoming Jesus' invitation with joy, he went away sadly because he could not give up his possessions, which could never give him happiness and eternal life" Then Jesus told him, "It is easier for a camel to pass through the eye of a needle than for one who is rich to enter the kingdom of God". However, seeing His disciples' perplexity he added: "For human beings it is impossible, but not for God. All things are possible for God. The history of the Church is full of examples of rich people who have used their wealth evangelically, even attaining sainthood. Suffice to mention St. Francis, St. Elisabeth of Hungary and St. Charles Borromeo". Pope Benedict reminds us, no matter what our income, of the dangers of having our possessions possess us. We are called to learn the logic of giving. Whenever I proclaim this Gospel I am reminded of the angel's words to Mary "Nothing is impossible with God." Mary's treasure was the One whom she carried in her womb, birthed for the world, and followed throughout her life. So it should be with each of us. When we begin to recognize our own poverty of spirit; we are able to live lives that are completely dependent upon Jesus, who is the Bread of Life. Only He can satisfy the hunger of the human heart. Only He should occupy the place within us that is to be reserved for worship and complete devotion. When we have Him, we have everything; even though we may possess nothing. When we discover that everything in our lives is a gift to be given back to the Giver, we begin to learn the way of simplicity. Only then can the goods of the earth be fully entrusted to us by the Lord who is their Source. Only then can we discover the secret of heaven's economy: those who live in simplicity are the richest people on the earth. Jesus called them the "poor in spirit." He promised them blessedness. He proclaimed that the kingdom of heaven belongs to them (Matt 5:3). One of the challenges we have is developing the right relationship with what the Christian faith calls the "goods" of the earth. A wrong relationship with the goods of the earth, a disordered relationship, leads to a blindness of spirit and a neglect of the One who is Goodness Himself, the Lord. We read another sobering story of a Rich Man in the Gospel of Luke. We encounter him after he has died. (Luke 16:19-31) He had also fallen into the trap of embracing a wrong relationship with the goods of the earth. His disordered appetites blinded him. He failed to see the need of his brother Lazarus:
"There was a rich man who dressed in purple garments and fine linen and dined sumptuously each day. And lying at his door was a poor man named Lazarus, covered with sores, who would gladly have eaten his fill of the scraps that fell from the rich man's table. Dogs even used to come and lick his sores.When the poor man died, he was carried away by angels to the bosom of Abraham. "The rich man also died and was buried, and from the netherworld, where he was in torment, he raised his eyes and saw Abraham far off and Lazarus at his side. And he cried out, 'Father Abraham, have pity on me. Send Lazarus to dip the tip of his finger in water and cool my tongue, for I am suffering torment in these flames.' "Abraham replied, 'My child, remember that you received what was good during your lifetime while Lazarus likewise received what was bad; but now he is comforted here, whereas you are tormented. Moreover, between us and you a great chasm is established to prevent anyone from crossing who might wish to go from our side to yours or from your side to ours.' He said, 'Then I beg you, father, send him to my father's house, for I have five brothers, so that he may warn them, lest they too come to this place of torment.' "But Abraham replied, 'They have Moses and the prophets. Let them listen to them.' He said, 'Oh no, father Abraham, but if someone from the dead goes to them, they will repent.' Then Abraham said, 'If they will not listen to Moses and the prophets, neither will they be persuaded if someone should rise from the dead.'" (Luke 16:19-31) Notice, the Lord said nothing about the rich man's possessions themselves, but rather his use of them. He failed to recognize, let alone respond to, the need of others. Having "goods" is not the sin. It is rather a matter of the heart. In this story, the goods possess the man and he is blinded, unable to see the needs of His brother. He lived for himself as if God did not exist. His sin was that he did not even see Lazarus. He did not love, in word and deed. St Augustine proclaimed in a homily on this Gospel passage: "Lazarus was received into heaven because of his humility and not because of his poverty. Wealth itself was not what kept the rich man from eternal bliss. His punishment was for selfishness and disloyalty" As Christians we are called to a different way of relating to the goods of the earth. In an age with bumper stickers that say, "Whoever dies with the most toys wins" and "I am spending my retirement spending my children's inheritance", we are invited to make a choice concerning our relationship with the goods of the earth. We are called, in whatever state in life we live out the Gospel vocation, to live the way of simplicity and learn the logic of giving. Among the treasures of the Catholic faith, we have the witness of those who have gone on before us and show us the way to respond to the invitation to live the Gospel. Next to her Son, Mary, the Mother of the Lord, lived this way of simplicity most perfectly. In prophetic contrast to our contemporary western excess, her humble life reminds us that simplicity is the path to holiness, happiness and freedom. Simplicity is not about the quantity of the goods of the earth we may possess. It is about our relationship to them. Jesus said, "Where your treasure is, there your heart will be also" (Matt. 6:21). The real question posed by the challenge to live lives of godly simplicity is "Do we own them or do they own us?" In truth, God owns them all and we are His stewards. Mary's simplicity stands in prophetic contrast to two mistaken notions concerning our relationship with the "goods" of the earth, "our" possessions. These same questions emerge in every age. At the one extreme is a misguided embrace of economic poverty in the name of a spirituality that seems to maintain that wealth and material goods are somehow intrinsically evil. Although some believers are called to a voluntary embrace of economic poverty as part of a specific vocation, most of us live in the material world of bills, possessions, and financial challenges and we are to learn how to receive and to use the "goods" of the earth, including money and material possessions. Wealth and possessions are not evil. We are given them by the God who loves us. We are to receive them with gratitude and use them with freedom in the Lord. Matter is not evil. How can it be so when Jesus' earthly body was formed of matter? To think that it is often reveals that we misunderstand His incarnation and the Resurrection of the body, which will take place in a new heaven and a new earth. Our relationship to this world - and the goods of this world- should mirror that of God's Son whom we follow. One of the great theologians of the twentieth century, Hans Urs Von Balthasar, wrote of the relationship with matter, in these profound words: "In Jesus Christ, God has engraved his name upon matter; he has inscribed it so deeply that it cannot be erased, for matter took him into its innermost self." The other error, found in its most extreme contemporary manifestation in what has been labeled the so-called "prosperity gospel, equates God's favor with economic wealth. It is based upon a false equation that the more money we possess, the more spiritual power we have, and the more we can see that God favors us. Many of the Jews of Jesus' day believed that God's favor guaranteed wealth and prosperity. But Jesus' life told a very different story. He was born in a manger. As an adult he had no place to lay his head. He was raised in a simple home- by a woman whose heart recognized true wealth. Remember the words that the angel spoke to Mary when she asked how it could be that she would bear the Messiah. "Nothing is impossible with God" (Luke 1:37) Mary understood that when you have the Lord, you have it all. She lived in the heavenly economy, and if we choose, we can live there too. In rediscovering our proper relationship to the goods of the earth-neither utterly rejecting them, wholeheartedly craving them, or turning them into an idol-we will find true freedom in Jesus Christ. Our eyes will be opened. We will not only learn to see Lazarus, we will see Jesus in Lazarus. Remember the sobering words from the twenty fifth chapter of the Gospel of St. Matthew: "'Lord, when did we see you hungry and feed you, or thirsty and give you drink? When did we see you a stranger and welcome you, or naked and clothe you? When did we see you ill or in prison, and visit you?' And the king will say to them in reply, 'Amen, I say to you, whatever you did for one of these least brothers of mine, you did for me." (Matthew 25: 37-40) How often have we have heard the saying, "Money is the root of all evil"? That is not what the Apostle taught. The phrase "love of money" is important because it speaks to matters of the heart. When we love the "goods" of the earth more than the One who created them we commit the sin of idolatry. A destitute person can be just as obsessed with money as a wealthy one who is given over to greed. Mary helps us to see that a life of simplicity is the antidote to any disordered view of earthly goods. The Apostle Paul wrote two letters to Timothy, a young disciple who had been placed in leadership over the Christian community at Ephesus, a city that was known for its wealth and luxury. St. Paul had traveled there to plant the nascent Christian Church and he knew that those new Christian believers would face certain dangers when dealing with wealth. He reminded Timothy: "Indeed, religion with contentment is a great gain; for we brought nothing into the world, just as we shall not be able to take anything out of it. If we have food and clothing, we shall be content with that. Those who want to be rich are falling into temptation and into a trap and into many foolish and harmful desires, which plunge them into ruin and destruction. For the love of money is the root of all evils and some people, in their desire for it, have strayed from the faith and have pierced themselves with many pains. But you, man of God, avoid all this. Instead, pursue righteousness, devotion, faith, love, patience, and gentleness." (1 Tim. 6: 6-11) In a letter to the Christians in Philippi, St Paul  explained his own approach to material goods: "I know indeed how to live in humble circumstances; I know also how to live with abundance. In every circumstance and in all things I have learned the secret of being well fed and of going hungry, of living in abundance and of being in need" (Philippians 4:12). One translation renders the Greek "I have learned the secret of being content in any and every situation." (NIV) St. Paul learned to live free from the disordered love of money. He found true contentment.He lived what Pope Benedict XVI referred to as the "logic of Giving". We can as well, on the path to evengelical freedom.
---
Copyright 2018 - Distributed by THE CALIFORNIA NETWORK
Pope Francis Prayer Intentions for APRIL 2018
For those who have Responsibility in Economic Matters.
That economists may have the courage to reject any economy of exclusion and know how to open new paths.
---
---