Labor Day: Human Work Has Been Raised to the Grandeur of God
---
The dignity and honor of human labor is clearly revealed in the sacred humanity of Jesus Christ
When God Incarnate entered into our created world, he sanctified humankind and the labor in which men engage in order to shape creation. It is in gazing through the supreme lens of the consummation of God's revelation, the Person of Jesus Christ, that the divine light of truth is thrown upon human labor. Its sanctity and dignity is then revealed, opening a doorway in which human labor is seen as a participation in God's work.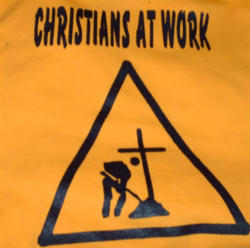 For the Christian, all human work participates in the ongoing work of redemption
GLADE PARK, CO (Catholic Online) -- Although Labor Day is a day of rest, it is also a day on which we celebrate the honor and dignity of human labor. Unfortunately, these two terms, "honor" and "dignity," are rarely correctly associated with labor in contemporary society, since the meaning of human work is often distorted and reduced as it is viewed heavily -- or only -- through the lenses of productivity and efficiency.
While it is obvious that businesses and corporations cannot continue to exist under sustained financial losses, an impoverished understanding of human labor can result in perceiving man as merely a sentient tool which is used to accomplish but one ultimate goal: profit.
The Catholic understanding of labor is, however, very different from the way in which it is commonly understood in today's highly secularized society. In order to understand human labor in its fullest sense, it is necessary to begin with the human person.
It is precisely at this point, at the inviolable dignity of the human person whose life is both created and sustained by God, that the Church draws her understanding of everything that has to do with human rights and society itself. Therefore we never look at the human person in isolation, as an entity unto himself, but rather in context with the Creator who graciously willed him into existence through a superabundance of love.
Reflect for a moment on where we have derived our being and life: God has willed to create man, and in so doing, has created man in his image and likeness, endowing him with spiritual powers of intellect and will. Man is therefore an "outstanding manifestation of the divine image," the "only creature on earth that God has willed for its own sake" (Gaudium et spes 17, 24).
The Catechism of the Catholic Church teaches us that "The human person participates in the light and power of the divine Spirit" (1704). These truths and concepts of our existence are, indeed, truly magnificent.
Jesus Teaches Us To Appreciate Work
Further, the moment we reflect on the human person, we are immediately led to the Person of Jesus Christ, who entered into our created world and became man, like us in all things except sin. We cannot think of the human person apart from Christ, for a proper understanding of the human person is inseparable from the sacred humanity of the Savior of humankind. And it is no different with human labor: the full dimension of man's work is revealed and contained in Christ himself.
As we reflect on the dignity and honor of labor, we are drawn to the tranquil setting of Nazareth and the Holy Family: here, in St. Joseph's carpenter shop, we imagine the young Jesus with mallet in hand, his foster father directing him from behind, guiding his blows as he learns to carefully strike a freshly honed chisel in just the right manner and with just enough force to properly shape the wood.
Soon, the Blessed Mother enters, sets a flagon of cool water on a wooden bench, and delicately kisses the young Jesus on the forehead. The work stops. The tools are set aside. She smiles and kneels beside her Son.
Mary, ever-Virgin and ever-sweet, carefully looks at her husband's and Son's work. The conversation is soft, peaceful and meaningful. There is a grace infused joy that permeates the air. After a cool drink, the Holy Family enters into prayer, adoring and praising the Father for his boundless graces and love. Then, the young Jesus again takes up his mallet.
Blessed John Paul II observed that Jesus, having "become like us in all things, devoted most of the years of his life on earth to manual work at the carpenter's bench" (Laborem Exercens 6).
The Compendium Of The Social Doctrine Of The Church reminds us that, while man is not to be enslaved by work, since before all else he must be concerned about his soul (260), during Jesus' preaching and life he teaches us to appreciate work (259). Our Lord labored tirelessly during his earthly ministry, freeing men and women from sickness and death, and accomplishing powerful deeds of mercy (261).
When God Incarnate entered into our created world, he sanctified humankind and the labor in which men engage in order to shape creation. It is in gazing through the supreme lens of the consummation of God's revelation, the Person of Jesus Christ, that the divine light of truth is thrown upon human labor.
Its sanctity and dignity is then revealed, opening a doorway in which human labor is seen as a participation in God's work. And indeed it is, for God has willed to exercise his divine power through man: God sustains us and infuses us with the energy and grace to freely and actively take part in accomplishing his divine plan for mankind. We are not outside observers. We are free instruments of God's power and will.
Work and Toil and Miserly Soil
Some see work as a curse. Indeed, such disordered realities as materialism or economic tenets that try to "reduce the worker to being a mere instrument of production, a simple labor force with an exclusively material value," severely distort the essence of work and strip it of its noble finality (CSDC 271). However, "work is part of the original state of man and precedes his fall; it is therefore not a punishment or a curse" (CSDC 256). Work "becomes toil and pain because of the sin of Adam and Eve, who break their relationship of trust and harmony with God" (Ibid.).
The suffering we experience in association with work is, to this very day, due to sin. If we reflect carefully on the demands and tensions of work, those expectations which grate on us day in and day out, those stresses which seem an inherent part of relating to others in the work environment, we soon realize that it is sin which has brought about this unfortunate situation. It is sin that has produced these thistles and thorns which seem to have overrun the vineyard. Although our desire is to harvest grapes peacefully, it seems this can only be accomplished at the cost of our bloodied feet.
But even this pain can nearly evaporate if we will but understand we are God's children, created for a very great, sublime purpose: to participate in God's will, to live a holy life and to exist in freedom and love for all eternity with God. Let us grasp this concept: God does not demand success, but rather love, fidelity and kindness. This is mentioned simply because the spirit of the modern world labors to convince us of a false purpose: that we exist to accumulate wealth and power, and that the measure of a man is found in the extent to which he has excelled in such an endeavor.
Human Labor: Brotherhood and Service Raised To The Grandeur of God
However, the honor and dignity of human labor is not derived from individual success; nor is the ultimate purpose of work the accumulation of material wealth. On the contrary, human work finds its honor, dignity and purpose in the mystery of Christ's own life. As the unsearchable riches of Christ are brought to light in ever greater measure, human work becomes a service raised to the grandeur of God (CSDC 262). Thus, in the context of our Savior's life, human work truly transcends all worldly measures.
Further, when we find ourselves confronted or weakened by the manifold pressures of work, we can be consoled in the fact that by patiently enduring such difficulties we join in union with our Savior: "Those who put up with the difficult rigors of work in union with Jesus cooperate, in a certain sense, with the Son of God in his work of redemption and show that they are disciples of Christ bearing his cross, every day, in the activity they are called to do" (CSDC 263).
Our Lord Jesus Christ practiced charity and mercy, sincerity and honesty always and everywhere. It is these types of virtues, demonstrated so perfectly in Christ's life, which are so desperately needed in today's work environment. In accurately seeing our existence as members of the one body of Christ, in understanding our ties of brotherhood within the human community, in correctly perceiving the honor and dignity of human labor which Christ himself sanctified, it is possible to transform the workplace and the world according to God's plan of love and goodness.
"Freeing people from evil, practicing brotherhood and sharing: these give to work its noblest meaning, that which allows humanity to set out on the path to the eternal Sabbath, when rest will become the festive celebration to which men and women inwardly aspire. It is precisely in orienting humanity toward this experience of God's Sabbath and of his fellowship of life that work is the inauguration on earth of the new creation" (CSDC 261).
----- Deacon F. K. Bartels is a Catholic Deacon and writer who knows his Catholic Faith is one of the greatest gifts a man could ever receive. He is a contributing writer for Catholic Online.

---
Copyright 2018 - Distributed by THE CALIFORNIA NETWORK
Pope Francis Prayer Intentions for APRIL 2018
For those who have Responsibility in Economic Matters.
That economists may have the courage to reject any economy of exclusion and know how to open new paths.
---
---