Hi readers, it seems you use Catholic Online a lot; that's great! It's a little awkward to ask, but we need your help. If you have already donated, we sincerely thank you. We're not salespeople, but we depend on donations averaging $14.76 and fewer than 1% of readers give. If you donate just $5.00, the price of your coffee, Catholic Online School could keep thriving. Thank you.
Help Now >
Living the Catholic Faith: Proud to be Proud? Is Pride Ever Acceptable for a Christian?
What have you that you did not receive? If then you received it, why do you boast as if it were not a gift? (1 Cor 4:7)
Can we ever be proud of anything? Sure, we can be proud to be called Sons of God.  Saint Paul said, "Therefore in Christ Jesus I have found reason for boasting in things pertaining to God" and again, "Let him who boasts, boast of the Lord." For it is not the man who commends himself that is accepted, but the man whom the Lord commends"  (2 Cor 10:17- 18)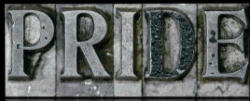 P>RICHMOND, VA. (Catholic Online) - "Proud to be a (you fill in the blank)". How many times per day do we see this emblazoned on the back of a car? "Proud to be Irish". "Proud parent of an Honor Student".  "Proud member of Local 12345." I don't remember seeing these "pride" signs until recent years, when there seems to be an epidemic of the need to tell other people that we are proud of something or other. Is there anything wrong with this, or is it just a little bit silly?
Being proud of something doesn't seem so bad. According to the dictionary, it can mean, "A sense of one's own proper dignity or value; self-respect", or, "Pleasure or satisfaction taken in an achievement, a possession, or an association, as in parental pride". If I work hard on my lawn, dig out all the weeds, and keep it cut so it looks like a golf course, don't I have a right to be proud of my work?
The Church, however, considers pride one of the Seven Deadly Sins. Pride can also mean, "Arrogant or disdainful conduct or treatment; haughtiness" or, "An excessively high opinion of oneself; conceit". God does not like this attitude; we read in Proverbs 8:13, "The fear of the Lord is hatred of evil. Pride and arrogance and the way of evil and perverted speech I hate."
So, is pride ever acceptable, or is it always sinful?
St. Thomas Aquinas gave us the answer when he said, "Inordinate self-love is the cause of every sin (I-II,77,4) ... the root of pride is found to consist in man not being, in some way, subject to God and His rule." Pride is basically a form of self-love, of taking credit for something that God has done. Pride is in a sense telling God, "You didn't do that. Somebody else (me) helped you do it". That sort of thinking doesn't sit well when we apply it to our fellow man, and it certainly does not please God.
The reason pride is such a deadly sin is that it gets in the way of our relationship with God. When we are focused on ourselves and our own achievements we cannot see that God is working in our lives and in those of our fellow men.
The corresponding virtue to, and remedy for, this sin is humility. Unfortunately, in our day humility seems to be in short supply. We see politicians , celebrities, and athletes daily doing everything they can to call attention to themselves and their accomplishments. Those who are humble are seen by comparison to be weak, and are relegated to the back of the social bus.
So why does pride seem to be on the rise? Pride is the result of and an attempted compensation for our estrangement from God. If you perform an Internet search on the word "pride", most of the hits will involve "gay pride", homosexuals who proclaim to the world that they are proud to be homosexual. The fact is that most people, even those who recognize homosexuality as being intrinsically disordered and the accompanying behavior grave sin, really do not care to know about their sexual proclivities. So why is it necessary for them to trumpet their pride?
Archbishop Fulton Sheen said, "Pride is an admission of weakness; it secretly fears all competition and dreads all rivals." Or, as an old Jewish proverb puts it, "Pride is the mask of one's own faults." Queen Gertrude says in Shakespeare's Hamlet, "The lady doth protest too much, methinks". This quotation is often misunderstood, because we apply the modern meaning object or deny to the word protest, while in Shakespeare's day it meant affirm or vow, so what it refers to is stating her case so discordantly and so insistently that she lost credibility.
Natural law, which is written on our hearts, tells us that many things we do today are evil. Homosexual acts, contraception, abortion, and an entire litany of sins are so prevalent that they have actually become enshrined into law. A parallel development, of course, is the de-Christianizing of our culture, because if we ignore God and pretend it is we who are the supreme power and arbitrators of morality, then we no longer have to deal with pesky inconveniences like our conscience. Pride is often a blustering attempt to cover the fact that one innately realizes that he is wrong, and hopes by his vehement outward show of pride to convince others (and perhaps himself) that he is in fact right.
A similar word one often hears nowadays is "passion". If a person is bellicose or rude, he can be excused because of his "passion" for the issue.  Passion is related to pride, as they both are inward-looking instead of being attentive to the feelings of others. The "passionate" person justifies his outbursts because he believes that he is right, and since by ignoring God he becomes the arbiter of what is right and wrong, he has a good reason to act as obnoxiously as he pleases.
Supposing, however, that we sense that the reaction of others to our behavior is unfavorable; supposing the still, small voice within whispers to us that we really are in error ; why is it so hard to admit that we are wrong? Samuel Johnson famously said, "Pride is a vice, which pride itself inclines every man to find in others, and to overlook in himself". In other words, we are too proud to admit that we are proud. Again Saint Augustine has the answer. "Only through the degrees of humility can one reach heaven. God is infinitely perfect, and pride keeps us far from him, but through humility we are able to approach him."
The real problem with pride is that it gets in the way of our relationship with God, and in the extreme, destroys it altogether. We simply do not want to admit our weakness and acknowledge our sins, and acknowledge that without God's grace and love we can do nothing to inherit eternal life.
Life has a way of teaching us to be humble. Proverbs 16:18 warns us that, "Pride goes before destruction, a haughty spirit before a fall". Someone once told me that as you go through life, every time you start to believe that you are pretty special, something happens to show you that you are not. If you are a body builder, proud of your magnificent physique, think what you would be if you suddenly acquired Guillian-Barre Syndrome. You would very quickly be relegated to custodial care and a gruesome death. If you are very clever and a near genius, think what you will be like in your old age if you develop Alzheimer's disease. 
Saint Paul asks us, "What have you that you did not receive? If then you received it, why do you boast as if it were not a gift?" (1 Cor 4:7) The proper attitude towards the abundant gifts of God that we have all received is humility and thanksgiving. Our Lord said, "Blessed are the poor in spirit, for theirs is the kingdom of heaven. " (Mt 5:3) The way to heaven is not to tell God how wonderful we are, but to tell Him what miserable sinners we are and thank Him for his abundant mercy.
So, can we ever be proud of anything? Sure, we can be proud to be called Sons of God.  Saint Paul said, "Therefore in Christ Jesus I have found reason for boasting in things pertaining to God," and again, "Let him who boasts, boast of the Lord." For it is not the man who commends himself that is accepted, but the man whom the Lord commends"  (2 Cor 10:17- 18).
Is that so difficult? You bet it is! But remember, sin has two dimensions, as Bishop Fulton Sheen explained, one that is the result of original sin, and the personal one. Temptation, in this case to be prideful, is inherent to us as fallen humans. There is no culpability for that. Acquiescing to that temptation, however, is manifest sin.
If we keep the eye on the prize, as they say in sports, if we look toward heaven instead of looking inward at ourselves, we will not fall for the temptation to think that the world revolves around us. As Saint Paul says, "Have among yourselves the same attitude that is also yours in Christ Jesus, who, though he was in the form of God, did not regard equality with God something to be grasped. Rather, he emptied himself, taking the form of a slave, coming in human likeness; and found human in appearance, he humbled himself, becoming obedient to death, even death on a cross. (Phil 2:5-11)
-----
Dr. Frederick Liewehr is an endodontist who teaches and works in private practice. He converted from Protestantism to Catholicism in 1983, having been drawn ineluctably to Christ's Church by the light of Truth. He is a member of St. Benedict parish in Richmond, a Fourth Degree Knight of Columbus and a Cooperator of Opus Dei.
---
Copyright 2019 - Distributed by THE CALIFORNIA NETWORK

Copyright 2020 Catholic Online. All materials contained on this site, whether written, audible or visual are the exclusive property of Catholic Online and are protected under U.S. and International copyright laws, © Copyright 2020 Catholic Online. Any unauthorized use, without prior written consent of Catholic Online is strictly forbidden and prohibited.
Catholic Online is a Project of Your Catholic Voice Foundation, a Not-for-Profit Corporation. Your Catholic Voice Foundation has been granted a recognition of tax exemption under Section 501(c)(3) of the Internal Revenue Code. Federal Tax Identification Number: 81-0596847. Your gift is tax-deductible as allowed by law.