SUMMER SOLUTION - Catholic Online's summer reading list for kids!
---
1st-12th grades.
Just because it's summer vacation, a child's brain doesn't stop developing. Kids need to keep their minds active. That's why most schools have adopted summer reading programs to keep kids learning over the summer months. But what if you child doesn't have a summer reading program? Never fear, Catholic Online is here!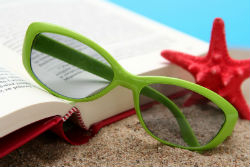 Summer reading is a fun way to pass time during the summer while keeping the mind active.
LOS ANGELES, CA (Catholic Online) - Summer reading is a great activity and can be a lot of fun for both parents and adults. In addition to exercising the mind, summer reading is also a good way to buy some quiet time at home or to keep a child occupied on a trip or during a wait.
How to use this list

Catholic Online has collected a list of summer reading books from various sources covering a variety of subjects for kids. The books are classified by grade level, but your child's reading level should be taken into account. Even within some of the grades, particularly towards the end of the list, the reading becomes more rigorous and college preparatory in style. 
There's no need to make your child read every book on the list, unless they really enjoy reading. In that case, you may find the list too brief!
Each book on the list has been vetted for appropriateness, however you get the final say. In all cases, read the dust jacket or back of the book, or find the synopsis online and decide for yourself. It also doesn't hurt to read the book and quiz your child on what they read. Even better, make time to share and discuss the reading every day. The books and the events between their pages make great starting material for discussions!
Set a daily schedule for reading. Determine the number of chapters your child should read in advance and approximately how much time that should take. Keep an eye on your child and see that they're awake and making progress. Be alert for any signs of frustration. A child who finds the material frustrating to follow will soon learn to dislike reading. In that case, choose a different book with a lower reading level. 
Each book on this list can be found in your public library and online. Most should be inexpensive and can be rapidly shipped to your home. 
We hope you have a great time getting lost in the pages of these books!
COL summer reading list

1st Grade

Any of the BOB books
Dr. Seuss books
If You Take a Mouse to School, to the Movies books
If You Give a Mouse a Cookie, Laura NumeroffIf You Give a Pig a Pancake, Laura Numeroff
Guess How Much I Love You? S. McBratney
Goodnight Moon, Runaway Bunny,  BrownLittle Red Hen, Cardone
Sammy the Seal, Hoff
Danny & The Dinosaur Books, Hoff
Jump, Frog, Jump, Kalan
2nd Grade
Berenstein Bears stories, Stan and Jan Berenstein
Frog and Toad stories, Arnold Lobel
Arthur stories, Marc Brown
Magic Tree House series, Mary Pope Osborne
Henry and Mudge series, Cynthia Rylant
Boxcar Children series, Gertrude Chandler Warner
Amelia Bedelia stories, Peggy Parish
3rd Grade

Ramoni Quimby, Age 8, Beverly Cleary 
Mr. Popper's Penguins, Richard Atwater 
Encyclopedia Brown, Boy Detective, Donald Sobol
Little House series, Laura Ingalls Wilder (this is a series that increases reading level per each book, perfect for 3rd through 6th grade)
The Giving Tree, Shel Silverstein 
Good Grief...Third Grade, Colleen O'Shaughnessy McKenna 
Magic Tree House series, Mary Pope Osborne  
Stuart Little, E.B. White  
Charlotte's Web, E.B. White  
Secret Garden, Frances Hodgson Burnett 
Black Stallion, Walter Farley  
Anne of Green Gables, L.M. Montgomery  
4th Grade

The Secret History of Tom Trueheart, Ian Beck
The Penderwicks series, Jeanne Birdsall
5th Grade

Alice's Adventures in Wonderland, Lewis Caroll
Number the Stars, Lois Lowry
The Time Machine, H.G. Wells
Oliver Twist and or A Christmas Carol, Charles Dickens
Adventures of Tom Sawyer, Mark Twain
Black Beauty, Anna Sewell
Treasure Island, Robert Louis Stevenson
Holes, Louis Sachar
A Series of Unfortunate Events, Lemony Snickett
6th grade

Island of the Blue Dolphins -- Scott O'Dell
Education of Little Tree, Asa Earl (Forrest) Carter
The Island on Bird Street, Uri Orlev
7th and 8th grades
Treasure Island, Robert Louis Stevenson
The Call of the Wild, Jack London 
The Count of Monte Cristo, Alexandre Dumas 
The Eagle of the Ninth (also published as The Eagle) 
The Hound of the Baskervilles, Arthur Conan Doyle 
Kidnapped, Robert Louis Stevenson 
Life As We Knew It, Susan Beth Pfeffer 
Little Women, Louisa May Alcott 
9th grade

Of Mice and Men - Steinbeck
Oliver Twist - Dickens
The Pearl - Steinbeck
Flowers for Algernon - Keyes
Midsummer Night's Dream - Shakespeare
The Monkey's Paw - Jacobs
Romeo and Juliet - Shakespeare
The Little Prince - St. Exupery
To Kill a Mockingbird - Lee
The Good Earth - Buck
West Side Story - Shulman
Cheaper by the Dozen - Gilbrath/Carey
The Odyssey - Homer
Bullfinch's - Mythology
Great Expectations - Dickens
10th grade
Hiroshima - Hersey
Black Like Me - Griffin
Fiddler on the Roof - Stein
Antigone - Sophocles
Shoeless Joe - Kinselle
Deliverance - Dickey
Julius Caesar - Shakespeare
Animal Farm - Orwell
Merchant of Venice - Shakespeare
1984 - Orwell
Lord of the Flies - Golding
Brave New World - Huxley
Catcher in the Rye - Salinger
Alive - Read
Death Be Not Proud - Gunther
Silas Marner - Eliott
Separate Peace - Knowles
Les Miserables - Hugo
Connecticut Yankee in Les Miserables King Arthur's Court - Twain
Summer of '49 - Halberstam
11th grade

Red Badge of Courage - Crane
An American Tragedy - Dreiser
The Crucible - Miller
Our Town - Wilder
Grapes of Wrath - Steinbeck
As I Lay Dying - Faulkner
Winesburg, Ohio - Anderson
For Whom the Bell Tolls - Hemingway
The Scarlet Letter - Hawthorne
Old Man and the Sea - Hemingway
Ethan Frome - Wharton
Death of a Salesman - Miller
The Awakening - Cather
Raisin in the Sun - Hamsberry
Moby Dick - Melville
Walden/Civil Disobedience - Thoreau
Billy Budd - Melville
12th grade
Oedipus Rex, Antigone - Sophocles
Gulliver's Travels - Swift
A Man for All Seasons - Bolt
Pygmalion - Shaw
Murder in the Cathedral - Eliot
Women of Troy - Euripides
Becket - Anouilh
The Plague - Camus
Hamlet, Macbeth, King Lear - Shakespeare
Pride and Prejudice - Austen
Beowulf - NA
Sons and Lovers - Lawrence
Heart of Darkness - Conrad
Glass Menagerie - William
Dubliners - Joyce
Portrait of an Artist - Joyce
Waiting for Godot - Beckett
---
Copyright 2019 - Distributed by THE CALIFORNIA NETWORK
---
---