Catholic Social Doctrine: A Reflection on the Kingdom of God and His Christ
---
The Cross is the sign of the kingdom of Christ
The Kingdom of God is a strange kingdom whose king finds his earthly manifestation not on a throne, with gold crown, and lush raiment.  What kind of king is it whose glory is to be nailed to a cross--a cross which St. John Eudes called the
thronus amoris igneus
, the wooden throne of love--with a crown of thorns, essentially disrobed and naked, and a sign, intended to be mocking, but which, ironically, declares his hidden kingship in the three sacred languages, Latin, Greek, and Hebrew.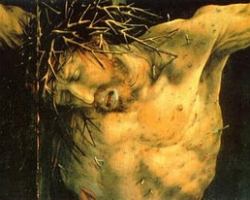 CORPUS CHRISTI, TX (Catholic Online) - In the mind of his disciples, Jesus was. and is. and ever shall be King. That is why for centuries we have prayed in the Te Deum:
You are the King of Glory: O Christ.
When you had overcome the sharpness of death:
you did open the Kingdom of Heaven to all believers.
But Jesus is not an ordinary King with an ordinary kingdom.  Christ's kingdom is a kingdom not of this world. (John 18:36)  It is an invisible, spiritual, internal, eternal one--though it is among us, about us, around us, and within us in time until the end of time when it would reach its fulfillment.  "The coming of the kingdom of God cannot be observed," Jesus told the Pharisees, "and no one will announce, 'Look, here it is,' or, 'There it is.' For behold, the kingdom of God is among you." (Luke 17:20-21)
It is a strange kingdom whose king finds his earthly manifestation not on a throne, with gold crown, and lush raiment.  What kind of king is it whose glory is to be nailed to a cross--a cross which St. John Eudes called the thronus amoris igneus, the wooden throne of love--with a crown of thorns, essentially disrobed and naked, and a sign, intended to be mocking, but which, ironically, declares his hidden kingship in the three sacred languages, Latin, Greek, and Hebrew.
The kingdom of God, St. Paul further explains, "is not a matter of food and drink."  Rather, he tells us, it is a matter of "righteousness, peace, and joy in the holy Spirit." (Rom. 14:17)  This means it is a moral, and even more importantly, a spiritual and supernatural reality, and not simply a bodily, temporal, or social one.  It is not something flesh and blood will inherit, like some sort of human realm or human property. (1 Cor. 15:50)  It is not just talk, vain hope, empty words, since there is a real power behind it. (1 Cor. 4:20) 
Mere words don't allow us admittance; it requires something internal--repentance, a conversion, a "re-turn" to God--and a fixed intention on only doing the will of God the Father who is in heaven. (Matt. 7:21)  This means that keeping the commandments and teaching others to keep the commandments is what this kingdom is all about. (Matt:5:19)  It is a secret, a mystery, the knowledge of which has been imparted to Christ's intimates, (Mark 4:11; Luke 8:10) and yet one which must be proclaimed to the world.
But what a precious secret which is to be proclaimed to the world and, as it were, made unsecret!  It is like a field one discovers contains treasure, and one covers it up, sells all he has, and buys it, so as to become rich in the bargain. (Matt. 13:44)  It is the pearl of great price, one for which the spiritual merchant will sell all he has to acquire. (Matt. 13:46)
And yet that secret which is to be unsecreted-proclaimed from the housetops and shown from the hills-is silent, inexplicable, marvelous, and has an organic tendency to grow and bear fruit.  And so the kingdom of God is like the mystery of the seed sown by a farmer, which grows, whether tended or not, and which ultimately reaps a huge harvest.  It is like a mustard seed, a tiny seed, but one which grows into a huge tree. It is like yeast which is mixed with dough and which makes it rise. (Mark 4:26-32; Luke 13:19-21)
In a sense, the kingdom of God was present in Christ, and is Christ, since he drove out demons and explained that this was a sign that the kingdom of God had come to us. (Matt. 12:28; Luke 11:20)  It, in fact, is also mysteriously, intimately, and indissolubly linked to Christ's Church, which is Christ's body, "the kingdom of Christ now present in mystery," (VII, Lumen gentium, No. 3), the "seed and the beginning of that kingdom," (CCC § 768 quoting LG, No. 5), a "sign and instrument of the kingdom." (Dominus Iesus, No. 18) 
"In fact, the kingdom of God which we know from revelation, 'cannot be detached either from Christ or from the Church . . . yet while remaining distinct from Christ and the kingdom, the Church is indissolubly united to both." (Dominus Iesus, 18) There is a "unicity" in the "relationship which Christ and the Church have with the kingdom of God." (Dominus Iesus, No. 19)  Ubi Christus, ibi ecclesia.
Because this kingdom exists with us in the Church, so the good wheat grow with the tares in the kingdom's field, there is good fish and bad fish in the kingdom's net, which might confuse us or cause scandal. (Matt. 13:24-30, 47-49)  We must however remain faithful to Christ and his Church, as those who reject Christ are not part of the kingdom of God. (Matt. 21:43) And yet, it is open to admission for those who, at the last moment of their lives, repent, for the first shall be last, the last shall be first.
The kingdom of God though akin to a secret is something which is preached, something we work for, something for which we suffer and experience hardship, even persecution, and the coming of which we wait. (Acts 8:12; 14:22; 28:31, 2 Thess. 1:5, Col. 4:1, Matt. 5:10; Mark 15:43)  It is something that sometimes requires the sacrifice of leaving home, wife, family. (Luke 18:29)  It is something that requires preparation, wise custody, effort and planning. (Cf. Matt. 25:1-11)  It is something which we enter by baptism, so it is closely linked, if it is not in fact equated, with the Church. (John 3:5)  It is a difficult acquisition, hard to enter, and difficult to stay in. (Mark 10:24) 
We do not inherit it without condition, since we are banned from it if we are wicked. (1 Cor. 6:9-10; Gal. 5:21)  "Now the works of the flesh are obvious: immorality, impurity, licentiousness, idolatry, sorcery, hatreds, rivalry, jealousy, outbursts of fury, acts of selfishness, dissensions, factions, occasions of envy, drinking bouts, orgies, and the like. I warn you, as I warned you before, that those who do such things will not inherit the kingdom of God." (Gal. 5:19-21)
We are therefore to act forcefully to avoid any sin that threatens to keep us from entering it. (Mark 9:47)  The rich whose heart is in their earthly treasure, and who focus upon acquiring riches in gold rather than riches in spirit, have a difficult time accessing the kingdom of God. (Mark 10:23) 
The selfish, self-regarding, self-sufficient rich are not our model.  Rather, we must become innocent, poor in spirit, dependent, receptive, and full of wonder like little children. (Matt. 18:4; 19:14; Mark 10:14; Luke 18:17; Matt. 5:3)  It is something that, once being in, we ought not to look back, for no one who "set his hand to the plow and looks to what was left behind is fit for the kingdom of God." (Luke 9:62)  The keys to that kingdom were given to Peter, the Rock, and it will be with us until the end of time, for the gates of hell cannot prevail against it. (Matt. 16:18-19)  Ubi Petrus, ibi ecclesia.
The kingdom of God, though present even in Christ when he walked on earth, and though present in us even now, and always near (Luke 10:11), will not be fully realized until the end of time, when, according to Scripture, an angel will blow his trumpet and voices in heaven will sing: "The kingdom of the world now belongs to our Lord and to his Anointed, and he will reign forever and ever." (Rev. 11:15; cf. Matt. 8:11; Daniel 2:44; 7:27)  It is something the consummation of which ought devoutly to be wished, and indeed, the Lord taught us to pray to the Lord God, "thy kingdom come," adveniat regnum tuum." (Matt. 6:10; Luke 11:2)  And St. Paul prays impatiently: Lord come! Maranatha! (1 Cor. 16:22)
FREE Catholic Classes Pick a class, you can learn anything
The Kingdom of God was one that did not rely on violence, even justifiable violence, against properly constituted authority. (John 18:36)  It was not one that relied upon the sword.  It was not one that relied upon "oppressive and despotic power," such as the power "wielded by the rulers of nations." (Compendium, No. 379)  And yet the Kingdom of God offered a huge challenge to the kingdoms of this earth.
The kingdom of God ushered in by Christ was one that operated above and beyond and around and within existing kingdoms and kings, those who claimed, falsely in an absolute sense, to have final authority over, and be the real benefactors (euergetai) of, their people, and thereby approach divinity. (Luke 22:25) Such claims were false because Jesus knew that there was no authority exercised by any magistrate except that it was given to him by God. (John 19:11; cf. Rom 13:1)  Such claims were also false because Jesus knew that the only real benefactor of men is God, the God who feeds the birds of the air who store not goods in barns, and who sees to it that the lilies, who neither labor nor spin, have beautiful raiment.  (Cf. Matt. 6:26-33)
The Kingdom of God operated on a model entirely different from those under which the rulers of the world operated. In a sense it is topsy turvy. The model of leadership was service (diakonos), youth (neôteros), even slavery (doulos). (Luke 22:26; Mark 10:43-44)  In this way, the leader was to imitate Christ, the "Son of Man [who] did not come to be served but to serve and give his life as a ransom for many." (Cf. Mark 10:42-45) That is why the Pope, heir to St. Peter's keys, is called the servant of the servants of God, servus servorum Dei.
-----
Andrew M. Greenwell is an attorney licensed to practice law in Texas, practicing in Corpus Christi, Texas.  He is married with three children.  He maintains a blog entirely devoted to the natural law called Lex Christianorum.  You can contact Andrew at agreenwell@harris-greenwell.com.
---
Copyright 2019 - Distributed by THE CALIFORNIA NETWORK
---
---
Hi readers, it seems you use Catholic Online a lot; that's great! It's a little awkward to ask, but we need your help. If you have already donated, we sincerely thank you. We're not salespeople, but we depend on donations averaging $14.76 and fewer than 1% of readers give.
If you donate just $5.00, the price of your coffee, Catholic Online School could keep thriving.
Thank you.
Help Now >

Copyright 2019 Catholic Online. All materials contained on this site, whether written, audible or visual are the exclusive property of Catholic Online and are protected under U.S. and International copyright laws, © Copyright 2019 Catholic Online. Any unauthorized use, without prior written consent of Catholic Online is strictly forbidden and prohibited.
Catholic Online is a Project of Your Catholic Voice Foundation, a Not-for-Profit Corporation. Your Catholic Voice Foundation has been granted a recognition of tax exemption under Section 501(c)(3) of the Internal Revenue Code. Federal Tax Identification Number: 81-0596847. Your gift is tax-deductible as allowed by law.