How old is the longest living vertebrate on Earth? Much older than you know
---
Study found Greenland sharks could be older than Christopher Columbus.
As humans, we live longer lives than most creatures on Earth. Tortoises and trees can live much longer than we can, but we are among the longest-lived creatures on the planet. However, there is one creature that scientists have found will put us to shame.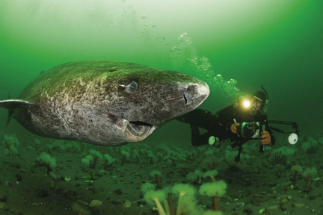 The Greenland shark may hold the secret to a much longer life, but we will never know if we don't take better care of the oceans.
LOS ANGELES, CA (California Network) - Scientists studying the Greenland shark have discovered this lumbering creature is among the oldest on the planet. 
The Greenland shark lives in the North Atlantic, around Greenland the British Isles, and Scandinavia. Its meat is remarkably toxic to humans but can be treated and eaten as a delicacy. Fishermen don't like catching them and consider them waste. They are considered "near threatened" by conservationists. 
The sharks also take more than 150 years to reach sexual maturity. 
The sharks are difficult to date because most of their body parts are soft tissue, even their vertebrae. This means researchers cannot use traditional dating methods for the creatures. 
However, scientists have developed a novel way to determine the shark's age. 
Scientists studying the human eye learned that certain proteins in the human eye form when a person is growing the womb and these crystalized proteins remain forever. The carbon 14 isotopes in these crystals could be measured, allowing scientists to date protein's age, and thereby the age of the person. Unlike other cells in the human body, these crystals are not recycled and remain forever. 
The crystals are also impacted by radiation, which allows scientists to tell what eyes were formed during the 1950s and 60s when atomic testing was so common. 
Scientists using eye lenses harvested from caught Greenland sharks, have found that the sharks are remarkably old, with some possibly dating as far back as the voyages of Columbus. Many are easily three hundred years old, and some are younger. They can even tell which ones were born during the 50s and 60s. 
The lesson is clear. We share the world with some ancient species of animals which live for a very long time. These creatures are important and breeding only at 150 years of age or greater, they are not easily replaced once killed. 
Scientists want to study the sharks to understand why they have the potential to grow more than 300 years old. Could their discoveries help people to live longer lives?
The secret to a longer life could live in the ocean. What other secrets lurk in the depths? Unless we stop polluting and overfishing our oceans, we may never know. 
---
Copyright 2018 - Distributed by THE CALIFORNIA NETWORK
Pope Francis Prayer Intentions for APRIL 2018
For those who have Responsibility in Economic Matters.
That economists may have the courage to reject any economy of exclusion and know how to open new paths.
---
---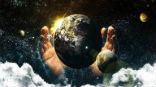 Sunday was Earth Day and Pope Francis called for us "to see the world through the eyes of the God the Creator." As news accumulates to ... continue reading
---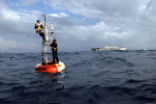 Scientists have detected evidence that global warming is affecting currents in the North Atlantic. These currents are responsible for ... continue reading
---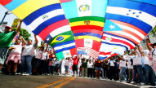 Human migration around the world has increased in the last 30 years. Here's why and where. LOS ANGELES, CA (California Network) - In the ... continue reading
---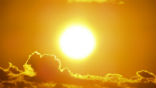 Scientists think the Sun may be approaching a record minimum in its recorded history, a state which could lead to a mini ice age in North ... continue reading
---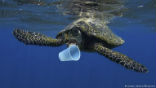 On the sixth day, God gave man stewardship over the creatures of the Earth. With stewardship comes responsibility. According to scientists, ... continue reading
---