California drought likely to worsen as El Nino observed weakening
---
By Marshall Connolly, Catholic Online (NEWS CONSORTIUM)
7/23/2014 (3 years ago)
Catholic Online (https://www.catholic.org)
The expected break in California's drought is less likely to come.
Bad news for California is about to get worse. The state, wracked with drought, is eagerly anticipating the formation of a strong El Nino event in the Pacific, which would bring significant rainfall to the region. However, the El Nino may not develop as strongly as first predicted.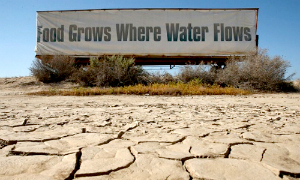 A sign intended to build public support for water rights for farmers now has a new significance.
LOS ANGELES, CA (Catholic Online) - Most Californians are now facing the first, overdue residential water restrictions of the three year-drought that has already devastated the state. Food prices have skyrocketed in the state as well as prices on beef and dairy which are widely produced there and require at least a modicum of rainfall to produce.
Wells are plunging to record levels, then running dry as underwater supplies are slurped faster than nature can replace them. Mountain snow, which fills reservoirs, powers hydroelectric facilities and sustains agriculture is virtually all gone and there is too little left to get through another year.
Farmers have been paying attention and left their fields fallow, selling their water instead of crops.
These problems have serious impacts for the state's residents. Tourism, especially along the ski slopes, continues to suffer leaving many seasonal workers out of a job. Without reservoirs behind hydroelectric facilities, electricity production is falling off, threatening the very hot state with the potential of choosing to import electricity or suffer rolling blackouts.
Without water for crops, many fields lie fallow and agricultural workers are without jobs and income. Food prices have spiked.
The dry fields also create another problem, especially in the state's massive San Joaquin central valley - dust storms. The state has not experienced towering dust storms in nearly 40 years, but such storms can rip up topsoil and ruin fields, damage property and even kill. These storms are likely in the fall when temperatures in the Great Basin can drop and storms approach the Pacific Northwest, creating powerful pressure gradients that fuel winds channeled down the valley.
In fact, giver the macro-meteorological conditions, such a storm can almost be expected.
Californians have been in a state of denial about the drought for some time. Droughts of a few years duration aren't unheard of, but longer droughts are rare although they have happened historically.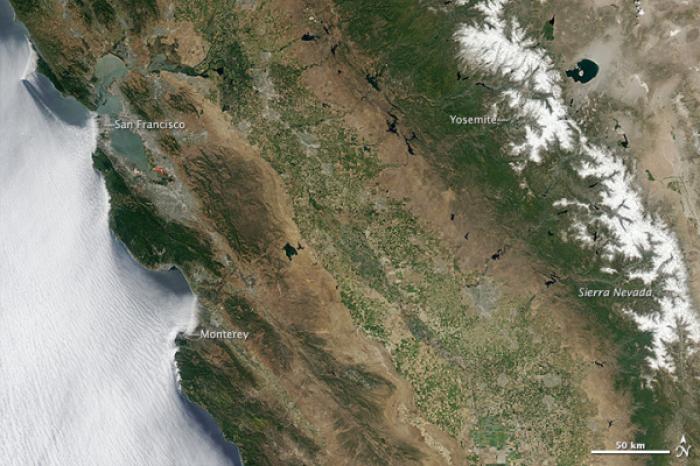 A satellite image of California in July 2011.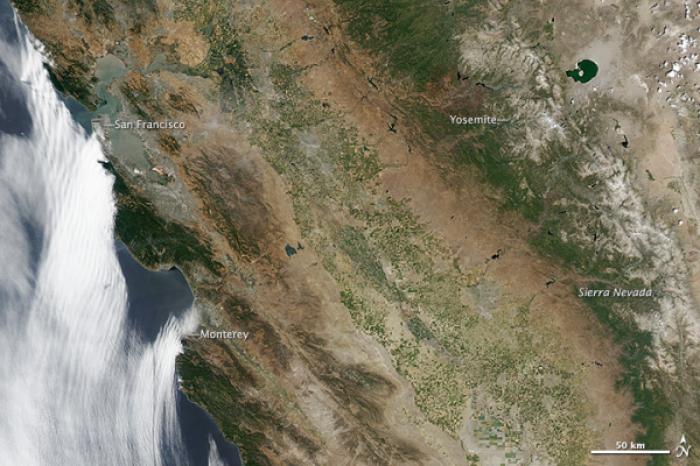 The same image of California from June 24.
Through the spring, Californians have been eagerly following the story of the formation of a powerful El Nino in the Pacific. The warming surface waters are bad for much of the world, fueling extreme weather, but they do benefit California which is uniquely situated to receive most of the rainfall from such events.
Now it seems the El Nino may be weak to moderate at best, despite its initial extreme temperatures. Scientists seem to think much of the heat from the event has already been discharged into the atmosphere. That heat has caused both May and June to be the hottest months on the planet in modern record.
However, July may be back down to more typical temperatures and the saving rains from the moderate El Nino that remains will not be enough to help California because there is another weather feature in the way - a powerful ridge of high pressure off the coast which has been blocking storms from the state, pushing them farther north than normal.
This blocking ridge of high pressure, which has remained in place for over two years, shows no sign of weakening or moving as it normally would. This ridge is also responsible for the dip in the weakening jet stream over the central USA, a phenomenon that is making the West hotter and the East colder.
Despite these significant climate abnormalities, Americans, more than any other nation in the world remain skeptical of climate change. According to a survey by Global Trends, just 54 percent think climate change is caused by humans, a slim majority. A few more agree that we are likely to see disaster if we do not reduce our emissions of greenhouse gasses such as CO2 and methane.
The high number of skeptics has a lot to do with conservative dogma, a systematic campaign of doubt fueled by corporate interests, and yes, even a hint of Protestant theology.
In China where climate change is already being widely experienced, such as during smog events in major cities such as Beijing, 93 percent of the population agrees with that climate change is being caused by humans. It makes sense, since Chinese factories are major culprits.
But the United States stands in contrast to all other nations, separated by several percentage points from England, the next-most skeptical country.
These statistics come at a time when world meteorological data proves that the planet has just endured its hottest May and June in modern history, a full 1.3 degrees higher than the 20th century average. According to NOAA climate monitoring researcher, Derek Arndt "We're living in the steroid era of the climate system. While one-twentieth of a degree doesn't sound like much, in temperature records it's like winning a horse race by several lengths."
Temperature records for every continent but Antarctica was set, although the United States had only it's 33 hottest June according to official reports. The world's oceans were also very hot, especially in the Pacific and Indian Oceans.
Whatever is going on, be it climate change, or a serious, long-term weather anomaly, California residents are in more trouble than they realize. The Union's most populous state already struggles to find water for its thirsty population and their food crops. As those supplies diminish, a genuine crisis, particularly for agriculture, may develop.
---
Copyright 2018 - Distributed by THE CALIFORNIA NETWORK
Pope Francis Prayer Intentions for APRIL 2018
For those who have Responsibility in Economic Matters.
That economists may have the courage to reject any economy of exclusion and know how to open new paths.
---
---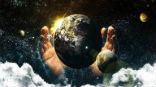 Sunday was Earth Day and Pope Francis called for us "to see the world through the eyes of the God the Creator." As news accumulates to ... continue reading
---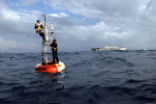 Scientists have detected evidence that global warming is affecting currents in the North Atlantic. These currents are responsible for ... continue reading
---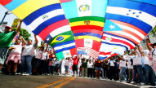 Human migration around the world has increased in the last 30 years. Here's why and where. LOS ANGELES, CA (California Network) - In the ... continue reading
---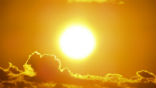 Scientists think the Sun may be approaching a record minimum in its recorded history, a state which could lead to a mini ice age in North ... continue reading
---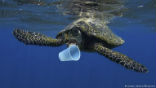 On the sixth day, God gave man stewardship over the creatures of the Earth. With stewardship comes responsibility. According to scientists, ... continue reading
---