TOLD YOU SO: Human behavior now causing greatest mass extinction ever, and it's finally hitting you in the wallet
---
The environment is a Catholic issue, and you should believe and you must care.
There's more proof of climate change and mass extinction than previously thought. As scientists acknowledge that our winter was one of the wildest ever, and note that the arctic ice sheets are changing unpredictably, the blame turns back to global climate change caused by human activity.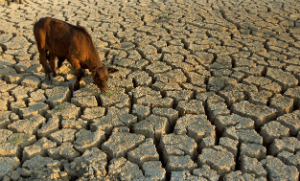 This is not an image from a third world country, but rather from drought conditions in Texas, in 2011. Such conditions now persist in California where much of the food for the western USA is grown.
Highlights
By Marshall Connolly (Catholic Online)
Catholic Online (https://www.catholic.org)
2/20/2014 (4 years ago)

Published in Green
Keywords: global climate change global warming, environment, disaster, cost, price, food, management, resources, extinctions, mass extinction, the sixth extinction, rates of
---
LOS ANGELES, CA (Catholic Online) - A new book is topping the lists, "The Sixth Extinction" by Elizabeth Kolbert. The book recognizes five mass extinctions in Earth's history, all caused by cataclysms. Now, the author claims we are in the middle of another mass extinction as anthropogenic climate change and other factors rapidly reduce the number of plant and animal species on the planet.
It is true that humans cause extinctions. They have been doing so since prehistoric times. The extinction of the mammoth and saber-toothed tiger in North America may have been the result of human activity, although climate change likely played a role in their demise too.
Earth's climate is always changing. It has never been as stable as we might like to believe. Although we may not notice climate change in the course of a single lifetime, careful and meticulous studies have demonstrated that several smaller climate shifts have occurred throughout recorded history and much larger changes have developed over epic timescales.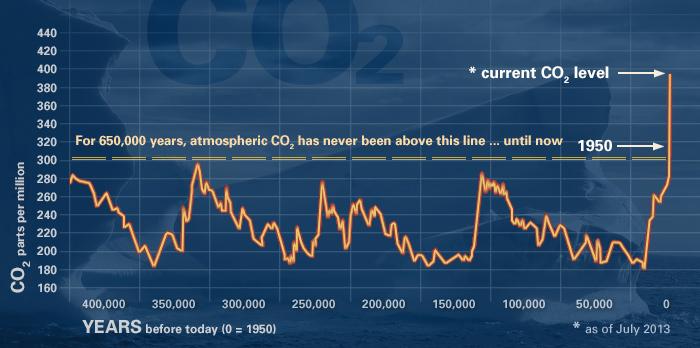 Despite claims that it's ONLY 400 PPM, that tiny quantity is more than enough to cause significant climate change as the historical record proves. It's not the quantity that matters so much --it's potency.
What seems to be unique about our current period is the pace of that change, and the fact that
human factors are at least exacerbating the problem
. Even climate change skeptics will probably acknowledge that human activity doesn't help to preserve many species.
Generally speaking, there is a fairly strong consensus on climate change among climate scientists. Yes, there are skeptical scientists. Nonetheless, a powerful majority agree that humans aren't helping.
Last year's report to the UN by a special panel dedicated to researching the problem plainly stated that humans are causing climate change.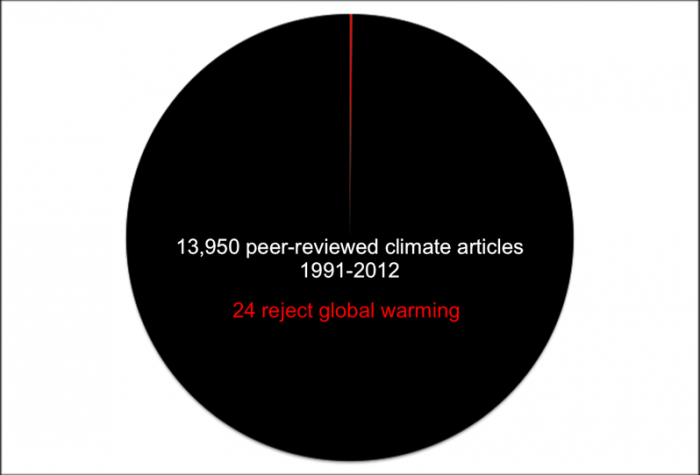 If 97 of 100 doctors told you to stop a dangerous habit, to whom would you listen? That's right, the ones who tell you what you want to hear.
And it is a problem. The current extinction rate hasn't been as bad as this in recorded history and some speculate that it's the worst since the destruction of the dinosaurs, 65 million years ago. Specifically, the
Center for Biological Diversity
claims that "In fact, 99 percent of currently threatened species are at risk from human activities, primarily those driving habitat loss, introduction of exotic species, and global warming."
Meanwhile, a couple other phenomenon have been noted by scientists in recent years. This year, scientists were baffled to see unpredicted changes in Arctic sea ice. Specifically, the ice covered more area than previously predicted, and it's a bit thicker. But this doesn't yet mean a reversal of the ice-loss trend is underway. Scientists still agree that the ice will disappear sometime soon. Last week, National Geographic and the Christian Science Monitor reported that the glacier that spawned the iceberg that sank the Titanic was racing to the ocean at record speed.
Other scientists noted that ice is breaking off in Antarctica and killing penguins. Reduced snowfall is thinning glaciers and snowpack, often relied upon by people for water. The western United States is in the third year of an epic drought with farmers and residents facing restrictions within the next year.
The jet stream has become unstable, and scientists are blaming melting ice in the warming arctic. That instability has led to massive storms of freezing snow and ice as far south as the Gulf of Mexico.
A 2009 study revealed that trees were migrating north at the astounding rate of nearly 4 feet per day. No, the trees were not sprouting legs and walking, but the forests were retreating by dying from southerly, warmer latitudes, and sprouting in more northerly regions. Animals have been migrating too.
This is normal adaptation, but it's alarming because not every tree or critter can escape in this fashion. In some places, natural barriers such as oceans and mountain ranges prevent the northward retreat of habitat, driving more species to extinction.
The haughty will reflect upon the past year's events and dismiss global warming with a harrumph, but scientists are taking to the news media, almost nightly, to proclaim each of these phenomena, although not individually and directly caused, to be closely related to climate change. Climate change which is caused by humans.
Not that many Americans get it, or care of course. Some Americans remain astoundingly ignorant of science, as one survey revealed. A survey conducted by the National Science Foundation revealed that a quarter of Americans don't realize the Earth revolves around the Sun.
This has to be made up, but apparently it's not.
Americans claim to love science, but they remain ignorant of it. That's a problem because America is one of the leading polluters in the world, and Americans are in a better position than most other countries to do something about worldwide and local pollution.
Granted, China is out front with their pollution, but the United States could curtail emissions in these countries too by pursuing policies that insist upon greener development. By the way, the USA is still second in overall pollution (scroll down for chart, source: EPA).
Yet we won't because we love cheap electronics and other doodads too much and our capitalist system, ever at odds with labor, is powerfully discouraged from cleanly manufacturing the same products here in the USA.
This is a matter of Catholic concern. Although the environment and its resources have been given to man, we are expected to exercise creation care, and to manage these resources for the benefit of all. Mass extinctions, pollution, and the despoiling of the environment for the profit of a few, or even a single nation, is unjust to the rest of humanity. Naturally, the poor must take the brunt of the suffering caused by mismanagement of the environment.
Nobody (sane) is saying we can't log or mine, or generate electricity and infrastructure, but we must do so in a way that demonstrates responsible stewardship of creation and respect for our fellow man.
The next encyclical by Pope Francis is expected to address this topic.
Of course, this is the sticking point, how should we handle the problem? Some fear a significant crimping in their quality of life, or that the reality of climate change can lead to other forms of social control, such as population controls. Indeed, there is a dark side to the discussion. However, this is beyond the scope of the science, which is merely to make predictions about the future with reasonable accuracy (not always with precision). What is done with those predictions is up to individuals in each nation. Because of this, Americans need to do a better job. Not just in the science classroom, but at home, in the streets, and in the political process.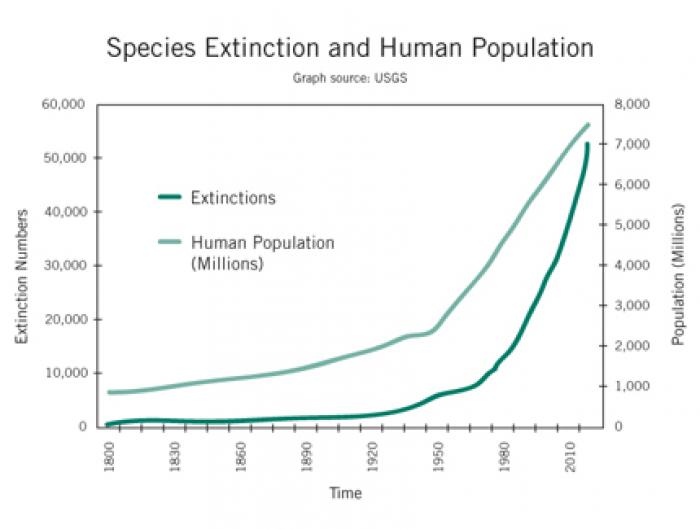 Correlation between human population and extinction, although this is misleading. The real correlation is between behavior and extinction.
Right now, the rate of climate change is far beyond what it would be if natural forces alone were spurring it on -as they always have. The mechanism of natural selection, which powers adaptations and evolution, simply does not work fast enough, especially in larger organisms.
The result is mass extinction. Should we care?
Of course. Some of the species we are losing may be keystone species, species that are critical to other species and in turn influence the food chain. A warmer ocean can combine with overfishing to reduce fish populations to levels below that which can sustain coastal populations of people.
Crops can fail as bees and birds, and other creatures that are part of the life cycle of the things we eat, die out. As farmland moves north, it too can run into barriers, such as cities, meaning there is less land on which to produce food. Ask any farmer in California's San Joaquin Valley how they feel about the growing conditions this year and the critical lack of water. 
All of this means higher prices and a lower standard of living for someone. Generally, that lower standard is borne by the poor living in other nations. However, it is only a matter of time before it impacts you in your home.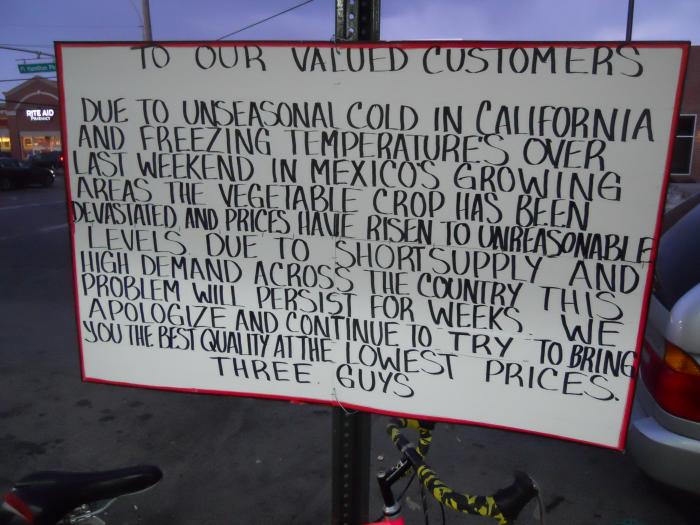 A store posted an apology to customers after a bizarre cold snap in December devastated crops in California and Mexico. Following the cold snap, little rain has fallen and temperatures have been well above average. Such extremes are evidence of climate shifts on a global scale and will become commonplace, forcing rapid human adaptation. The human cost is much more than higher prices. Jobs and businesses have been lost.
Any doubts?
Watch the prices of food in the year to come
. Watch
the price of milk
, especially if you live in the western USA. The impacts of global climate change have already started to reach you. Most of you simply haven't noticed it yet, and that's bad.
Very bad indeed.
--
Pray for the environment.
Do something about it and JOIN Catholic Team Global.
Help Pope Francis feed the hungry NOW.
Pope Francis calls for your 'prayer and action'...
---
Copyright 2018 - Distributed by THE CALIFORNIA NETWORK
Pope Francis Prayer Intentions for APRIL 2018
For those who have Responsibility in Economic Matters.
That economists may have the courage to reject any economy of exclusion and know how to open new paths.
---
---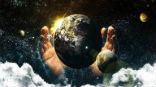 Sunday was Earth Day and Pope Francis called for us "to see the world through the eyes of the God the Creator." As news accumulates to ... continue reading
---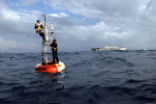 Scientists have detected evidence that global warming is affecting currents in the North Atlantic. These currents are responsible for ... continue reading
---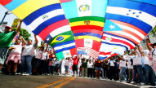 Human migration around the world has increased in the last 30 years. Here's why and where. LOS ANGELES, CA (California Network) - In the ... continue reading
---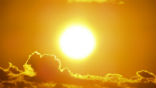 Scientists think the Sun may be approaching a record minimum in its recorded history, a state which could lead to a mini ice age in North ... continue reading
---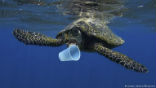 On the sixth day, God gave man stewardship over the creatures of the Earth. With stewardship comes responsibility. According to scientists, ... continue reading
---