By Marshall Connolly, Catholic Online (NEWS CONSORTIUM)
3/8/2013 (3 years ago)
Catholic Online (www.catholic.org)
Research is conclusive, global warming is real and caused by you.
If you still think global warming is a myth, you may want to read something else because this article contains facts. The most recent study which uses global data dating back 11,000 years confirms what most scientists already know. The planet is warming, dramatically, and it's correlated strongly with human activity.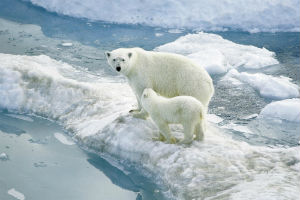 Animals, as well as people, are severely affected by climate change.
LOS ANGELES, CA (Catholic Online) - A comprehensive study conducted by Oregon State University reveals that temperatures have spiked since 1950, by about 1.3 degrees Fahrenheit. The study, compared samples from ice cores and ocean sediments as well as various other sources from around the planet, which are unanimous in their revelation.

The Earth's temperature fluctuates naturally, and there have been times when natural heating of the planet has yielded both higher and lower average temperatures that what we see today. Common causes of climate change are changes in the amount of solar radiation reaching Earth and concentrations of carbon dioxide in the atmosphere.

In the past century, humans have burned astounding amounts of fossil fuels and dumped phenomenal quantities of CO2 into the atmosphere. Carbon dioxide is a greenhouse gas, which means it traps heat in the atmosphere and causes warming.

One dramatic example of CO2's power can be seen on the planet Venus where extreme concentrations of the gas in the planet's atmosphere makes temperatures on the planet's surface hot enough to melt solid metals. Venus is hotter than Mercury, which orbits closer to the sun than Venus.

On Earth, these changes have brought about ice ages and warm periods, humans having built civilization within the context of the latest warm period, known as the Holocene.

The problem is not the fact that the temperature is changing, for temperature change is normal. The problem is the sudden spike, occurring over the span of several decades rather than centuries. And while 1.3 degrees of Fahrenheit warming may not seem like much, it is enough to permanently alter the environment as we know it.

Worse, the temperature change continues to accelerate as more countries begin to pour more CO2 into the atmosphere, a product of expanding global industrialization. Countries such as China and India are now global leaders in CO2 production. Of course, this does not exonerate Americans who remain major contributors.

The relatively sudden change in climate has threatened several species and habitats around the world, since natural adaptation typically occurs over hundreds of years at best. The result is many animals in areas experiencing the greatest amount of climate change are facing extinction because they cannot adapt fast enough to changes in their environment.

This would be a minor concern in itself, however these changes affect humans. The 1.3 degrees of warming is enough to melt the ice caps in Greenland. Once covered by a vast ice sheet, the island is quickly becoming ice-free. While that means more habitable land area for the islands few residents, it also means rising sea levels.

Several low-lying coastal areas are reporting the rise in sea level with locks in the Thames and  the Netherlands having to be closed and raised more frequently than ever before to prevent catastrophic flooding, particularly during storms.

Some island nations, such as the Maldives in the Indian ocean and several Polynesian states, face complete destruction as their low-lying islands are losing land area to the ocean that will eventually consume them within the next several decades.

Worst of all, the defrosting of the tundra across Canada and Siberia is starting to release mass quantities of methane into the atmosphere which will only accelerate the warming process in the next several decades.

The northern polar ice cap is expected to melt entirely within the next century, allowing navigation directly across the North Pole.

In the United States, where the effects of global warming seem to be less felt than in many other parts of the world, everyday folk are puzzling over prolonged droughts and severe weather outbreaks.

One of the curious effects of global warming isn't so much warmer temperatures, but rather more violent weather. Global warming can actually cause lower temperatures in places, as well as more violent weather. The reason is the planet now holds more energy within the atmosphere, which is expressed via extreme weather.

Storms such as Superstorm Sandy, massive tornado outbreaks across the Midwest, and prolonged droughts in the west, are all features of climate change. Scientists predict more of these events as the climate continues for the worse.

The scientific consensus concerning global warming is beyond question. Every major, credible scientific research body that has objectively examined the question has concluded the planet is warming unnaturally as a result of human activity.

In the United States, climate change denial is deeply rooted in political and religious convictions, which makes persuading the American people of its reality a challenge, despite the scientific consensus. The lack of scientific literacy in the United States  is also part of the problem. According to Michigan State University professor and researcher, Jon Miller,  "We should take no pride in a finding that 70 percent of Americans cannot read and understand the science section of the New York Times."

Only 28 percent of Americans qualify as "scientifically literate."

They aren't helped by pseudo-scientists and politicians who persuaded by deeply held convictions resulting from misinterpreted Bible verses, that climate change isn't real, despite the fact that their "science" doesn't hold up to the standard of real science.

It must be understood that climate change is real, that it is being unnaturally caused by humans, and that it represents a danger to the status quo.

Of course, Americans, affluent and secure in their air-conditioned homes don't like being told they should evaluate their behavior. It's easier to blame other culprits such as China than to change behavior because it's simply the right thing to do. Let them remember that during the next superstorm, for such is the legacy we bestow upon our children with our willful ignorance.


---
Copyright 2015 - Distributed by THE CALIFORNIA NETWORK
Pope Francis Prayer Intentions for April 2016
Universal:
Small Farmers: That small farmers may receive a just reward for their precious labor.
Evangelization:
African Christians: That Christians in Africa may give witness to love and faith in Jesus Christ amid political-religious conflicts.
---
---
---

By Kenya Sinclair (CALIFORNIA NETWORK)
With more and more nations agreeing that climate change is not only real, but also dangerous, more world leaders are making a move to save the planet. LOS ANGELES, CA (Catholic Online) - Senator Jeff Merkley took the Senate floor last week to say global warming is one ... continue reading
---

By Marshall Connolly (CALIFORNIA NETWORK)
Thirty-eight volcanoes are erupting right now. Earthquakes are making the news. Is something supernatural about to occur? LOS ANGELES, CA (Catholic Online) - "Take care that no one deceives you," Jesus admonished his disciples in the book of Matthew. The Disciples were ... continue reading
---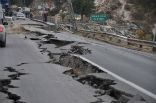 By Marshall Connolly (CALIFORNIA NETWORK)
Both a psychic and a scientist have predicted the current spate of quakes which have shook Asia, the South Pacific, and South America, and their predictions are on record. The eerie occurrence has many asking if North America is next. LOS ANGELES, CA (California ... continue reading
---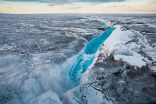 By Marshall Connolly (CALIFORNIA NETWORK)
Scientists are in shock as a massive Greenland ice sheet has started melting far sooner than expected and in great volume. The data is so surprising, the researchers initially believed it to be an error. LOS ANGELES, CA (California Network) - On April 11, sensors that ... continue reading
---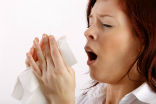 By Marshall Connolly (CALIFORNIA NETWORK)
Anthropocentric global warming is going to make you sick, according to a new federal report. The 332-page report was released Monday and it predicts a host of consequences from global warming that will begin, or have already begin to affect the country. LOS ANGELES, CA ... continue reading
---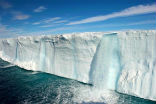 By Marshall Connolly (CALIFORNIA NETWORK)
The Arctic is melting and it's happening faster than anticipated. So far, Arctic sea ice has reached its lowest level ever on modern record. It is also thinner. While the Arctic sea ice does not contribute to sea level rise, it does serve as an indicator for how our ... continue reading
---

By Kenya Sinclair (CALIFORNIA NETWORK)
Imagine you have a farm and the years have been kind. You look out at your bountiful harvest that God has blessed for generations and you smile with pride and joy.Then the unthinkable happens; a horrible drought hits and suddenly the future of your farm, which has ... continue reading
---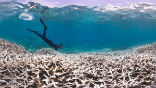 By Marshall Connolly (CALIFORNIA NETWORK)
Report after report, study after study confirms, the planet is in serious trouble. Within 50 to 150 years, and within the lifetime of children born today, the world will experience catastrophic weather changes. Carbon dioxide, and methane emissions have spiked and ... continue reading
---

By Marshall Connolly (CALIFORNIA NETWORK)
Does everybody still believe global warming is a hoax? Yet more data confirms what scientists have feared for a long time, the planet is warming, and it may have passed a tipping point. The latest data now reveals that February 2016 was the hottest February on record, ... continue reading
---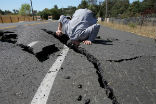 By Marshall Connolly, California Network (NEWS CONSORTIUM)
A massive earthquake predicted for California in early March did not occur, although scientists now know what set off the alarm among so many scientists. The answer is, a glitch in satellite data. LOS ANGELES, CA (California Network) - In late February, California was ... continue reading
---
All Green News