Ordination: Answering the Lord's Call
---
Priests have a deep call to serve their Creator and their fellow man.
Each Spring the Catholic dioceses and Archdioceses across the nation have the distinct pleasure to celebrate the men who have answered the call of the Lord as priests. No matter how any priests I have talked to over the years, I don't think I will every truly understand the depth of this call to serve their Creator and their fellow man in this sacred position. Further, I don't think I will truly understand the emotions that each man experiences through on his specific ordination day.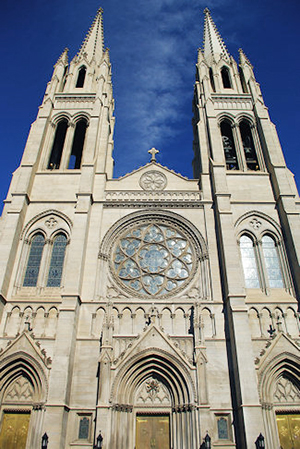 Cathedral of the Immaculate Conception in downtown Denver.
span style="line-height: 1.22;">DENVER, CO - I had the honor of attending the ordination of a friend here in Denver, attending both his ordination Mass and his first Mass as a new priest. In those two days I witnessed an amazing array of what our church has to offer.
The ordination Mass was held at the Cathedral of the Immaculate Conception in downtown Denver and started very similar to any other Mass with a processional. This processional, however, was a bit longer than the average Sunday Mass. A variety of men marched down the center aisle of the cathedral starting with the Knights of Columbus with their customary swords, capes and feathered chapeaus. Next came men from the Equestrian Order of the Holy Sepulchre of Jerusalem, who can trace the roots of their order back Duke Godfrey of Bouillon and the First Crusade. Behind them, a multitude of priests processed, representing not only teachers and mentors but also friends. At the end came the four ordinandi, their vesting clergy, and Archbishop Samuel Aquila.

The Cathedral is a cavernous church complete with the traditional organ and choir loft. Their voices were majestic. As one of the ordinandi was originally from Brazil, we also had the pleasure of guitar players singing in Portuguese. Of course, while beautiful, nothing could top seeing the four men ordained as priests. For me, it seemed as if the whole cathedral was in silent when each one knelt before the Archbishop as he laid his hands on them, continuing the Apostolic succession that began all those centuries ago. What truly brought tears to my eyes was eyeing each of these new priests prayed over, hugged and blessed by all of their now brother priests. One by one they embraced their new brothers as the four men were now part of a fraternity that I doubt us lay people can truly understand. The years of education, prayer, meditation, and soul-searching all came to fruition as they stood before the altar of the Lord.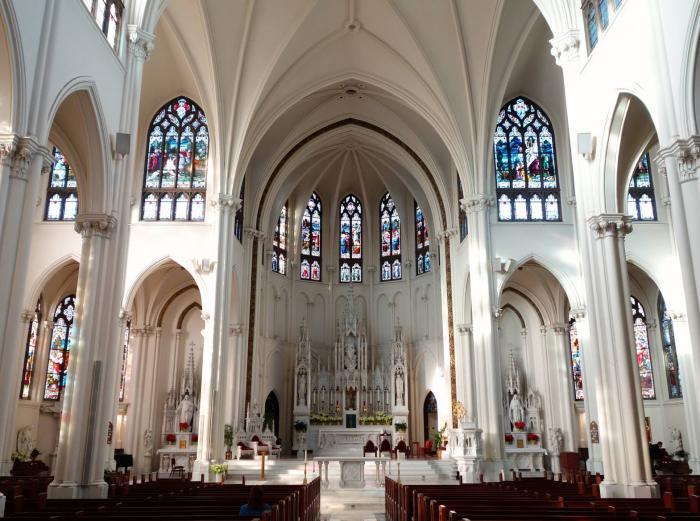 Inside the Cathedral of the Immaculate Conception in downtown Denver.


Archbishop Aquila also had wise words for the new priests telling them their formation was not done with Holy Orders and that they should keep their eyes fixed on the Good Shepherd. He admonished them that there is nothing worse than an angry priest because that priest does not know Jesus. 
However, when they experience Jesus, they will know joy. As a sinner, I was glad that Archbishop Aquila also told them to never tire of being merciful, especially in Confession. Wise words indeed.
If this story ended here, it would be a marvelous tale, but it does not. Each of these new priests had their own reception afterwards, a time to celebrate with family and friends. The invitation we received had a description on it stating that his reception would be much like a wedding reception complete with dinner and the opportunity to embarrass him. Personally, I enjoyed seeing a childhood photo of him and his twin brother dressed in their Batman and Superman Halloween costumes.
 
Perhaps even more special was the next day when each new priest celebrated his first Mass. Our friend's Mass was on the opposite side of Denver in Commerce City, at Our Lady Mother of the Church parish where he spent time during his formation.
What a great name for a parish by the way. And as awesome as the Ordination Mass was the previous day, his first Mass showcased the breadth of the Catholic Church. The procession in some ways mirrored the magnificent Ordination procession from the Cathedral but with much more flair and contrast. The parish has four Masses every Sunday: two in English and two in Spanish. That being said, the procession started with parishioners dressed in traditional Aztec costumes complete with large drums that boomed through the church.
My one year old daughter was mesmerized by the bright colored feathers of the costumes but was a little scared of the loud drums. The procession of priests was shorter, only about 20 or so, close friends and mentors. The Knights of Columbus were there in full regalia. The parish also has a handbell choir whose delicate ringing contrasted the booming Aztec drums.
We also were treated to Gregorian chants, incense, and the traditional organ and piano music one normally encounters at a Sunday Mass. Also, did I mention that the pastor of this bilingual parish on the northeast side of Denver is from Krakow, Poland? Other than the Latin rite, I'm not sure what else could have been included. This mass was a sampling of what our church has to offer, a wonderful mixture of culture, traditions and liturgy
.
And there lies the extra gift of this ordination weekend: the opportunity to experience a wide range of Catholicism. Our church is ancient, dating back to the original Apostles and the time of Jesus. It's seen its share of persecution, heresy, political turmoil, changing nations, Ecumenical Councils, churches that range from someone's house to grand cathedrals, Gregorian chants, burning incense, the Great Schism, Crusades, Inquisitions, gifts of the Holy Spirit, Marian apparitions, a host of Saints and an expansion of the Great Commission around the world. We are 1.2 billion strong and have incorporated a multitude of cultures and peoples into the church. My experience during this ordination weekend is proof of that. If you haven't been to an ordination, I highly recommend attending one.
Usually dioceses hold them in either May or June. If you are able, adopt a seminarian. These men who become priests travel a long and arduous road before tending their flocks. Support them any way you can, be it prayer, money, or simply inviting them over to dinner. If your diocese doesn't have its own seminary, check out other parishes. Find a Byzantine rite parish and experience the ancient Divine Liturgy. Don't be afraid of a Latin Mass parish. They'll have a translation for you. The point is we Catholics have a rich and wide history that continues to add new ways to encounter and praise the Lord. Branch out and see for yourself.
On a local note, congratulations again to Fathers Warli, Joseph, Nathan and Jason.
Blessings
---
Copyright 2018 - Distributed by THE CALIFORNIA NETWORK
Pope Francis Prayer Intentions for APRIL 2018
For those who have Responsibility in Economic Matters.
That economists may have the courage to reject any economy of exclusion and know how to open new paths.
---
---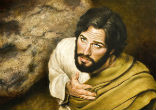 What if you had given everything you had (including your life) in order that others might live but only a handful of those for whom you ... continue reading
---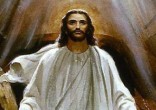 Going through the checkout at the shops I got talking with the girl behind the cash register who proceeded to tell me that Good Friday was ... continue reading
---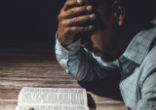 Have you ever cried out to God to remove a 'thorn,' a problem from your life? Even St. Paul experienced ongoing weakness, which Scripture ... continue reading
---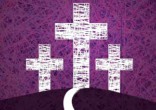 Happiness is often a matter of mind over matter - but true joy is a spiritual gift that comes solely through the grace of God. For many, ... continue reading
---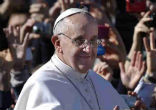 This past March 13, we celebrated the fifth anniversary of Pope Francis's election to the papacy. I recall five years ago watching EWTN's ... continue reading
---