Do You Know Where God's Country Is?
---
Being in God's country is an opportunity to be closer to Him.
Having recently returned from a cruise to Alaska celebrating my in-laws 50th wedding anniversary, I remembered a friend who had remarked that I would be amazed because I was taking a trip to God's country. I've heard those two words before. As a child, my uncle would say the same words when he was heading into the mountains of Utah on a hunting trip. My local friends here in Denver say the same thing when they head into the Rocky Mountains. I could site more examples, but you get the picture.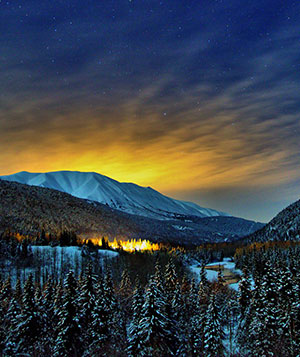 Alaska, is this God's Country?
DENVER, CO - The question is, why do people say this? What is God's country? Usually it's said when someone is escaping the hustle and bustle of the big city and moving away from the noise that surrounds our daily lives. We leave the concrete jungle and move into nature, trading skyscrapers and freeways for mountains or forests. We trade the work of human hands for the handiwork of our Creator. We seek God in His glory through what He created. Why do we do this? It's part of who we are as a creation of God. How do we know this?
It's in the first part of the Catechism, 'The world: starting from movement, contingency, and the world's order an beauty, one can come to a knowledge of God as the origin and the end of the universe.'

Pray the Rosary and give thanks to God
The first time I ever read those words, I was siting on a stone jetty that protruded out into the Gulf of Mexico. Surrounded by the crashing waves, looking at the white puffy clouds against the blue sky and the sun radiating above, I knew that I was sitting in a perfect place to experience Him. While there exists many ways to seek God, nature remains an awesome way to do so. Can we find Him in what man has made? Of course. 
Throughout the centuries mankind has been prolific in creating works of art and architecture, both religious and secular. We marvel at the skill it took to build the Pyramids in Egypt, the first Christian
cathedral in Constantinople, the Hagia Sophia, or any number of icons or paintings of Jesus or the saints. No visit to Paris is complete without seeing the Mona Lisa. However, taking the time to experience God's country is an opportunity to be closer to Him. 

The Catechism continues by quoting St. Paul: 

'Ever since the creation of the world his invisible nature, namely, his eternal power and deity, has been clearly perceived in the things that have been made.' 

Seeing His majesty displayed in Alaska was an experience I will not forget. Acting as His finger, you can still the massive glaciers that carved the fjords. If you get close enough the cracking ice thunders through the air. Mountains line the coasts as waterfalls deposit melting snow back into the ocean.

Perhaps it is different for each person, but for me, being surrounded by God's handiwork gives me an appreciation for the impressiveness of His Creation. It allows me to look around and open my heart to Him and know that everything around me was not an accident or just happened to come into being. The world had a creator who authored what we see around us. The beauty we find in the mountains,
forests, flowers or whatever landscape you happen too be in are there for us to experience the Divine. It's an elegant proof that we are not alone, and He is inviting us into His presence and glory.

Do you have to go to Alaska to experience this? No, but it was a great trip. What I find amusing is that the US Forest Service is running radio ads across the country attempting to entice teens to visit andexperience the wonders of the forest in hopes of creating lifelong nature lovers.
Please don't tell Forest Service that what they are really doing is inviting teens into God's backyard.
Peace!
Light a Virtual Candle and say a heartfelt prayer
---
Copyright 2018 - Distributed by THE CALIFORNIA NETWORK
Pope Francis Prayer Intentions for APRIL 2018
For those who have Responsibility in Economic Matters.
That economists may have the courage to reject any economy of exclusion and know how to open new paths.
---
---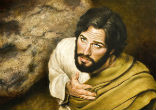 What if you had given everything you had (including your life) in order that others might live but only a handful of those for whom you ... continue reading
---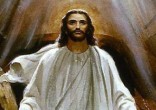 Going through the checkout at the shops I got talking with the girl behind the cash register who proceeded to tell me that Good Friday was ... continue reading
---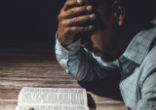 Have you ever cried out to God to remove a 'thorn,' a problem from your life? Even St. Paul experienced ongoing weakness, which Scripture ... continue reading
---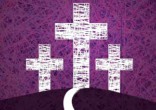 Happiness is often a matter of mind over matter - but true joy is a spiritual gift that comes solely through the grace of God. For many, ... continue reading
---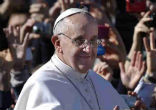 This past March 13, we celebrated the fifth anniversary of Pope Francis's election to the papacy. I recall five years ago watching EWTN's ... continue reading
---