What is your Greatest Desire? Is it Jesus?
---
God is waiting for you.
God is waiting for you. He is so very patient. He gives us all our greatest desires while waiting until He becomes our only desire. Are we so wrapped up in our lives, busy with everything around us thatwe don't desire to be with God. He is the reason we are here. He has given us the gift of life and the world in which we live. Are we so caught up in all the materialism around us that we don't desirelife with Him. Is life in this world so desirable that we don't want to be one with Him? He's waiting. Are we ready? Or are we too busy?
There is nothing that this world can offer us, that is greater than being with God.
LOS ANGELES, CA - Jesus came to earth to show us how to live. He gave us the two greatest commandments to guide our lives. Love God with your whole heart, whole mind, and whole soul.  Love your neighbor as yourself. He then told us that the only way to the Father is through the Son. 
He gave us the Holy Spirit as our guide.
He taught us the proper way to live, by giving yourself and all your work to the Father. Why is it so hard to live as Jesus taught us? It sounds so easy. Yet, everyday we struggle with temptations. Something is always there to try to take us away from our prayer time. Someone is always around, with good intentions, trying to help us yet taking us away from our goal. It all seems so easy to talk about, but is so very hard to implement sometimes.
There is nothing that this world can offer us, that is greater than being with God.
We still have to live here day after day, dealing with business of maintaining our homes, living with our families, helping our children when we can and living in our communities. Sometimes, we just need a breather to collect ourselves and spend some quiet time with God alone. In prayer, He can strengthen us so that we may continue in the endless business of our lives.  
Light a Virtual Candle and pray
Remember to keep Holy the Sabbath Day. God gave us the Sabbath Day to help us. In all His wisdom, He knew we would need that breather and that time alone with Him in order to be strengthened. He also knew we would not have an easy time of it trying to do His will and be pleasing to Him.
Jesus spent 40 days in the desert in prayer and fasting, preparing for His ministry. Many times He withdrew from the crowds of people, to follow Him for that breather and time alone with His Father in prayer.
Yes, we desire God, we want to join Him in the Light but first we must follow the stepping stones that Jesus gave us. The more we study the New Testament, the more we find tips on how to handle the many dilemmas of life.
Jesus gave us many clues in His teachings. He lived with all the same temptations that we have. The one thing we always have on our side is Him. He has been through more experience in this life than we will ever go through. He understands our difficulties. He told us that all we had to do is ask Him and He will be there for us.  
So until we can be blessed with the reward at the end of our journey, let us always keep Jesus first in our hearts with great desire and He will be there to guide us on our way.     
---
Copyright 2018 - Distributed by THE CALIFORNIA NETWORK
Pope Francis Prayer Intentions for APRIL 2018
For those who have Responsibility in Economic Matters.
That economists may have the courage to reject any economy of exclusion and know how to open new paths.
---
---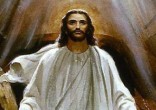 Going through the checkout at the shops I got talking with the girl behind the cash register who proceeded to tell me that Good Friday was ... continue reading
---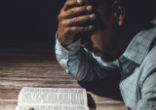 Have you ever cried out to God to remove a 'thorn,' a problem from your life? Even St. Paul experienced ongoing weakness, which Scripture ... continue reading
---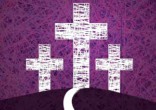 Happiness is often a matter of mind over matter - but true joy is a spiritual gift that comes solely through the grace of God. For many, ... continue reading
---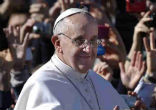 This past March 13, we celebrated the fifth anniversary of Pope Francis's election to the papacy. I recall five years ago watching EWTN's ... continue reading
---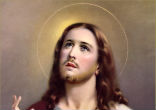 Jesus said to them, "Come after me, and I will make you fishers of men." Mark 1:17 As Christians, we have the extraordinary opportunity to ... continue reading
---