Lord, I Need You, I always need You!
---
Every Hour I Need You
My heart has been sensitive to the words in this song for quite sometime. Perhaps an entire year by now.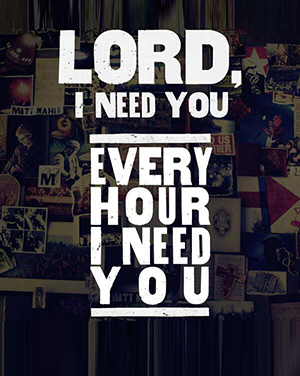 Lord, I Need You is the first single on Matt Maher's new album, All The People Said Amen.
em>Lord, I Need You
Written by Matt Maher, Jesse Reeves, Kristian Stanfill, Christy Nockels, and Daniel Carso
Lord, I come, I confess
Bowing here I find my rest
Without You I fall apart
You're the One that guides my heart
Lord, I need You, oh, I need You
Every hour I need You
My one defense, my righteousness
Oh God, how I need You
Where sin runs deep Your grace is more
Where grace is found is where You are
And where You are, Lord, I am free
Holiness is Christ in me
Lord, I need You, oh, I need You
Every hour I need You
My one defense, my righteousness
Oh God, how I need You
Teach my song to rise to You
When temptation comes my way
And when I cannot stand I'll fall on You
Jesus, You're my hope and stay
Lord, I need You, oh, I need You
Every hour I need You
My one defense, my righteousness
Oh God, how I need You
You're my one defense, my righteousness
Oh God, how I need You
My one defense, my righteousness
Oh God, how I need You
Say a prayer and light your virtual candle now
Life is a unique journey for every individual. We're each catapulted from a different platform with different surroundings and different vices and challenges. Because of all of those differences, God uses various ways to get our attention and grab hold of our hearts in order to steer our focus to Him.
Something I clearly struggle with in my life is the ability to surrender. The reason I say I clearly struggle with surrender is because God has been slamming that word before my eyes and ears hundreds of times over the past couple of years. I remember the first time I recognized that He had been trying to teach me about surrender. I was at a retreat and the word kept pummeling me from every direction, but I was ignorant. I thought I was surrendering, so much so that I even said to myself, 'what is this all about, I am surrendering?!?!'
WRONG-O!
I don't know what made me come to my senses, but all of a sudden I realized I was trying so hard to control EVERYTHING in my life. I wasn't surrendering to much of anything. I had come to the realization that I, in fact, was not surrendering at all. My soul had been yearning for a deeper relationship with God, but I didn't want to give up control. I couldn't acknowledge just how much I really NEEDED God for every last thing in my life.
Well, at least I could now name the struggle and not only that, I also had a theme song to go with my struggle for surrender: Lord, I Need You. The words of the chorus in particular have become my mantra. Every hour, I need our Lord. Every single hour of every single day. There isn't a second that goes by that I don't desperately and completely NEED our Lord. My life is nothing without Him.
Acknowledgment and acceptance of this struggle is a good first step, but it's not the cure all. Apparently I need my hand to be held as I go through all kinds of situations in order to sincerely and accurately understand the depths of how much I really need our Lord. He is showing me how little control I actually have in my life.
Most recently, I've been learning this lesson because of an injury. In the beginning of the month we had a little ice storm in Nashville. As I was walking out to my car (which was parked somewhere I never park) to warm it up (which I never do) before leaving for work, I slipped on black ice. Before I could even realize what was happening, my right leg had somehow slid under my body and I landed on top of it as I fell to the ground. The soundtrack to the moment was the noise of my right fibula breaking as I hit the concrete sidewalk. In an instant I was completely void of control and overcome with an unexpected, overwhelming sense of loneliness. I felt helpless as I army crawled back into the condo and racked my brain on who I would be able to call that wouldn't be burdened or have to take a day off work to come help me. I had become powerless and entirely dependent. Fortunately, a dear friend of mine came to the rescue and brought me to the ER.
It's been four weeks since my fall and three and a half weeks since surgery. A spiral break in my fibula required surgery where a plate was screwed to the bone to aid with proper healing and restoration of the bone. My first broken bone and my first experience with surgery. It's been a bumpy journey to recovery for me and I'm not out of the woods yet - still have three more weeks on crutches and about three more months until I can run again.
I know it's a very small thing in the grand scheme of life, but to me it's been difficult and challenging in so many ways, but there is one underlying theme that I keep coming back to with every struggle. Lord, I need You, oh, I need You. Every hour I need You. I see God's hand print in what has happened. After all it did happen on Fat Tuesday, the day before Lent, and I will be free from my crutches and able to walk again the Tuesday after Easter. I don't think it's coincidental that my recovery time coincides with Lent. With each struggle I see God slowly draining me of my desire to control the uncontrollable in my life. He's tearing down walls and requiring me to be dependent on others for a small season of my life.
It sucks, I am not going to lie. But He's there in every moment and I know that to be true. What He's allowing for me in this season of life is to grow my TRUST in Him. He's stripping me from my fears and knocking down walls that I've built to try and 'protect' myself. He's preparing my heart, but more than anything He's changing the dynamic of my relationship with Him. He's drawing me near and like the gentleman He is, He's giving me the space to take baby steps to get there.
God continuously pursues each one of us, striving to draw us closer and closer to Him. He wants us to know Him, to love Him and to realize just how much we need Him. What is it in your life that is preventing you from drawing closer to God? Knock down your wall and let Him in. When you do, ask Him to hold you in His arms and just sit with Him for awhile.
Laughs and Love,
Jackie:-)
---
---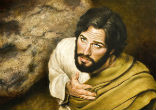 What if you had given everything you had (including your life) in order that others might live but only a handful of those for whom you ... continue reading
---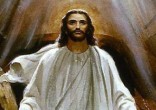 Going through the checkout at the shops I got talking with the girl behind the cash register who proceeded to tell me that Good Friday was ... continue reading
---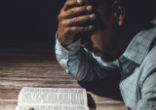 Have you ever cried out to God to remove a 'thorn,' a problem from your life? Even St. Paul experienced ongoing weakness, which Scripture ... continue reading
---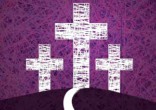 Happiness is often a matter of mind over matter - but true joy is a spiritual gift that comes solely through the grace of God. For many, ... continue reading
---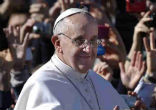 This past March 13, we celebrated the fifth anniversary of Pope Francis's election to the papacy. I recall five years ago watching EWTN's ... continue reading
---