Red Flags and Guardian Angels
---
Our Guardian Angels are alway with us.
Sam's guardian angel is working overtime. Poor thing. That must be a thankless job.at least until she's old enough (Sam, that is), and wise enough to realize she has a guardian angel. Thankfully, my guardian angel, and Jim's, works just as hard- or maybe that was the Holy Spirit talking to us nanoseconds before we opened our mouths to talk to our beloved daughter.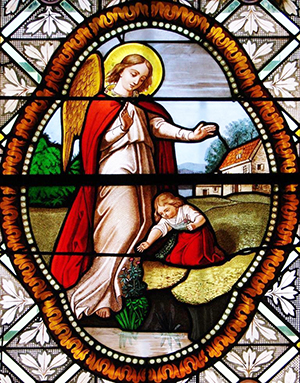 Our Guardian Angels watch over us.
LOS ANGELES, CA - A few months ago, Sam called me from home at 4:45 p.m., and asked to go to the library. Not the library just two miles from our home. No, she wanted to go to the Spencer Road branch, 5.7 miles from home. Red flag number one. Sam usually goes to the library within 30 minutes of getting home from school. I relented, and asked her to be home by 7 p.m.
At 6:15 p.m. I received another call - this time from a number I didn't recognize. The van broke down in a QT parking lot.
'I got thirsty at the library, so I went to the gas station to get a soda,' she said.
Red flag number two. Sam isn't a big soda drinker, and she typically is so engrossed in her books that she would never leave the library to buy a soda.
'Which station?' I asked.
The QT at the corner of Cave Springs Blvd. and Mexico Road in St. Peters. Red flag number three. That station is 2.7 miles further away. And on the way there she bypassed at least two gas stations, a McDonald's and two other fast food restaurants.
 
When I pulled into the QT parking lot, I saw Sam waiting inside, but the van was nowhere to be found. She dodged raindrops and climbed into my vehicle and pointed to the van. It was technically in the QT parking lot, but nowhere near the building. The van was parked in a space closest to the street. Red flag number four. Who parks that far away from the gas station if she's headed there specifically for something to drink?
'Why on earth did you park all the way out here?'
'I was turning left into the parking lot and a truck honked at me,' she said. 'I was so nervous I just parked in the first spot I found.'
Do I have the words, 'I'm a complete idiot' tattooed on my forehead? I don't think so, but Sam may have been wearing some special glasses. I called Jim, and Sam and I waited for him in my vehicle. She began to tell me about her day, without prompting. Red flag number five.
'Oh, come on, Shell,' you're thinking. 'How can that be a red flag?'  I'll tell you how. On any normal day, I ask about her day, and she says one word.usually 'Good.' Today she had diarrhea of the mouth. She does that when she's trying to, A) distract my attention away from the ginormous lie being perpetrated; or B) alleviate her own guilt over lying and/or doing something wrong. So, Jim arrived 15 minutes later and determined the van's problem was either the starter or the battery. The AAA tow truck came, threw something on the van and said it was likely the battery. He jumped it and we drove home. Sam drove the van, I drove my car, and Jim drove his - in the rain and the dark.
As we turned left from one four-lane road onto another, Sam turned into the wrong lane (the oncoming traffic's left turn lane) and quickly realized what she had done. Red flag number six. Guilt does some funny stuff, doesn't it? Especially when it's combined with darkness and rain, and a driver with no glasses. I looked down to the floor board on the passenger side of my own car and saw her purse, which contained her glasses. At the next stop light I jumped out of my car and handed her the purse and glasses.
Later that night Jim and I talked with her, and told her that there were just too many red flags (six to be exact), and her story just didn't add up. That was yet another opportunity to come clean. She didn't. But she didn't protest, either. Think protesting too much is a cover-up? I've got news for you.so is not protesting at all.
Still bothered by the evening's events, I did a little digging. I found a St. Charles cell phone number that Sam had called/texted, or received calls and  texts from, since about 4 p.m. that day. It was now 10:30 p.m. She was in bed, talking to someone on her cell phone. I called her into the computer room and asked her about that number. Again, research is a wonderful thing, and as a journalist, I'm a well-trained researcher.
'Hmmm.I'm not sure who that is,' she said.
I lost it. Thankfully, my guardian angel and the Holy Spirit were all over this situation, so I lost it silently. I took three very slow and deliberate breaths.
'Sweetheart,' I said. 'All of this - the van breaking down, the constant lying, the wrong way turn - all of this I can handle. What I cannot stand is for you to think that you're getting away it. I'm not stupid, and quite frankly it really angers me that you think I am. This is your last chance to tell me the truth.'
She did. Suffice it to say a former co-worker called/texted, saying it was his birthday and invited Sam to hang out. Since he lived 30 minutes away, they agreed to meet at the QT. Sam waited for him to arrive for probably 10 or 15 minutes. When she tried to start the van again and follow him to a park to 'hang out,' the van was dead. So was her phone, so she used his phone to call me. He asked for a birthday present while they waited for me to arrive. When she said no, he left.
She felt as used as Jim's cotton handkerchief at day's end and she panicked; hence the avalanche of lies.
'I'm really sorry, Mom,' she said. 'I felt weird the whole time.from the minute I got in the van to drive to the gas station.'
'I expect you to make mistakes like this,' I replied. "Just do me three favors: apologize to your dad, quit thinking that when it comes to life you'll ever be smarter than me.I've got 29 years on you for heaven's sake...and give your guardian angel a well-deserved vacation.'
'What do you mean?" she asked.
'Do you really think the battery dying at that precise moment was a coincidence?' I asked in reply. 'Before you can trust anyone else, you need to learn to trust yourself. Don't push those 'weird feelings' aside. That's the Holy Spirit that dwells within you, warning you, and giving you a chance to do the right thing. When you chose not to, your guardian angel took over. You're going to college in four months. Please let her rest a little while. She'll need to conserve energy for the next four months in order to be on call 24/7 for the next four years.'
Pope Francis calls for your 'prayer and action'...
---
Copyright 2018 - Distributed by THE CALIFORNIA NETWORK
Pope Francis Prayer Intentions for APRIL 2018
For those who have Responsibility in Economic Matters.
That economists may have the courage to reject any economy of exclusion and know how to open new paths.
---
---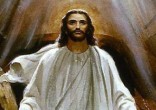 Going through the checkout at the shops I got talking with the girl behind the cash register who proceeded to tell me that Good Friday was ... continue reading
---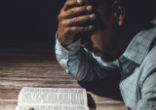 Have you ever cried out to God to remove a 'thorn,' a problem from your life? Even St. Paul experienced ongoing weakness, which Scripture ... continue reading
---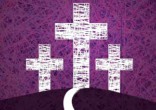 Happiness is often a matter of mind over matter - but true joy is a spiritual gift that comes solely through the grace of God. For many, ... continue reading
---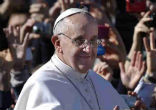 This past March 13, we celebrated the fifth anniversary of Pope Francis's election to the papacy. I recall five years ago watching EWTN's ... continue reading
---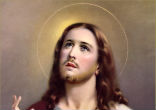 Jesus said to them, "Come after me, and I will make you fishers of men." Mark 1:17 As Christians, we have the extraordinary opportunity to ... continue reading
---