Selling the Sizzle; Such is the Genius of Pope Francis!
---
Pope Francis and the Joy of Being Catholic and practicing this faith.
There's an old axiom that a good sales person sells the sizzle and not the steak. The idea being that there are few things more fun for a steak eater than to go a fine restaurant and have a beautiful steak delivered to one's table still sizzling from the oven.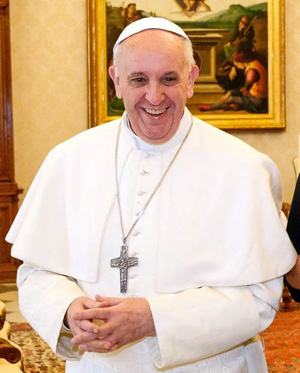 Pope Francis' popularity is so vast that even non-Catholics applaud him.
LOS ANGELES, CA - The sight, sound, and aroma all herald what promises to be a delicious, savory flavor. One is not buying just a piece of cooked meat.  One is buying the experience.  A good sales person sells that more than the product he is plying.
Such is the genius of Pope Francis. If one reads and listens to what Francis is saying, he has not changed one iota of Catholic teaching. In point of fact, the recent brouhaha over his statements on economic social justice from his Exhortation, Evangelii Gaudium that got the likes of Rush Limbaugh and other conservatives in a froth are nearly identical to statements made by Pope Benedict XVI and Pope John Paul II. The previous pontiffs made their statements in encyclicals which are even weightier church documents than an apostolic exhortation.
Francis has captured the joy of being Catholic. That's right. There is genuine joy in truly practicing this faith.  It is a joy that most outside of the faith find difficult to understand. Why would anyone want to be part of a faith that required so much attention to detail? Words like dogma, obligation, confession, cannon law, guilt, unworthiness.these do not make for an attractive pursuit for most people.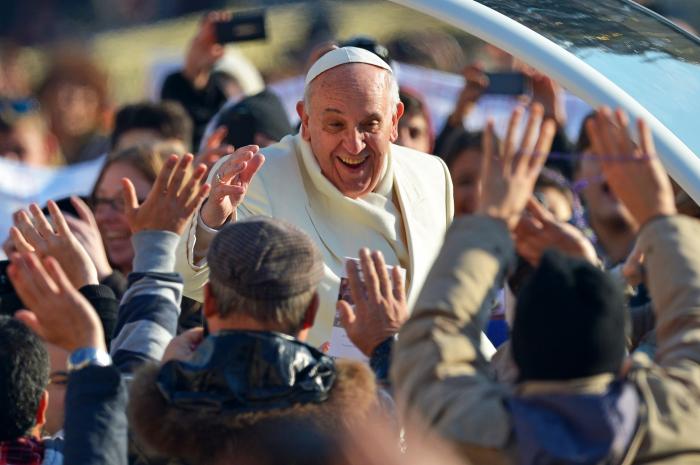 Pope Francis has captured the joy of being Catholic.
Additionally, the world has come to see the Catholic faith as the antithesis of their favorite sins. While the world is for unrestricted abortion, the Church is against it. While the world is for artificial contraception, the Church is against it.  While the world is for premarital sex, the Church is against it. While the world is for redefining marriage, the Church is set against such changes. The folly of setting the Church as the dialectical extreme is that it implies that somewhere in the middle is the truth.
The door that Francis has opened up is the front door of the Church. In essence he has been able to communicate in words and actions that while one's sins will never be the path that leads to truth, it doesn't mean one can't turn to Christ.  Catholics hate the sin because it leads one away from truth, but they really love the sinner whom God has uniquely created out of pure love.The proposition of Catholicism is not come join us when one has achieved perfection. The central message is more that all are decidedly imperfect, but a perfect savior has been gifted to humanity in Jesus Christ to help navigate a fallen world that would prefer that souls find comfort in the lie that is sin.
There is an inherent desire in each person to be a better person. Most people do a pretty good job condemning themselves and others. It may not show up publicly where all put the best face upon the reality of their lives; however, in the quiet of day, or maybe in the small hours of the morning when sleep evades the sinner, and he is left alone to examine his conscience, there comes a recognition that perhaps all is not as it should be. There has to be something more as the current lifestyle is comfortable, but not fulfilling.
Another reason for the Pope's rapid gain in popularity is that nature abhors a vacuum, and the space Francis has filled is authentic moral leadership. People thirst for that. There was a time when leaders of countries, presidents, prime ministers, kings, were held in esteem and could be looked to as examples of behavior. Often that was a farce. A look in the private lives of many a historical figure reveals they had their own individual problems, but those issues were not paraded into the public spotlight. Not so anymore. Calumny is the sport of media and politicians alike so that no one in a leadership role is viewed in high regard.  All are suspect.
While many on the left and right disagree with some of Francis' statements, his character has not been assassinated.  In him, is seen a kind of public figure that has inspired that very thing that got Mr. Obama elected president.hope. Only the hope that Francis puts forward is not just a political phrase with his image on a poster that plays exclusively to emotions. The hope Francis portrays is the hope found only in the love of Christ, the true hope, and whether one believes in Christ or not, that hope is wonderfully attractive.
So faith, hope, charity abide, these three; but the greatest of these is charity. (1Corinthians 13:13)
History may one day record that John Paul II was the pope who personified hope;  Benedict XVI was the pope of faith; and Francis is the Pope of charity, the Pope of caritas. The sizzle of Catholicism is found in the joy that comes through the transmission of the Gospel of Our Lord Jesus Christ. That spreading of the good news can come in a multitude of fashions, most of which don't require a degree in theology or philosophy or a perfect understanding of canon law. 
Francis is showing a side of the Church that perhaps has been underexposed yet has always been there. Perhaps when John Paul II spoke of the springtime of evangelization in the Church he was planting the seed. When Benedict XVI gifted us with his brilliant theological teaching he was providing the nutrients for growth. Now Francis is perhaps the conduit for the sunlight that has germinated seeds for a new harvest of faith, hope, and caritas (Charity).
---
Copyright 2018 - Distributed by THE CALIFORNIA NETWORK
Pope Francis Prayer Intentions for APRIL 2018
For those who have Responsibility in Economic Matters.
That economists may have the courage to reject any economy of exclusion and know how to open new paths.
---
---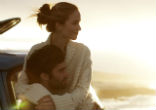 "Love is patient, love is kind. It does not envy, it does not boast, it is not proud. It does not dishonor others, it is not self-seeking, ... continue reading
---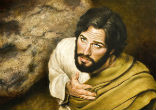 What if you had given everything you had (including your life) in order that others might live but only a handful of those for whom you ... continue reading
---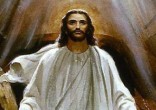 Going through the checkout at the shops I got talking with the girl behind the cash register who proceeded to tell me that Good Friday was ... continue reading
---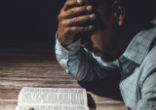 Have you ever cried out to God to remove a 'thorn,' a problem from your life? Even St. Paul experienced ongoing weakness, which Scripture ... continue reading
---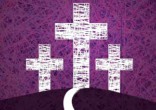 Happiness is often a matter of mind over matter - but true joy is a spiritual gift that comes solely through the grace of God. For many, ... continue reading
---