What a Wedding! Jesus Performed his First Miracle!
---
Christ seals the new covenant with his blood.
A simple wedding reception, that's all it is. Oh, it's so much more!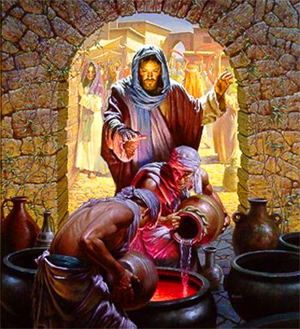 Jesus turns water into wine,
MOORESVILLE, N.C. - I've been reading the gospel of John recently, and something struck me while reading it. Everything Christ did had some meaning either in relation to fulfilling the old covenant so the new covenant can take its place; or revealing Himself - therefore revealing His Father to us. I find it significant in where and how He performed his first miracle; and what it speaks to us.
The first thing is the place he chose was a wedding feast; a celebration of the union, under God, of a man and woman. This shows the importance God places on this union - a sacramental union. This is the cornerstone of the family and how it reaches out to the world. It is where the family begins; as solid as the union is with husband, wife and God; so the family goes.
The second is that it almost seems as though he starts off his ministry at the bequest of his mother, Mary. He shows us the influence Mary has in making supplication to her son, Jesus. This also shows that we to can go to Mary to have her intercede for us to Our Lord Jesus, her son. Jesus shows his humanity in his reluctance to "perform a miracle", but because it was his mom - he would do it. Her only instruction is to do whatever He tells us. That is enough.
Whatever Jesus tells us to do will allow us to receive in abundance according to what is best for us. This is not always what we picture it should be, but then again - we don't have God's insight.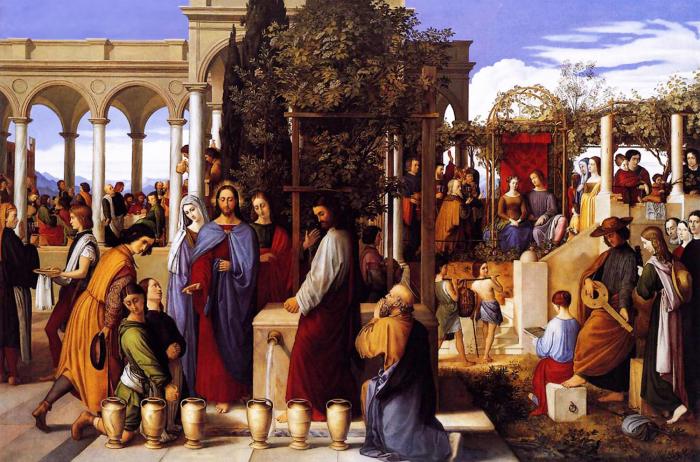 Wedding Feast at Cana; by Julius Schnorr von Carolsfeld, painted in 1819,
The last thing is that he didn't choose a spectacular event (showing his humility for one thing), he chose changing water into wine so it wouldn't dampen the wedding celebration; as they were out of the good stuff. What a disgrace to the couple, to their families - if they ran out of wine so early.
He showed compassion for others even in something that in our eyes was such a small and insignificant thing. Wine also has significant meaning as far as "covenant" is concerned, looking at the last supper especially.
Christ seals the new covenant with his blood, in a supernatural transubstantiation manner with the wine at the meal. We get all of this out of a few versus in John! We just have to read between the lines to be able to see so much more. What a wedding!
A birth foretold: click here to learn more!
---
Web site to inspire others in facing their day.
---
---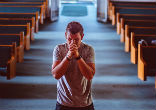 'The fervent prayer of a righteous person is very powerful.' James 5:16 Sometimes we can go at it alone, yet other times we need God's help ... continue reading
---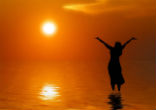 "And may you have the power to understand, as all God's people should, how wide, how long, how high, and how deep His love is. May you ... continue reading
---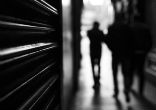 Sunday's Gospel command (Matthew 8:16-20) to make disciples of all nations baptizing them in the name of the Father, the Son and Holy ... continue reading
---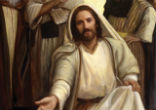 "The Lord is near to all who call on him, to all who call on him in truth." Psalm 145:17-18Jesus stands in wait to help those who ... continue reading
---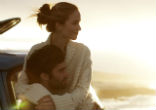 "Love is patient, love is kind. It does not envy, it does not boast, it is not proud. It does not dishonor others, it is not self-seeking, ... continue reading
---