Have You Ever Thought You Should Write a Book about Your Life?
---
Chapters in your book of life.
Have you ever thought you should write a book about your life? In a way we are, it's just not written down on paper!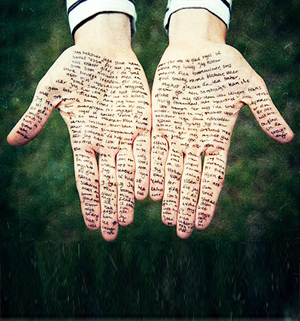 Our autobiography is already written.
 MOORESVILLE, N.C. - As I love to read, I often look upon life as one big novel. Throughout our lives, there is drama, suspense, comedy, philosophical & spiritual moments, satire, etc. The one difference between reading a novel and living one is that we are the authors.
God lays out the concept, the subject matter like a good publisher, but we determine how we write it. Often we look at our lives as being out of our hands and not in our control; I think that is when we get "writer's block". In reality; it is in our area of control and believe it or not, we call most of the shots.
When we feel life is out of control is really because we've made some choices in our lives where the consequences are more that we have the capacity to engage with, or want to participate in. This is where we tend to "wash our hands" of it and let the craziness take over. That is a choice in itself.
When one has faith bigger than oneself, possibilities seem endless.  When faith is confined to yourself, society, the government or mankind in general; you put yourself in a box - there is only so much any or all of them can do. Everyone might as well just give up, take your kick ball, and go home. No wonder society tunes out in so many ways once they encounter a stumbling block. Your book of life ends up being a short story.
To many people religion or faith is an easy way out. They feel it inhibits creativity as well as the ability to broaden one's intellectual capacity. One person I know who is fairly irreligious thinks that people who build their lives around religion are simpletons who worship a carpenter. Yet there is hope for him; while he does not respect religion, he does respect spirituality. God can work with that. To those of us who are religious and spiritual, we are simple in that we don't need all the complexities of the world to live in the world and make sense of things. We are the also the ones who can 'Fill a book' with what a complete life of flesh and spirit brings us.
Life is like a book written just for you.
Personally, as I turn each page in my life's novel - I can't wait for the next one; I just can't put this book down! Even those chapters in my life that were difficult and ugly; that are so hard to get through - in retrospect are beautiful, because of the value that was taken from the experiences in getting me to that next chapter. Each chapter I get through takes me closer to God; it helps me to understand Him and His love. It also helps me to understand myself and how I fit into His blueprint of life. So as you write your life's novel, remember the Holy Spirit can guide your hand as you live out each chapter.
Spoiler alert! There is no surprise ending! We all know how the book ends as long as we keep true to ourselves, and keep checking in with the publisher!
A birth foretold: click here to learn more!
---
Web site to inspire others in facing their day.
---
---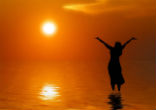 "And may you have the power to understand, as all God's people should, how wide, how long, how high, and how deep His love is. May you ... continue reading
---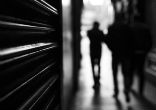 Sunday's Gospel command (Matthew 8:16-20) to make disciples of all nations baptizing them in the name of the Father, the Son and Holy ... continue reading
---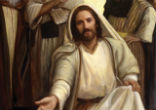 "The Lord is near to all who call on him, to all who call on him in truth." Psalm 145:17-18Jesus stands in wait to help those who ... continue reading
---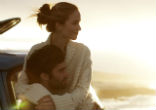 "Love is patient, love is kind. It does not envy, it does not boast, it is not proud. It does not dishonor others, it is not self-seeking, ... continue reading
---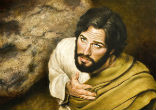 What if you had given everything you had (including your life) in order that others might live but only a handful of those for whom you ... continue reading
---