What Love is This? What is my Faith?
---
The next time that you come into a church and genuflect in front of the tabernacle, remember that the true presence of Christ is residing inside.
What do you believe the Blessed Sacrament really is? Is it just bread and wine, or is it really the Body and Blood of Jesus Christ?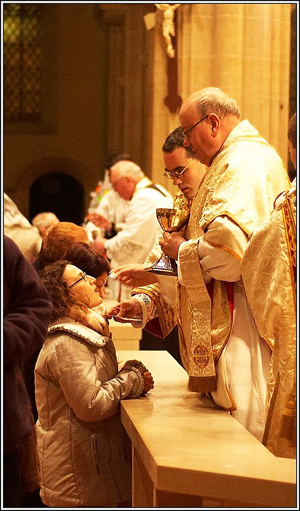 Receiving the Eucharist.
MOORESVILLE, N.C. - The Blessed Sacrament still, I feel, is misunderstood by other Christian denominations as well as some of our own in the Catholic faith. I can understand why; it is a teaching "hard to understand". It goes against human logic and does not "pass" many of our own tests to determine probability of actual reality. To say the words: "The Body, Blood, Soul and Divinity of Our Lord Jesus Christ" (that's a lot of capitalized words in one phrase), is a lot to try to understand. So, let's begin at the beginning and look into the gospel of John to set the foundation.
Jesus, of course had always used some parabolic language along with mighty metaphors. To name a few of these we can look at his I Am statements: the good shepherd, the door, the true vine, the light; etc. He provides a look at to what He truly is in these. The one that for me, is set apart from all the rest is his discourse concerning "I am the bread of life" which is in the gospel of John Ch. 6. This sermon isn't just a statement, or poetic language of a parable. It is something that Jesus repeated over and over again, like he was really trying to drive it home. He brought it to light from many different angles to be able to speak to everyone's capacity to understand. He tied it into the Old Testament and painted many pictures for his listeners. What caps it all off is when he says "For my flesh is real food and my blood real drink" and "unless you eat the Flesh of the Son of Man and drink His Blood, you do not have life within you".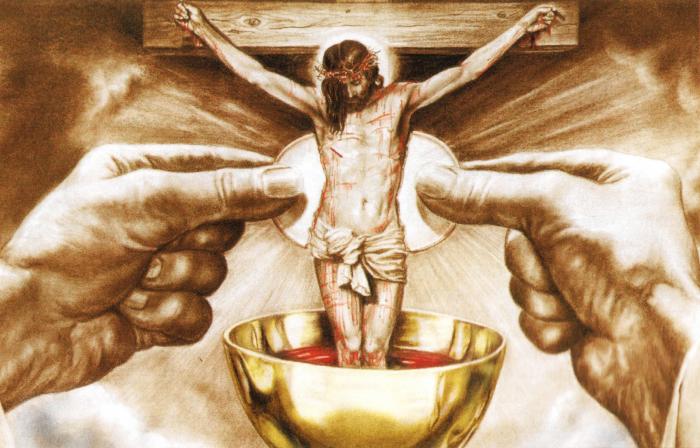 I am the living bread that has come down from heaven. If anyone eat of this bread he shall live forever. (John 6:51-52)
It is almost like He is pleading for us to understand his words and accept them in faith. Of course many of those that were listening and following were turned away from this teaching. They found it difficult to understand and shocking that Jesus said it. When they walked away, Jesus did not follow after them telling them to stop and then try even more to help them understand what he was saying. He just let them go. This tells us that only those that have true and bottomless faith can accept something as deep and profound as this.
The next time that you come into a church and genuflect in front of the tabernacle, remember to ask yourself "what is my faith?"; and realize that the true presence of Christ is residing inside. The next time you are in line to receive Our Lord in the Blessed Sacrament, contemplate on the fact that you will be receiving Jesus into your body, to course through your veins to provide you with the nutrition and sustenance you will need to face the world in your faith. That you will have "life within you" because you will possess the "Body, Blood, Soul and Divinity of our Lord Jesus Christ"
A birth foretold: click here to learn more!
---
Web site to inspire others in facing their day.
---
---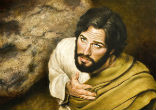 What if you had given everything you had (including your life) in order that others might live but only a handful of those for whom you ... continue reading
---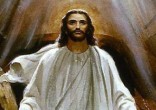 Going through the checkout at the shops I got talking with the girl behind the cash register who proceeded to tell me that Good Friday was ... continue reading
---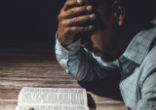 Have you ever cried out to God to remove a 'thorn,' a problem from your life? Even St. Paul experienced ongoing weakness, which Scripture ... continue reading
---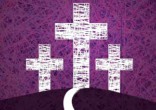 Happiness is often a matter of mind over matter - but true joy is a spiritual gift that comes solely through the grace of God. For many, ... continue reading
---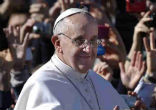 This past March 13, we celebrated the fifth anniversary of Pope Francis's election to the papacy. I recall five years ago watching EWTN's ... continue reading
---