I love my Wife; Beautiful to behold, She Makes my Heart Flutter...
---
All I have to do is look into her eyes.
Every day she wakes up and does her "job". A wife and mother's job is probably the most difficult job in the world. That is what my wife does and I love her for it. Here is a look at my "Em".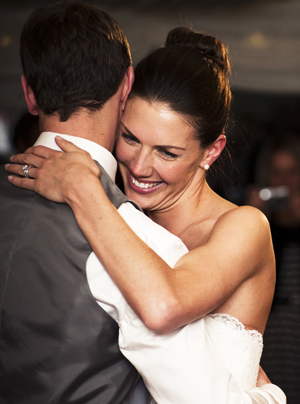 All I Have to do is Look into her Eyes...
MOORESVILLE, NC - My wife Sandra is so many things. Besides being the mother of 10 and grandmother of 4; the head cook and bottle washer; the EMT; family counselor; and part time worker, bringing home some "bacon' - She is my love and inspiration. She is the strongest person I know, especially having had to deal with me!
I still remember seeing her, as I sat two seats behind her in class at U.S. Coast Guard Radioman School over 30 years ago. He blond hair pulled back, her smile, and then her eyes. Beautiful to behold, she made my heart flutter. Yes, I just used the word flutter - sheesh. Six months later, after six failed attempts to get her to say "yes", we were married at St. Matthew's Catholic Church in Virginia Beach, VA.
Since then, our lives have included multiple dogs, a couple of cats that flopped and one that we can proudly say was a "keeper", a fish or two, and here we are. Oh yeah, and the 10 kids. We have had so many things happen to us over the years, I'll have a lot of great material for future writing endeavors.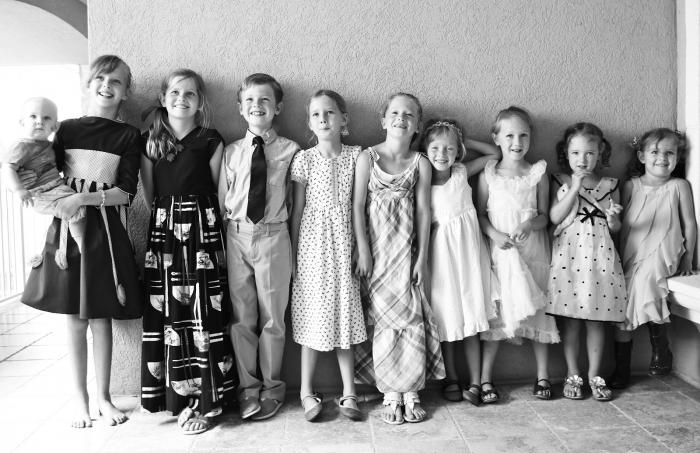 Happy family of 10 children.
Back to my sweetie pie - I call her affectionately; Em (short for her maiden name of Emory). My Em is a special lady. Her compassion and caring comes inherently from what God imbedded in her from the beginning. I like to call her the "Social Worker", because if someone is in need, she is there for them; even if it's only a prayer. She will make extreme sacrifices to help others. Of course, she will always say she is only doing what needs to be done - humility is another one of her traits. Her life has been one huge sacrifice, and I know God sees this. He is close to his daughter! The great thing is she doesn't look at it as a burden, and she still smiles and laughs her cute little laugh (with a snort added in once in a while). Again the flutter - I just felt it writing about her!
Our relationship, of course, has had its ups and downs; mostly to do with expectations we've placed upon each other. It took a lot of years for us to see this; but that really doesn't matter. You should see us now, nothing but ups. I have gained a great appreciation of her. I thank God for her every day and seek to console and comfort her in the daily struggle of life. We are soul mates and best friends, and I sigh with every hug, kiss, or from just looking into her eyes, while my heart continues to flutter.
A birth foretold: click here to learn more!
---
Web site to inspire others in facing their day.
---
---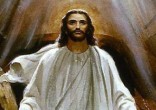 Going through the checkout at the shops I got talking with the girl behind the cash register who proceeded to tell me that Good Friday was ... continue reading
---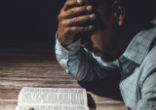 Have you ever cried out to God to remove a 'thorn,' a problem from your life? Even St. Paul experienced ongoing weakness, which Scripture ... continue reading
---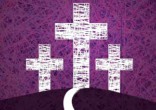 Happiness is often a matter of mind over matter - but true joy is a spiritual gift that comes solely through the grace of God. For many, ... continue reading
---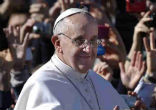 This past March 13, we celebrated the fifth anniversary of Pope Francis's election to the papacy. I recall five years ago watching EWTN's ... continue reading
---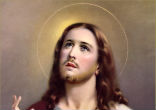 Jesus said to them, "Come after me, and I will make you fishers of men." Mark 1:17 As Christians, we have the extraordinary opportunity to ... continue reading
---