Memories of an Altar Server: Of Latin, Incense and Fire
---
My fond memories of being an altar boy, circa 1970
Alter Servers are the marrow, if not the backbone of the Catholic Masses. They provide some of that pomp and circumstance that elevates the atmosphere of the mass. But, there is that hidden part that nobody but the servers know about. Here's a glimpse of some of that from years past!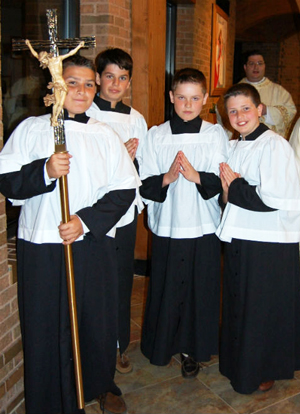 It is a great privilege to be an alter server.
MOORESVILLE, NC - Looking back, I would have to say one of the best experiences of my early life was being included in that elite group of those that ministered by serving Our Lord, our priests, and our congregation through performing our duties as altar servers. Of course, back then we were known as altar boys. While I was an altar boy; Paul VI was Pope, and it was not too long after they had implemented many of the changes initiated by the second Vatican Council.
That was the time of the altar rail, receiving the Blessed Sacrament on one's tongue while kneeling with the altar boys holding the Paten, and a mix of Latin and English spoken by the priest during Mass. It was also a time where I held a deep reverence for my function each time I entered the sacristy, walking behind the main marble altar and genuflecting on the back side where the Tabernacle would be conversely at the front of the altar. A time where I held all of the priests I served in high esteem. But, not to overload you with those highly contagious sentimental, holy feelings of reverence, let's tell some good altar boy stories.
One memory was when one of the servers had brought the thurible (it held the burning incense) back into the vestry to return to the main altar to finish mass. He was unaware that it had turned over and it started a fire, burning out the altar boy's vestry. It was not a pretty site with all the fire trucks in the parking lot. We received a lot of re-training after that one.
Another memory was when Fr. Leary (our Pastor at Saint Mary's church in Elmira, N.Y.'s south side) was distributing communion. I was at his side with my paten, when the host stuck to his finger, falling to the carpet. I think I was in shock just standing there frozen; afraid I was going to step on the "Body Of Christ" when it happened! Now, we all were well trained concerning never touching the Blessed Sacrament at any time, but Fr. Leary wasn't taking any chances on if I would remember or not. It felt like he threw me across the altar, well maybe half way, at least I think my feet left the floor. That was some respect Father gave to the Holy Eucharist! I've often wondered what the good folks out in the pews thought about all that had happened, I guess I'll never know.The funny thing was, the topic of what transpired was never spoken of. I was kind of glad, I just wanted it to quietly fade away.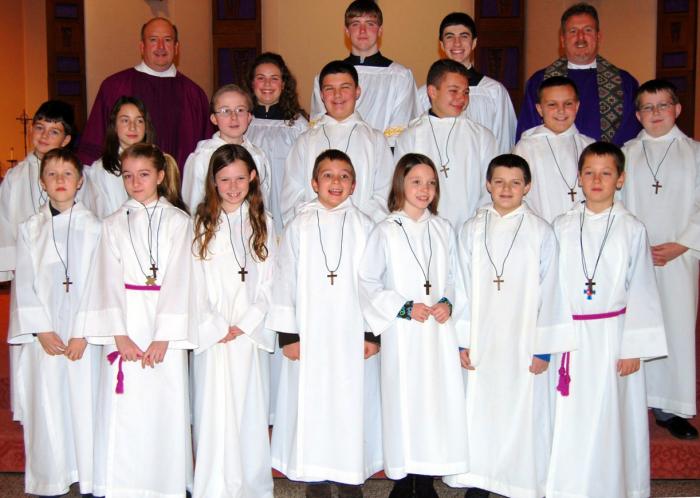 To be an altar server is a special honor and a great privilege in the Catholic Church.
The warm feeling I get when I reminisce about these things always brings me to a happy place. When I think about how I was always called out of school by Fr. Leary to serve funeral mass at 9 am, gives me some constructive pride in what I did; he picked me. We realized this was as good as it got being an altar boy in the adjacent St. Mary's elementary school. It always seemed like Gerry Foley, Carlo Masia, and/or I (all of us best of friends) was called out of class each and every time. Then there was the subsequent Ice cream bars or sandwiches that were provided by Father after each mass was done. He would call us over to the enormous stainless steel rectory kitchen each time for our treat. We liked and respected Fr. Leary, but there was also a little healthy fear of him at times (well, was the pastor you know). We felt like he was fond of us too, a little more than the other altar boys; maybe it was because we showed respect towards him.
Anyway I wanted to share these memories for those retired altar servers, for the current servers to get a glimpse of what it was like back in 1970, and for anyone considering becoming an altar server. It is one of the best ways to serve God and his people!
A birth foretold: click here to learn more!
---
Web site to inspire others in facing their day.
---
---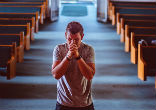 'The fervent prayer of a righteous person is very powerful.' James 5:16 Sometimes we can go at it alone, yet other times we need God's help ... continue reading
---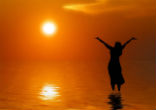 "And may you have the power to understand, as all God's people should, how wide, how long, how high, and how deep His love is. May you ... continue reading
---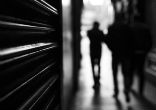 Sunday's Gospel command (Matthew 8:16-20) to make disciples of all nations baptizing them in the name of the Father, the Son and Holy ... continue reading
---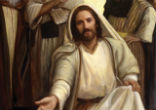 "The Lord is near to all who call on him, to all who call on him in truth." Psalm 145:17-18Jesus stands in wait to help those who ... continue reading
---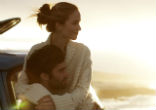 "Love is patient, love is kind. It does not envy, it does not boast, it is not proud. It does not dishonor others, it is not self-seeking, ... continue reading
---