Memories of my Dad
---
Pops showed his love in many ways.
For most men, their relationship with their father is what set's the foundation for what kind of man they will be. Let me introduce you to my Pops.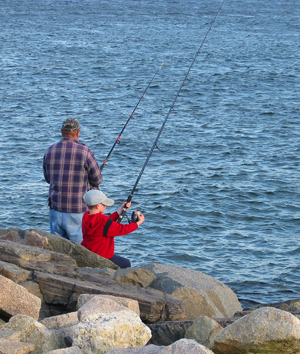 Fond memories of fishing with my Pops
span>MOORESVILLE, NC - My Dad was truly a man from his generation. He did not hug, kiss or say I love you. Those things were taboo in his eyes. I even remember him frantically pulling away from my grip when I was about 6, as I tried to hold his hand walking through downtown in our hometown. In spite of all this, I know he loved me. He showed his love in so many other ways. Not everyone is a hugger you know.
I remember my father tucking us in at night. My sister and I would inevitably beg him to tell us stories. He normally would sing some songs from the '40s, or tell us some tales from WWII where he served in the South Pacific with the Navy. I was just enamored by him.

He would always roll his long sleeves up when he got home from work and I tried so hard to get a good glimpse of the tattoo on his big forearm.  I would go through the pockets of his suit coat, looking for gum or life savers. The coat would smell of cigarettes and cologne. For some reason I loved that smell, it was Dad.

He did his best to spend some time with me. He took me fishing a few times, I remember him playing catch with me, that is until I got hit in the face with the ball. But the one thing that really solidified our relationship was the hours I spent with him on weekends playing the card game called cribbage.
Cribbage is a fairly complicated game and to a 10 year old at first, it seemed like it would not be so enjoyable. I would have given up, but I wanted to spend time with my Dad so very much, I decided to stick with it. I'm so glad I did, because we got pretty "tight". It would be years before I could even beat my Dad, he was extremely good at the game and the competitive spirit he had would not allow him to "let" me win. I know that all five of his children continue on with that same spirit. I found out so much about him, by spending that time with him. I'm really talking about seeing the inner "him" and finding out what made him tick.
Playing the game of cribbage


I had a propensity to be fairly clumsy. From early on I was not the most coordinated or athletic kid. For some reason, I would always stumble as I climbed up our basement stairs. It was almost inevitable that I would do this each and every time. I could blame it on how the stairs were built, the darkness from the basement, my feet were in the way; but in reality it was just from not taking the time to climb the stairs - instead of running up them.

This is where my Dad's favorite term of endearment came in to play. The first time I remember falling up the stairs, he started calling me "Dumb Kid", with a little chuckle to go with it. I realized at that point that I got some attention from him when this happened. I got him to laugh! So, I endeavored to do everything I could to make him laugh! It was great!

Once I took one of his cigarettes and stuck it in my mouth and imitated him. I used some of his standard comments and capped it off with a "Dumb Kid!" while the cigarette was waving up in down in my mouth like a conductor's baton. My Dad laughed so hard that his bald head turned red which then turned into a coughing fit; I thought he was going to have a heart attack!
As I fell deeper into adolescence, and had a little more confidence in myself, I started calling my Dad "Pops". This was definitely a name I called him out of affection and respect! I think he liked me calling him that, as he never reproached me about it. Even now, when I say the name, it brings back so many good feelings and pictures of Pops in my head.

My Pops died from cancer about 14 years ago and I carry that name on in homage to him. I have asked my children (all 10 of them) to have my grand kids call me Pops. It's a privilege and honor to hear them call me that whenever they come visit or talk with me over the phone.

I loved Pops, and loved being by his side. I was at his side as he lay there dying in his final hours. We fixed our eyes upon each other, he could not speak. His beautiful turquoise blue eyes spoke to me. They said, "I love you so much". I love you too, Pops - so much you don't know - well, you probably know now when you look into my heart from up above. God Bless you, I look forward to seeing you again!
A birth foretold: click here to learn more!
---
Copyright 2018 - Distributed by THE CALIFORNIA NETWORK
Pope Francis Prayer Intentions for APRIL 2018
For those who have Responsibility in Economic Matters.
That economists may have the courage to reject any economy of exclusion and know how to open new paths.
---
---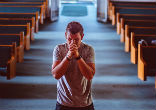 'The fervent prayer of a righteous person is very powerful.' James 5:16 Sometimes we can go at it alone, yet other times we need God's help ... continue reading
---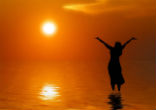 "And may you have the power to understand, as all God's people should, how wide, how long, how high, and how deep His love is. May you ... continue reading
---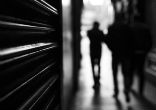 Sunday's Gospel command (Matthew 8:16-20) to make disciples of all nations baptizing them in the name of the Father, the Son and Holy ... continue reading
---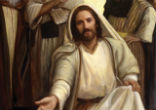 "The Lord is near to all who call on him, to all who call on him in truth." Psalm 145:17-18Jesus stands in wait to help those who ... continue reading
---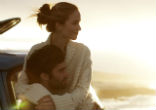 "Love is patient, love is kind. It does not envy, it does not boast, it is not proud. It does not dishonor others, it is not self-seeking, ... continue reading
---